While the Celtics beat the Suns 130-120 on Friday, Devin Booker was the undisputed star of the night after he finished the game with a historic 70 points.
Suns players celebrated with Booker in the locker room after the game, and posted a team photo on Instagram.
https://twitter.com/afigman/status/845477363987222528
"NEVER SEEN SO MANY GUYS HAPPY AFTER AN 'L,'" Jae Crowder (bossman99) commented in his trademark capslock.
But Booker clapped right back. "You can't guard me," he wrote.
That's all the leverage the internet needed. Crowder's name was quickly changed on his wikipedia page to Jae "Can't Guard Devin Booker" Crowder.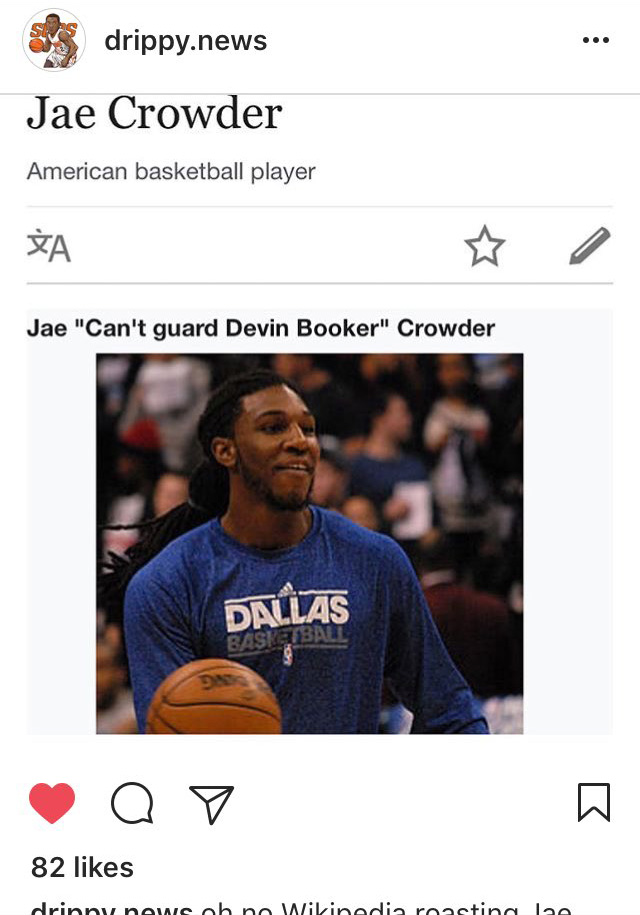 Attempting to get a final word in, Crowder wrote, "I WAS TALKIN BOUT THEM DUDES AROUND YOU. BUT ILL SEE U NEXT YEAR.!"
@afigman update pic.twitter.com/gqiWALIS3b

— adam figman (@afigman) March 25, 2017
https://youtu.be/V66fkyRNlZc?t=46s
RELATED:
Isaiah Thomas: 'It Was Obvious' Suns Chased Devin Booker's 70 Points