The 2014-15 NBA season is finally here. And why not add a little more excitement to the start of the new season with Daily Fantasy Basketball! Draft your own NBA fantasy team for Wednesday night and you can win a share of $50,000. First place will take home $5,000. DraftKings is celebrating the start of the season by offering SLAMonline readers free entry into the contest with your first deposit.
To win, all you have to do is pick an 8-man fantasy roster for the night that you think will score the most fantasy points. Draft 1 PG, 1 SG, 1 SF, 1 PF, 1 C, 1 G, 1 F and 1 Utility player while staying under the $50,000 Salary Cap. Each player is assigned a salary based on their expected performance. Here's an example of a sample lineup for Wednesday: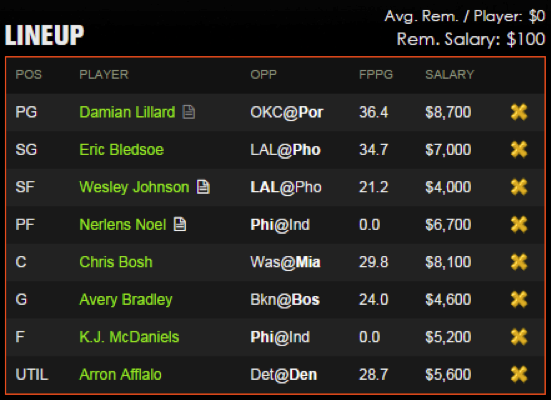 How to Win on Wednesday Night:
Pay your $2 entry fee or receive a FREE entry with your first deposit
Finish in the top 5,750 fantasy scores and get paid Wednesday night
As part of our partnership with DraftKings, all SLAMonline readers will automatically receive a 100 percent deposit bonus up to $600.
Here are some players to consider for Wednesday's slate of games:
Russell Westbrook, OKC – PG ($10,400)
With Kevin Durant out, there will be extra shots and touches to go around. Westbrook has never been afraid to take advantage of more opportunities to shoot. With no penalty for missed shots, Westbrook is a strong play.
Andre Drummond, DET – C ($8,700)
Drummond was a monster on the boards last season, averaging over 13 boards per game. After a summer learning from Coach K as part of Team USA and now under Stan Van Gundy, Andre has shown no signs of slowing down this preseason. He is almost a lock for a double-double every night.
Goran Dragic, PHX – PG ($7,300)
This pick has more to do with Dragic's opponent, the Lakers. Dragic should be in for a good game playing against Los Angeles' weak defensive backcourt.
Jared Sullinger, BOS – C ($6,600)
Brad Stevens has decided to go with a more up-tempo, free flowing offense this year. So far Sullinger has been a beneficiary of the new scheme, shooting over 50 percent from beyond the arc in preseason play. Combine this newfound shooting proficiency with Sullinger's rebounding ability, and he's poised for a good fantasy performance.
Jabari Parker, MIL – SF ($6,600)
Parker has been touted by many as the most NBA-ready player of this rookie class. Because the Bucks are thin with offensive talent beyond Jabari, it's likely he becomes their go-to scorer right away.
Rodney Stuckey, IND – SG ($5,600)
Lance Stephenson is gone and Paul George isn't playing anytime soon. As a result, Stuckey will be a sneaky backcourt play for fantasy purposes, as the Pacers host Philly on Wednesday night. Look for a lot of the missing points from Stephenson and George to be filled by Stuckey.
Lou Williams, PG – Tor ($3,000)
If you are looking for a high-reward value play, Lou Williams is the pick. In his first year for Toronto, Williams is slotted to be a scorer off the bench. It won't be surprising for him to go for 25 points some nights and then just six or seven the next. Williams provides much more upside than most players slotted at $3,000.
Wednesday Night's NBA Games:
Brooklyn at Boston 7:30 PM
Milwaukee at Charlotte 7:00 PM
Philadelphia at Indiana 7:00 PM
Washington at Miami 7:30 PM
Atlanta at Toronto 7:30 PM
Minnesota at Memphis 8:00 PM
Chicago at New York 8:00 PM
Detroit at Denver 9:00 PM
Houston at Utah 9:00 PM
LA Lakers at Phoenix 10:00 PM
Golden State at Sacramento 10:00 PM
Oklahoma City at Portland 10:30 PM