Every year in April, The Portsmouth Invitational Tournament (PIT) kicks off the NBA draft process. For the 65th straight year, 64 of the best college seniors battled it out in a four-day tournament in front of scouts from every NBA team and representatives from top-tier international franchises. The road to the pro's begins at the PIT.
The PIT is a destination spot for teams to find under the radar talent. The PIT alumni reads like an NBA history book: Rick Barry, John Lucas, Dave Cowens, Earl Monroe, Scottie Pippen, Dennis Rodman, John Stockton, Tim Hardaway, Avery Johnson, Derek Fisher, Charles Oakley, and Ben Wallace. More recent players include:  JJ Barea, Jeremy Lin, Wesley Mathews, Kent Bazemore and Jimmy Butler.
Over four days of intense competition, these elite college seniors put their bodies and dreams on the line to compete at the NBA Combine in Chicago, summer league invites, and international contracts. In collaboration with the PIT selection committee of top NBA scouts, SLAM'S PIT Selects previews intriguing players to keep an eye on as they begin their quest to go pro.
Derrick White, 6-4, 191 pounds— University of Colorado 
White is a unique story. He played only one year of Division I basketball. He transferred from University of Colorado at Colorado Springs—a Division II school—to the University of Colorado for his senior year. He wanted to test his skills at the D-I level with his last year of eligibility. He made the most of this daring move, earning First Team Pac-12 honors.
White is a tall guard who can also play some point. He has tremendous athletic ability and utilizes it on both offense and defense. He's unselfish and has a great individual ability to score—a rare combination. There is a buzz around White and NBA teams are excited by his rapid development at the D-l level. This buzz became a reality with White's invitation to the NBA Combine
PIT Stats: White averaged 15.0 points, shot 36.8%, 3.7 rebounds, 3.7 assists for the tournament.
Deonte Burton, 6-5, 260pounds—Iowa State 
There's no blueprint for a player like Burton. He's 6' 4" and weighs about 260 pounds. Yes the numbers are accurate. You look at him and you wonder:  Okay, he's big and strong, but can he move that body around the floor? The answer is yes. He's like a smaller version of Charles Barkley. Throughout the week he made catch and shoot jump shots and some of the plays you expect big men to make around the basket. He got off the floor quickly for rebounds, blocked shots, and dunked the ball against rim protectors. He made a reverse dunk for the ages at the tournament.
He also moves well laterally, allowing him to stay in front of players. Burton is an interesting case study for the NBA. Traditionally, they look for a guy to check certain boxes. Burton may not check any of the traditional boxes, but he checks a lot of other boxes. He's a guy who defies a position. Is he a shooting guard? A small forward? A power forward? It's hard to say. He can knock other power forwards around, yet he can stay in front of guards. Teams will have to throw out the book, sit back, and observe what he can do on the court.
PIT Stats: Burton averaged 14.7 points, shot 51.4%, 2.7 rebounds, 3.7 assists for the tournament.
Tyler Cavanaugh, 6-9, 239 pounds—George Washington University  
Cavanaugh is a combo forward from Syracuse, New York. Syracuse University passed on him and he ended up at Wake Forest. At Wake Forest, he was not the big strong player you see now. He was kind of thin and small-shouldered. He got a lot of playing time, but he was overmatched physically in the ACC. He couldn't battle successfully around the rim. He tried, but he just wasn't big enough. What he could do was shoot.
When they had a coaching change at Wake Forest, he decided to transfer to George Washington. He sat out the year and worked on his body, getting bigger and stronger. Now that he's more athletic, it's easier for him to get his shot off, and he's also a threat to drive. When you watched him at George Washington, he looked like a different player compared to the skinny kid at Wake Forest. Now he's multi-dimensional player with a great shot. This week he shot for a high percentage and battled for rebounds. He's worked hard for four years and now he has a real shot at the NBA.
PIT Stats: Cavanaugh averaged 19.3 points, shot 57.9%, 6.3 rebounds, 1.3 assists for the tournament.
Damyean Dotson, 6-5, 205 pounds—University of Houston
What stands out about Dotson is his improvement every year in college. Unless you closely followed him, this has been hard to track, because he started his career at Oregon and then transferred to Houston, making his progress trickier to track. At PIT he showed all his skills. He made his perimeter jump shots, hit some 3's, got to the rim, made his free throws. He also showed his willingness to share the ball. He had 18 assists and just one turnover. He played with a steady confidence and showed a high shot selection IQ. He wasn't anxious to get a shot off. If he didn't have a good look, he made the pass.
He also showcased his ability to excel defensively and defend bigger players. He moves well laterally and he's sneaky strong. Dotson's versatile and complete game, offensively and defensively, ultimately earned him the MVP and an invite to the NBA Combine.
PIT Stats: Dotson averaged 14.7 points, shot 55.9% shooting, 5.7 rebounds, 6.0 assists for the tournament.
London Perrantes, 6-1, 200lbs—University of Virginia  
Perrantes almost created a miracle at Virginia this year. He came to Virginia as a pass-first point guard. His job was to feed players like Malcolm Brogdon and Mike Tobey. This year was a rebuilding year for Virginia. This required Perrantes to become one of the primary scoring options.
Virginia runs a tightly structured half-court offense; the PIT gave Perrantes the chance to highlight his skills without these restraints. He showed he was able to create early offense for himself and his teammates. He's naturally blessed with a point guard feel for the game. He knows where all his players are, as well as all the defenders. At the tournament, he showed he can play with elite players and make them better. He's a good athlete, not great. He's a good shooter, not great. He is a great passer. This raises the intriguing question:  does this pass-first mentality earn him a place in the NBA as a backup point guard.
PIT Stats:  Perrantes averaged 9.0 points, shot 45.8, 3.7 rebounds, 8.7 assists for the tournament.
Jacob Wiley, 6-7, 215 pounds—Eastern Washington  
Wiley took a unique path to Portsmouth. After one season at the University of Montana, he quit basketball and joined the track and field team.  After a year of track, he decided to go back to basketball, transferring to Lewis & Clark State College in Oregon, an NAIA school. He played two seasons at Lewis & Clark, becoming an NAIA superstar. His success inspired him to give D-l another shot. He transferred back to the Big Sky Conference, but this time playing for Eastern Washington, not Montana. His decision paid off. He became the Big Sky Player of the Year.
Wiley takes all his shots within 10 feet of the basket. He has the ability to pivot quickly and does flip shots that are very difficult to defend.  On defense, he's in perpetual motion and rebounds with speed and tenacity. His strategy is simple: he just gets there faster than everyone else. He's just that fast. If you don't box him out (an old school box out), he'll beat everyone to the ball. At the PIT, sometimes it literally looked like there were two of him on the floor. It will be interesting to follow his game in summer league.
PIT Stats: Wiley averaged 17.3 points, shot 53.8, 9.3 rebounds, 1.3 assists for the tournament.
Ben Moore 6-8, 205 pounds—Southern Methodist University  
Moore is a guy who doesn't look to score. It's not that he can't score. He's just got other priorities. His desire is to rebound and defend. His skill set and body are suited for these desires: He has great lateral movement and his arms seem to go on forever. He is cut in the mold of Dennis Rodman (from the basketball standpoint). He can guard almost every position on the court, which makes him a valuable asset to a team.
At the PIT he got rebounds when three other guys were closer. He'd reach in and tip the ball out, then grab the rebound. He also picks up "garbage points" with dunks and put backs. How will the NBA see this? Does everyone have to be a stretch 4? Or is there room for a player like Moore?
PIT Stats: Moore averaged 11.3 points, shot 81.3%, 8.7 rebounds, 3.3 assists for the tournament.
Jabari Bird, 6-6, 197 pounds—California-Berkeley.
Bird had great things predicted of him coming to Cal. He was a McDonald's High School All-American. When he arrived at Cal, he became a member of a very talented and deep team. Bird's progression as a player has been a path of patience and perseverance. What he displayed at the PIT was the culmination of four years of development.
Bird is an unselfish player with a full skill set. He can make all the shots you'd want a two guard to make. He can score from a lot of different levels: pull up jumpers, hit three's, and get to the rim. If you foul him, he shoots a high percentage from the line. Defensively, he's worked hard to translate his athleticism toward becoming a formidable defender. Not all great athletes, and he is a great athlete, are great defenders. Bird's commitment to this goal showed on the court at the PIT. Now he's reached the level that everyone predicted. There are not that many guys his size with such a complete game. He has earned the right to play in the NBA.
PIT Stats:  Bird averaged 14.3 points, shot 60%, 3.3 rebounds, 1.0 assists for the tournament.
Canyon Barry, 6-5, 202 pounds—University of Florida 
Barry had a strong showing at the PIT. He's a solid athlete and a capable shooter. He scored high on the Combine tests in vertical jump, agility, and speed. Barry is part of a unique PIT trend this year, along with Derrick White and Jacob Wiley, he chose to upgrade to a high-profile university for his last year of eligibility. Barry joined the Florida Gators for the 2016-17 season (transferring from the College of Charleston).
Barry comes from a basketball family. He is the son of Hall of Famer Rick Barry, who also played at the PIT. This year Barry was named SEC 6th Man of the Year, joining his Gator and PIT alumni, Dorian Finney-Smith. Finney-Smith now plays for the Dallas Mavericks.
PIT Stats: Barry averaged 14.0 points, shot 42.1%, 7.3 rebounds, 1.0 assists for the tournament.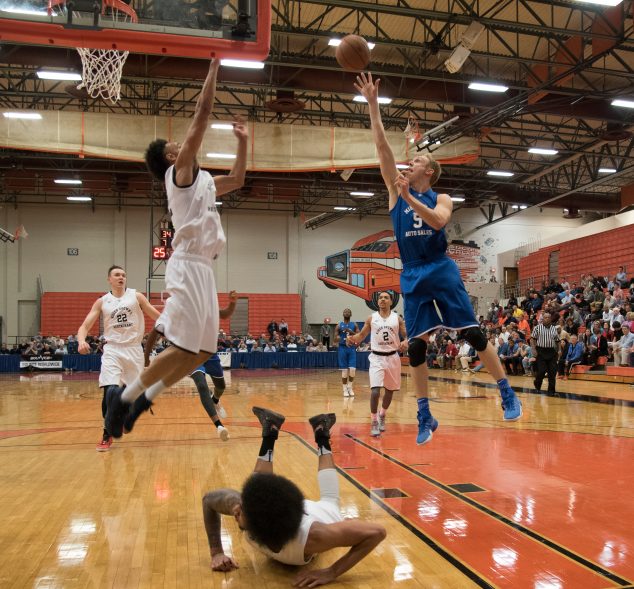 Naz Mitrou-Long, 6-4, 214 pounds—Iowa State 
Mitrou-Long is known for his shooting ability and he did not disappoint at the PIT. He shot the ball often and well. He believes every shot is going in, even if his last shot was an airball. Other parts of his game need to improve, especially defense. He has the  athletic ability to become a solid defender, if he's willing to work at it. If he becomes a true two-way player, he could have an NBA career. What he has right now is a shot, and the NBA is looking for players who can spread the floor.
PIT Stats: Mitrou-Long averaged 18.3 points, shot 45.5% (40% for 3's), 4.0 rebounds, 2.7 assists for the tournament.
Images via Kurt Brungardt
588