It's the end of an era.
After claiming his fourth straight All-Star Celebrity Game MVP awards, Kevin Hart compared himself to Kobe Bryant and LeBron James before announcing that he's retiring because his achievements can't be topped.
"This is my fourth MVP," he said. "It's an emotional moment. I think I'm gonna go out on top."
The diminutive comedian managed to take home the game's top honors despite his East team losing 59-51 to the West.
Although The Wedding Ringer star did put up an impressive 15 points this time out, many of the other players and coaches felt that he didn't deserve the MVP, especially Mike Golic of Mike & Mike. He tried to pry the trophy from Hart's hands.
"This is a Kanye moment," Golic said. "You don't get this."
"It's Black History Month, Mike," Hart replied. "Let this happen."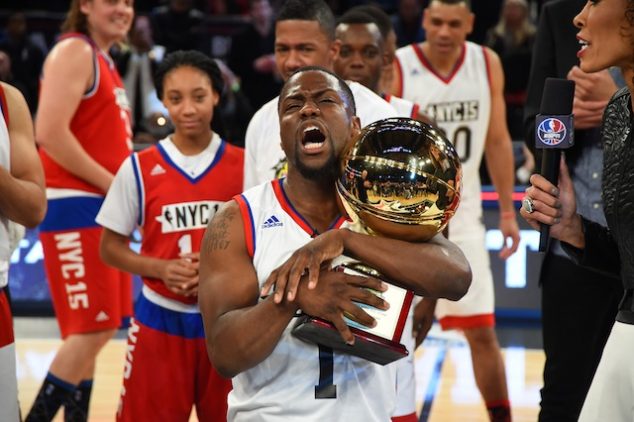 Too bad Kevin didn't keep that wicked spin move Mo'ne Davis put on him from happening.
It was early in the first quarter, but Davis shook Kevin out of his sneakers for a nice layup that had everyone in Madison Square Garden up on their feet cheering.
Davis only finished with 4 points, but she'll definitely make SportsCenter for putting Kevin in a spin cycle.
The East squad's Shoni Schimmel led all scoters with 17 points. Skylar Diggins and Memphis Grizzlies owner Robert Pera paced the West with 13 points each.
Arcade Fire's Win Butler wasn't too shabby, either. He finished with 8 points and 12 rebounds.
Overall, this year's contest was another raging success. The only downside was Jesse Williams' knee injury. He went down hard after landing badly on his left leg.
He was helped off the court, but it did not look good.

image via Getty
250