Lonzo Ball and the 2017-18 version of the Los Angeles Lakers kick off their regular season campaign on Thursday, as they host the Los Angeles Clipper. Thanks to the addition of the UCLA point guard, the hype and popularity surrounding the Baby Lakers has skyrocketed. Although this team is not expected to win 35 games, Lakers tickets will be hot all season.
Just like Kobe Bryant's farewell 2015-16 season, the Lakers enter this season behind only the Golden State Warriors with the second-highest average price for home game tickets. However, the 2017-18 Lakers' average home price is $299 which is $8 more than the Lakers' average home price two seasons ago. Walton, who is a former teammate of Bryant's, enters his second year as the head coach of the Lakers and looks to improve his 26-win total from last year.
The Lakers' average home price is also impressive because it is $85 more than last season's Lakers' home average ticket price and $117 more than the Lakers' home price during the 2014-15 season. The difference in prices shows how much Ball's addition means to the spotlight that will be on the Lakers this season.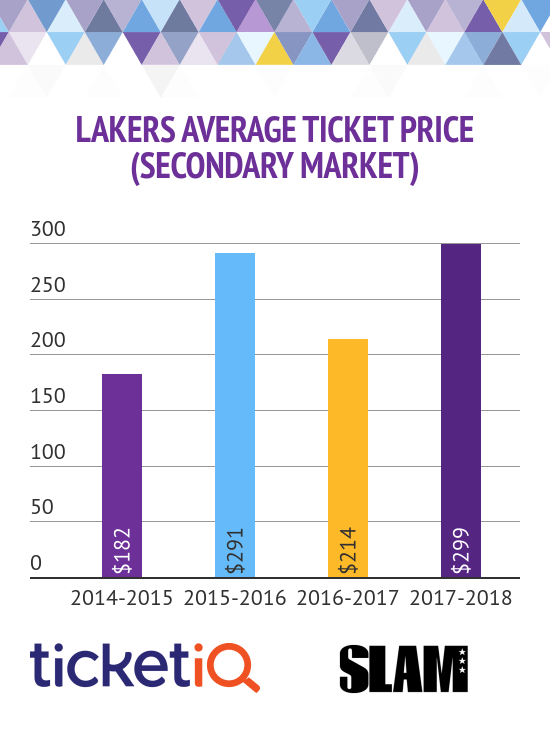 Unfortunately, the Lakers have been dealing with some injuries. Julius Randle and Andrew Bogut have been resting to heal their respective injuries; the most notable hobbled player is Ball, who is nursing a sprained ankle, but he expects to return for the Lakers' opener. Lakers fans along with some Clippers fans will be very excited to see the highly-touted rookie's NBA career begin.
Be sure to get your Los Angeles Lakers tickets today at TicketIQ.com
1,068