The Michigan State Spartans finished last season with a 20-15 record and a second round exit in the 2017 NCAA Tournament. For most schools, this would have been considered a successful season, but not in East Lansing, where anything short of reaching the Final Four is a disappointment.
Under legendary head coach Tom Izzo, Michigan State is a perennial powerhouse, churning out pro players and victories over the top programs in college basketball. The '16-17 season was the team's worst since 2010-11, when the Spartans went 19-15. But in April, the team and school got a dose of good news.
Miles Bridges was coming back for his sophomore year.
Bridges, a 6-7, 230 pound guard/forward who can jump out of the gym, was thought to be a one-and-done freshman. He shocked most of the basketball world when he announced his return.
"The main reason I came back was because I wrote my goals down when I was young and one of them was to win a National Championship," Bridges says. "I didn't want to go back on my goals. I knew we had a great team coming back and I knew I had to lead the team."
Along with SLAM 212 cover subjects Missouri's Michael Porter Jr and Duke's Marvin Bagley III, Miles Bridges is in the conversation to potentially be the best player in college basketball this upcoming season. As a freshman, Bridges averaged 16.9 points, 8.3 boards, 2.1 assists and 1.5 blocks on 48.6 percent field-goal shooting and 38.9 percent from behind the arc. He was the first freshman to lead the Spartans in scoring since Shawn Respert did it during the 1991-92 season, was named Big Ten Freshman of the Year, was a finalist for the Karl Malone Award, and was named to the All-Big Ten Second Team.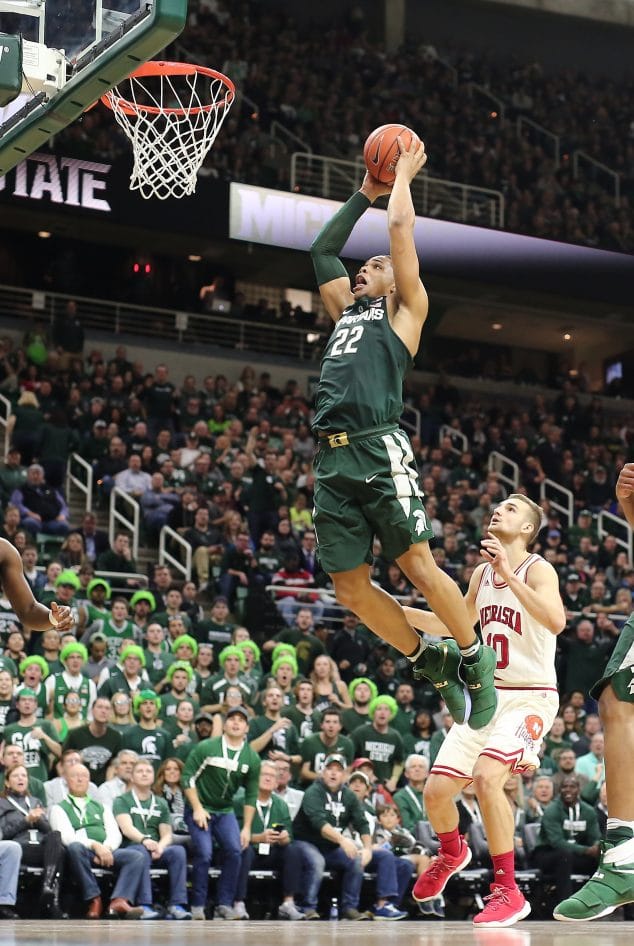 Capable of playing in the post or on the perimeter, Bridges is at his best when he's on the break. He had more than a few Yo, I gotta check Twitter or IG immediately to see that over and over again dunks last year, and with a crowded frontcourt that will cause him to play on the wing more this upcoming season, expect to see Bridges flying down the court and putting plenty of opponents on posters. "I had to really work on my conditioning [this offseason] because I'm going to be playing the wing spot and doing a lot of running," he says.
The super-talented Bridges grew up in Flint, MI, before heading east to close out his high school career at West Virginia's Huntington Prep. He grew up admiring the late-'00s and early '10s Michigan State teams that featured Draymond Green, Kalin Lucas and Adreian Payne, but Bridges is well aware of the program's deep history and affiliation with his hometown. The 19-year-old joins the likes of Charlie Bell, Morris Peterson and Mateen Cleaves (aka "The Flintstones") as Flint hoopers who stayed local to attend MSU.
"Flint produces tough basketball players," Bridges says. "There's open gyms with no fouls. The reason I became as good as I am is because I used to play with older kids and get mad over fouls. They would tell me, 'You're not getting that call, you gotta be tougher.'
"I'm tight with Mo Pete, Charlie and all the players who went to Michigan State. I grew up watching Michigan State—that's how I really fell in love with basketball."
With Bridges back in the fold, the Spartans enter the season as Big Ten favorites, a top-5 team in the nation (they rank No. 2 in the SLAM NCAA men's rankings) and will undoubtedly be in the mix for a Final Four berth. Along with Miles, the team returns guards Cassius Winston, Josh Langford and Tum Tum Nairn Jr along with big man Nick Ward, and they're welcoming Jaren Jackson Jr, a consensus top-10 recruit and potential top-10 pick in next year's draft. Save for Jackson, the team has been through an up-and-down season together and are as battle tested as any squad in college hoops.
"We faced a lot of adversity and I feel like it's something that's going to really help us for this year," Bridges says. "The main lesson is, all the little things count. One rebound can win you a game, and a missed rebound can lose you a game. It's the little things that count in college."
Before he bounces for the lavish lifestyle that the NBA provides, Bridges has a chance to make his mark and become one of the best players in Michigan State history—no small feat considering the talent that has passed through the university.
"I really love Michigan State basketball, and for me to be a key piece of this program is an honor," he says. "It's a blessing and I give all the glory to God for that. As a young kid from Flint, I never thought that I'd be in this position. It is an honor for me."
—
Pete Walsh is a Senior Editor at SLAM. Follow him on Twitter @peter_m_walsh.
Photos via Getty Images.