The last time a highly recruited, New Jersey-born big man took his talents to LSU, he ended up embarking on a Hall of Fame career. And while HOF talk is reserved for a later stage in one's career, "Hollywood" Naz Reid can't help but use it as motivation as he prepares for his arrival in Baton Rouge later this year.
"I see guys like Shaq, players like that—they just motivate me," Reid says. "They paved the way for me so I just want to be able to follow their roots and just get the job done."

A 6-10 versatile forward out of Roselle Catholic in Roselle, NJ, Reid is one of the top-5 ranked power forwards in the Class of 2018. Heralded for his ability to put the ball on the floor and play facing the basket, the Asbury Park native stretches the floor and creates mismatch problems for opposing teams on a regular basis.
He credits his game to a late growth spurt, which essentially had him playing outside of the paint for a good portion of his childhood.
"I was smaller growing up," he says. "I kind of grew out of nowhere. So when I started playing basketball I was forced to be a guard, and then I just hit a tremendous growth spurt. I expanded my game to the post and still worked on the
perimeter things, so that's what put me at the forward today."
Putting on for New Jersey along with Louis King and Jahvon Quinerly, the mobile big says the three have developed a strong bond over the years as they each emerged into five-star prospects. Hailing from the same state has motivated them to approach the competition with a similar attitude.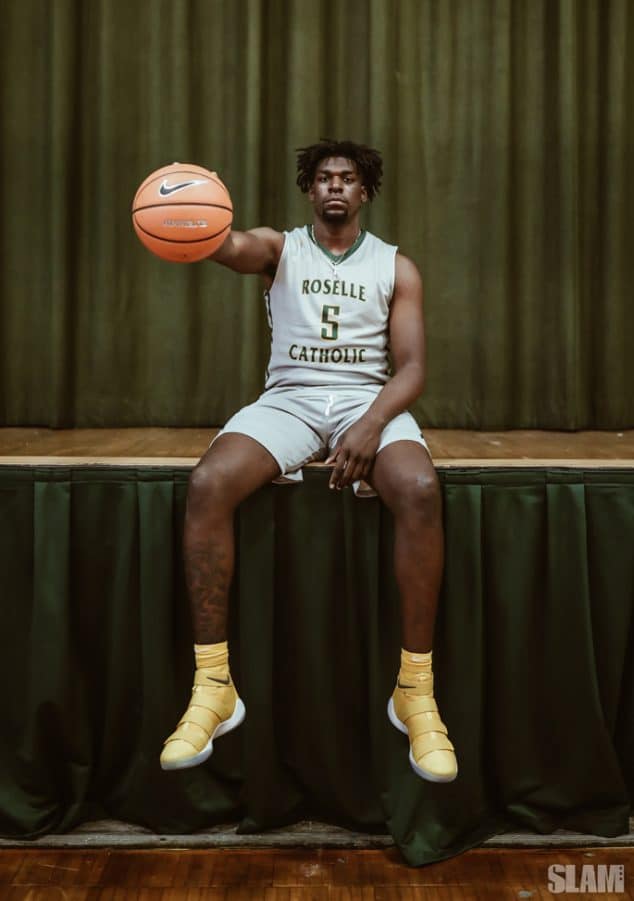 "My relationship with Louis and Jahvon is special," Reid says. "Basketball puts a lot of things together, especially brotherhood. Us three having the same mentality, the same goal, it just puts us together. There [are] special moments that basketball brings to the table."
He refers to the Garden State's hoops culture as an aggressive one that prides itself on always being on the hunt and looking to seize the opportunity.
"What defines the New Jersey style of basketball is they don't have it handed to them, so they want to go and take it," Reid says. "They do anything they have to do and they bring anything they have to bring to the table."
As a junior, he averaged 13.8 points and 9.1 rebounds for Roselle, helping the Lions reach the NJSIAA South Jersey Non-Public B championship game.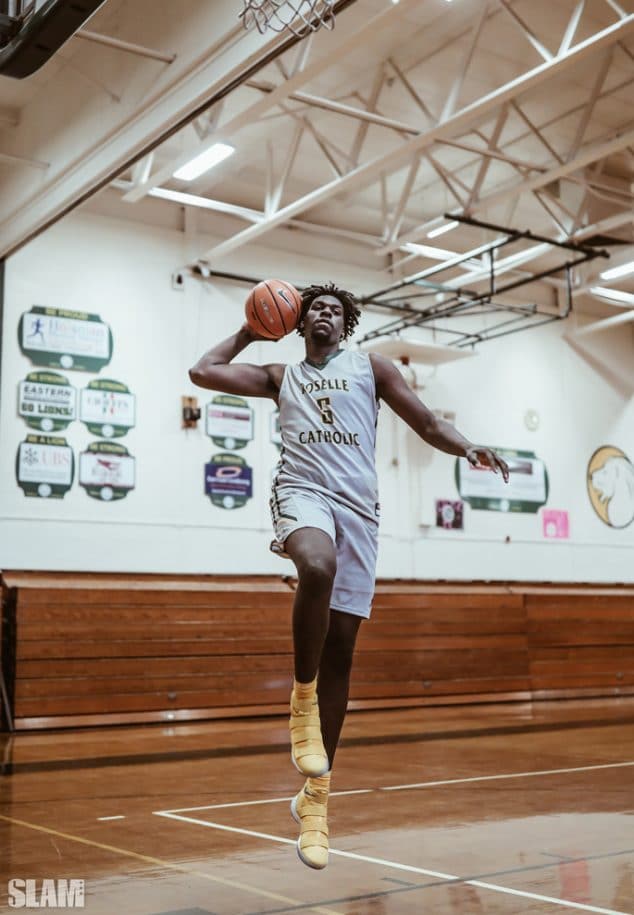 In LSU, Reid found the program where he felt most comfortable. After visiting campus and spending time with the staff and players, the future Tiger pretty much instantly knew where he wanted to take his talents next.
"I was able to feel home," Hollywood Naz says. "Even when I wasn't home, the coaches and teammates—they made me feel [like] I was special."
Having already cemented himself as one of the top recruits in the country, he now finds motivation in his family as he prepares for the next chapter of his young career.
"Some things that motivate me is my mom and my father working every day and my cousin [who just] passed away recently," he says. "That motivates me to put everything on the floor when I'm playing."
—
Related
Jahvon Quinerly Is New Jersey's Next Great Point Guard
Louis King Is Ready to Put On For the Garden State
—
Franklyn Calle is an Associate Editor at SLAM. Follow him on Twitter @FrankieC7. 
Portraits by Joseph Sherman. 
The above story and video was created in conjunction with Overtime.