There weren't many surprises during the first annual NBA Awards Show on Monday, but the night didn't go down without a bit of controversy.
On not winning the Game Winner of the Year, Heat guard Dion Waiters tweeted that "politics" was the main reason why he was snubbed.
Politics RT @msale18: How was the @dionwaiters3 game winner vs GS not the best game winner? #NBAAwards pic.twitter.com/nSNXYsHPDO

— Philly Cheese 🧀 (@dionwaiters3) June 27, 2017
Lakers forward Larry Nance Jr was a "salty" about his Dunk of the Year (and probably for good reason).
— Larry Nance Jr (@Larrydn22) June 27, 2017
Rockets guard Lou Williams thought he deserved the Sixth Man of the Year award, but was confused after finishing a distant third in the voting.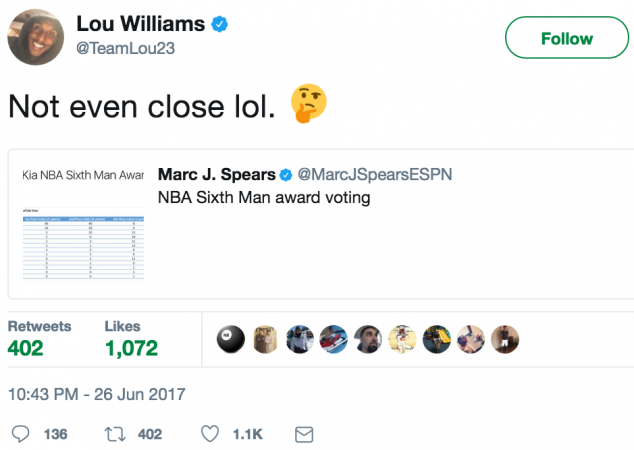 And while Russell Westbrook deserved praise for his amazing season, Nets guard Spencer Dinwiddie threw some slight shade in the Brodie's direction after the MVP award was announced.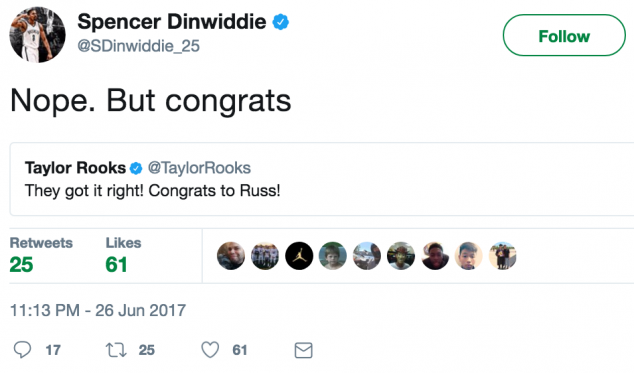 Make sure you scroll through the gallery up top to see what else players around the League had to say about the 2017 NBA Player Awards, and peep the full list of winners below:
MEDIA-VOTED AWARDS
NBA EXECUTIVE-VOTED AWARD
Executive of the Year: Bob Myers
PLAYER-VOTED AWARDS
Teammate of the Year: Dirk Nowitzki

Sportsmanship Award: Kemba Walker
COMMUNITY AWARD
Community Assist Award: Isaiah Thomas
FAN-VOTED AWARDS
Performance of the Year: Klay Thompson scores 60 in three quarters vs Pacers

Game Winner of the Year: Russell Westbrook vs Nuggets

Dunk of the Year: Victor Oladipo vs Hawks

Assist of the Year: Draymond Green to Stephen Curry to Kevin Durant vs Pacers

Block of the Year: Kawhi Leonard vs Rockets

Best Playoff Moment: Kevin Durant vs Cavs in Game 3 of the Finals

Best Style: Russell Westbrook
SPECIAL NBA AWARDS HONORS
Lifetime Achievement Award: Bill Russell

Sager Strong Award: Monty Williams

Hustle Stats Award: Patrick Beverley

Jr. NBA Coach of the Year: Carrie Berran of Eagan, MN
RELATED:
NBA Players React to the 2017 Draft