The NBA has "dismissed and disqualified" free-agent guard OJ Mayo for two years for violating the League's Anti-Drug Program.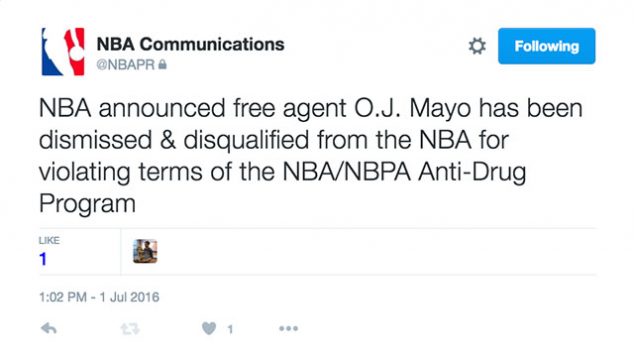 The NBA will not release the exact reasoning for the 28-year-old's dismissal, but per the Anti-Drug Program, it's for a "Drug of Abuse."
Mayo ban cannot be for PEDs, however, since he'd never been suspended a second time. Has to be for "drug of abuse."

— Ken Berger (@KBergNBA) July 1, 2016
The NBA's list of "Drugs of Abuse" include:
• Amphetamine and its analogs (including, but not limited to, methamphetamine and MDMA)
• Cocaine
• LSD
• Opiates (Heroin, Codeine, Morphine)
• Phencyclidine (PCP)
This is not Mayo's first drug-related problem with the League—he was suspended for 10 games in 2011 for testing positive for PEDs. He blamed it on a gas station energy drink.
The last player to be disqualified from the NBA for violating the Anti-Drug Program was Chris Andersen in 2006. The Birdman came back after a similar two-year suspension and eventually won a title with the 2013 Miami Heat.
Mayo was set to be a free agent this summer and is still recovering from a broken ankle.
The NBA made the announcement in an official press release, issued on early Friday afternoon:
NEW YORK, July 1, 2016 – The NBA announced today that free agent O.J. Mayo has been dismissed and disqualified from the league for violating the terms of the NBA/NBPA Anti-Drug Program.

Under the Anti-Drug Program, Mayo is eligible to apply for reinstatement in two years.

The NBA, NBA teams, and the Players Association are prohibited from publicly disclosing information regarding the testing or treatment of any NBA player under the Anti-Drug Program, other than to announce a player's suspension or dismissal from the league.