The first time SLAM featured Steve Nash was back in the summer of 2001. Nash had just finished his fifth NBA season, averaging 15.6 ppg to go with 7.3 apg for the Dallas Mavericks. The Mavs were one of the League's most exciting young teams, and Nash was one of the L's up-and-coming point guards. In Canada, Nash was well known, as we witnessed hanging out with him for a day in Toronto. To most NBA fans, however, Nash was that guy with disheveled hair who was good at getting the ball to Dirk and Michael Finley.
Three years later, Nash went west to Phoenix, where he ran into Mike D'Antoni. He racked up two MVP awards and increased his stature off the court, doing everything from lighting the cauldron at the 2010 Olympics to directing commercials and documentaries. He started the Steve Nash Foundation and traveled the world to raise money and awareness for charities. In 2006, Time Magazine named him one of the world's 100 most influential people. All the while, he kept balling, leading the League in assists per game in five of the last seven seasons.
Ten years after we first sat down, we caught up with Nash while he was in New York to host his annual "Showdown in Chinatown" soccer game, where a collection of NBA players and soccer stars gather on the pitch to raise funds for the Steve Nash Foundation.

—
SLAM: Did you have any idea 10 years ago that you'd be where you are today?
Steve Nash: You never know where you're going to be. I didn't expect anything. I definitely expected success, but I didn't know how I'd get there or what it would look like.
SLAM: Two MVPs, within a shot or two of reaching the Finals, ended up playing most of your career in Phoenix. Lit the Olympic cauldron.
SN: Yeah, a lot has happened. I mean, kids, marriage, divorce, everything. So much has happened. I think the most important thing is I have enjoyed myself and loved life. That's what counts. What got you there is secondary.
SLAM: You seem more active and open the last two or three years about doing off-court stuff than you used to be.
SN: I think I got to a point when I was younger, I just wanted to play basketball and not do other things. There was maybe even a direct disinterest with doing some of that stuff. But I think I got to a point where I wanted to try other things. Some of the things I didn't want to do became almost necessary to do. So whether it be doing more media or fulfilling the goals of my foundation, those are relationships you have to enter into.
SLAM: Once you see what doing those things can bring you.
SN: Yeah. You can't have a foundation and want to raise money and never do an interview. Or have a sponsor. You know, you grow up and you change your philosophy about what you want to do. If it was that big a pill for me to swallow, I wouldn't do any of this stuff. But I wanted to help people, and I have the ability, so I look at it that way.
SLAM: Tell me about the Foundation, because that's come about in the last 10 years, too.
SN: The Foundation is about 10 years old, but it's been live for seven or so. I've always loved kids, so doing something with kids has been great. We've been able to have a big impact on people, which is rewarding. I basically handed it over to Jenny Miller, the Foundation director, fill her with ideas and she figures it out. She handles it all incredibly.
SLAM: How has your game changed in the last 10 years?
SN: That's a good question. Some days I feel like it's really changed. Some days I feel like it hasn't changed that much. I used to attack a lot more in transition—really go hard to the basket in transition—I don't seem to do that as much anymore. I've become more of a mid-range shooter. I think I've changed a little bit from year to year because I don't play that much in the summer. So I come back and it's like… it's almost like starting over. You sometimes kind of find these little ruts or avenues that kind of fulfill themselves. I think it's necessary for me to not play a lot in the summer so I feel mentally rested and my body gets ready at the same time. I sometimes find it's really effective, because I'll think, Why don't I do this? Or, Why don't I do that? So, I think it's something where you play for a long time and you need a strategy to continue to be just as effective or to improve every year. My strategy is to not play a lot of basketball, ironically. I stay in great shape and become a better athlete or prevent injury, but I don't continue the game in that way. It is kind of a weird thing.
SLAM: Do you have to compensate for your body now more than you used to?
NASH: I would say inevitably. I don't really think about it too much.
SLAM: We see you laying down on the sidelines…
SN: You know, I've done that for a long time. That's pretty much preventative, simply because when you're tired, you have a tendency to slump, and that really stiffens my back. So to lay down just takes that out of the equation. For me, I think, it does get a little more difficult, but I still think I can do the things I've always done.
SLAM: What has the ride been like with the Suns?
SN: It's been great. Obviously I'm disappointed we haven't won a Championship. Every year it seems like something: Joe Johnson, Amar'e's knee, Raja's calf in the Conference Finals. There have been suspensions, Grant got hurt one year, Ron Artest's shot. Something's always gone wrong. That's kind of a loser mentality or a self-fulfilling prophecy, and I don't say those things as excuses, I'm just saying we haven't gotten a break. Maybe we just weren't good enough, or maybe the year we were good enough it just happened that there were suspensions. So, weird stuff has happened. The ride has still been awesome, the city has been great. We've had a lot of success. You take it for granted.
SLAM: What did it feel like to see not only Dirk, but also Kidd, who you backed up early in your career, get titles?
SN: It was great for a lot of reasons. One, I felt really great for them. Individually, they kind of had their moment, a kind of capping of their careers. Also, they weren't really talked about going into the Playoffs, and for them to build a team—obviously, Dirk's out of this world, but the rest of the team, it wasn't necessarily a Scottie Pippen and Horace Grant, or your Boston or L.A. "Big Three." It was almost like Dirk and a small seven, instead of a big three. And that's great. It's great for the game, to see a team come together and be a team, be mentally tough, run their stuff, stick to the game plan on both ends of the floor. So that was great for the game.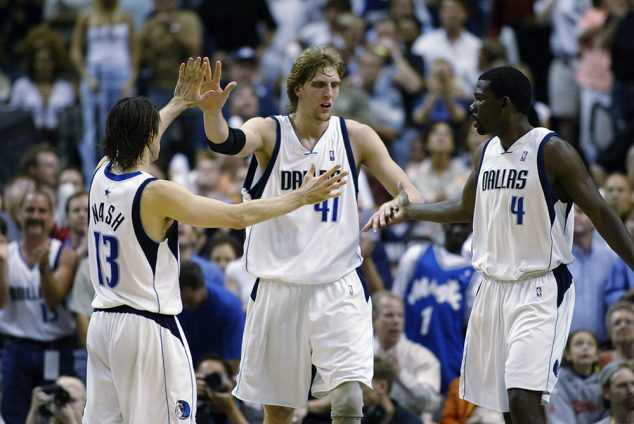 SLAM: A decade ago the "Big Three" was you, Dirk and Finley.
SN: Yep. It's a great testament to Dirk. He stayed with his franchise and got it done. However they did it, they did it.
SLAM: At the press conference for Showdown in Chinatown, someone asked you if you'd ever play in Toronto, and you said you can't predict the future but perhaps if Phoenix was rebuilding something might happen. But is Phoenix already rebuilding?
SN: Well, you can make an argument that we're constantly rebuilding. But to what extent, you know? I think it's more like, do they choose to part ways with me? Rebuilding's always an option, but it's also a scary proposition. Like to completely rebuild? That's at least five years, and that's tough territory. If you go all the way back, you never know how long it takes you to get that foundation, to get the plumbing in.
SLAM: Early in June there were rumors online that the Suns were thinking about moving you. What's it like, you wake up and your name is in the rumor mill?
SN: That's the thing about it. I really, I do not read that stuff. It's not about not wanting to know what's being said. I'm busy. It's not just about entertainment.
SLAM: But I'm sure you still hear things, even just walking around on the streets.
SN: Yeah, I hear things. I live in New York most of the summer, so you hear, "Are you going to the Knicks?" You can kind of tell when it's heating up, but I could care less. I've gone through that so many times in my career, I know that 99.999 percent of the time, maybe just a phone call was made. It's fun for some people. It doesn't bother me at all.
SLAM: You seem like a goal-oriented person…
SN: Yeah.
SLAM: What goals do you have left?
SN: In basketball? Obviously the championship. But my goal, with me it's always about being in the moment. So it's to do the best I can today. Like, today is a busy day for me. I'm going to go from one to three with my physio and we're going to work on the court for two hours. And then the rest of the day I want to get a great workout at the Showdown, and then have a lot of fun tonight. And tomorrow I'll get up and try to have another great workout. That kind of thing, what can I do today more, to put myself in a better position for the next day. Every day I want to put myself in a better position. That's kind of the way I think, and I think it's worked for me and I've gotta stick to that. It's allowed me to play for a long time and have a lot of success.
—
Lang Whitaker is a former SLAM Senior Editor who currently writes for NBA.com and GQ. Follow him @langwhitaker.
115