Sitting on a cement ledge in the lower bowl stands of Lloyd Noble Center, Trae Young is taking in the tranquility of an empty arena while looking up at the rafters.
In less than 24 hours in this very same building, he'll drop 43 points, 11 rebounds and 7 assists in a thrilling OT victory over TCU, which will make him a top story on the nightly highlight reels and once again have him slotted as the No. 1 trending topic on Twitter.
But on this early afternoon in January, the 6-2 point guard is enjoying the calm before the storm. It's an arena he's been familiar with for about 12 years now, when he first served as a ball boy for the Oklahoma Sooners' men's basketball team.
As an 8-year-old, Trae could be seen on the baseline during Sooners home games cleaning sweat spots off the hardwood while standing in the shadows of future NBA stars. A decade later and he's now the hometown hero who has become the most talked-about prospect in all of college basketball.

From NBA stars tuning in to catch his games live on TV and then taking to Twitter afterward in awe, to putting up record-setting numbers in the midst of a skyrocketing climb up the mock drafts, Young unexpectedly became the greatest show in college hoops in the blink of an eye.
Unexpected to everyone not named Trae Young, of course.
"I definitely expected this just because of the hard work and preparation I put in this offseason," Young says on that Friday afternoon. "I couldn't tell you I was going to average 30 and 10, but I expected to do big things. I knew I was going to be able to put up numbers because of the way we play and the way my style fits Coach [Lon] Kruger's game. My main thing was winning, because I knew winning would take care of everything."
That weekend's matinee victory over TCU at home pushed the Sooners to No. 4 in the AP Top 25 national rankings while improving the team record to 14-2 (4-2 in conference). The Sooners were picked to finish sixth in the Big 12 Conference preseason poll during the fall—and, of course, were unranked nationally. The Sooners now sit at No. 12 with a 16-5 (6-3) record and Trae has just put up another ridiculous 44-point, 9-assist performance against Baylor in a win.
Coming off a season in which the program finished second to last in the conference with an 11-20 overall record and 5-13 during league play, Trae's individual success isn't the only expectation that has been smashed in Norman, OK, this season. That a 6-2 freshman would come in and somehow lead the Sooners to a top-5 spot in the national rankings was beyond the wildest dreams of even the most fanatical OU follower.
But here is Trae Young gracing the cover of SLAM Magazine in late January after we swore that our preseason covers of Duke's Marvin Bagley III and Mizzou's Michael Porter Jr would serve as the only college covers of the season. Not only has he completely rearranged mock draft orders and the itineraries of NBA scouts, he's also rearranged the media coverage of college basketball—this publication included.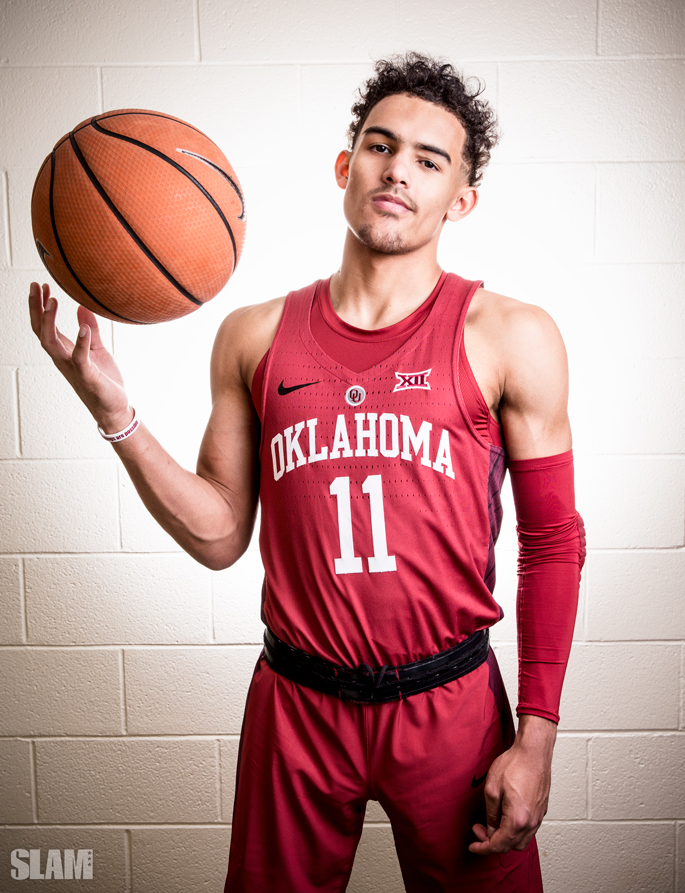 Trae was born just before the start of his dad Rayford's junior season at Texas Tech, where Rayford played PG and averaged close to 18 points, 4 rebounds and 4 assists per game as a senior. Afterward, Rayford played professionally overseas, including stops in France, Italy and Portugal, with Trae by his side every step of the way. He ended up in Norman after landing a graduate assistant position under then-OU head coach Kelvin Sampson.
Trae's tenure as a member of the Sooners can technically be traced back to 2006, when he joined the men's basketball program as a ball boy. His duties included wiping the floor when a sweaty player hit the hardwood, cleaning the paint during timeouts and grabbing rebounds for players during warm-ups. His last year with the program was NBA All-Star Blake Griffin's freshman year at OU. His role and responsibilities were simple and standard, but left a lifelong impact.
"I was able to see [Blake] up close and personal. I fell in love with the game even more just being able to see him perform," recalls Young.
One of most memorable moments from his time as a ball boy wasn't necessarily taking a picture with a future NBA player nor taking home some autographs. Instead, it's the time a minor mishap on his part ended up helping OU.
"This may not be a good memory but I remember during a game—I think it was against Iowa State—someone fell and I went to clean up the wet spot, and then two plays later someone slipped and got injured from Iowa State," Young says. "That's not necessarily a good thing, but it's something I remember."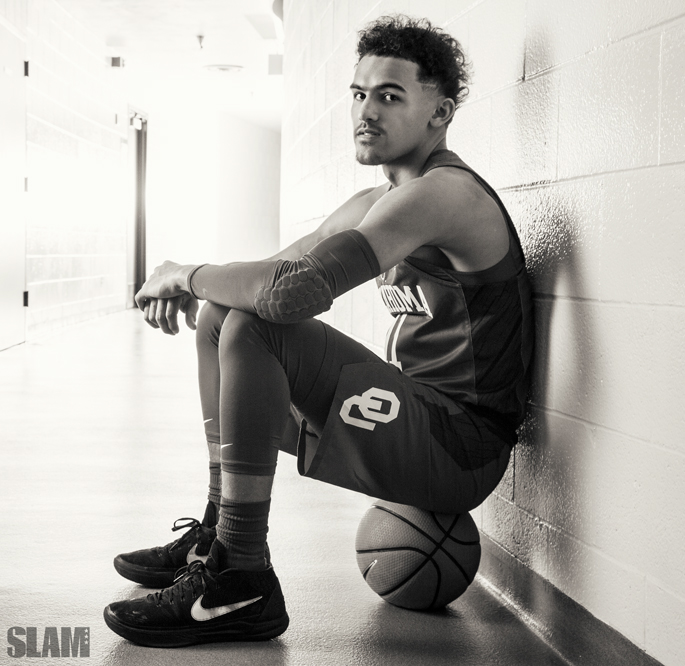 Although he stepped away from ball boy duties in '08, Trae remained around the program, even before he became a highly coveted recruit. Not only was home less than 15 minutes from campus, he also happened to be good friends with the sons of an assistant coach at the school.
"Ever since Coach Kruger was on campus, we had a relationship then 'cause I was always up here—the assistant coach [Chris] Crutchfield, his sons are my age and so I was always good friends with them," says Young of the coaching staff that arrived in 2011. "So when Coach Crutchfield got the job and Coach Kruger got the job, I was always in contact with them. But then it started to get serious probably my sophomore year."
That's when OU formally offered Trae a scholarship. In the years that followed, he would evolve into a five-star recruit ranked among the top 25 prospects in the Class of 2017. He led the nation in scoring, averaging almost 43 points per game as a senior at Norman North High School. He ranked second in assists per game with 10.2 during the 2016 Nike EYBL circuit, regarded by most as the top grassroots league in America.
All the top collegiate programs were vying for his services, and all of a sudden the McDonald's All-American was left with a tough decision. Should he stay home and play for the program he's been around pretty much his entire life? Or choose one of the blue blood schools that players of his status frequently attend?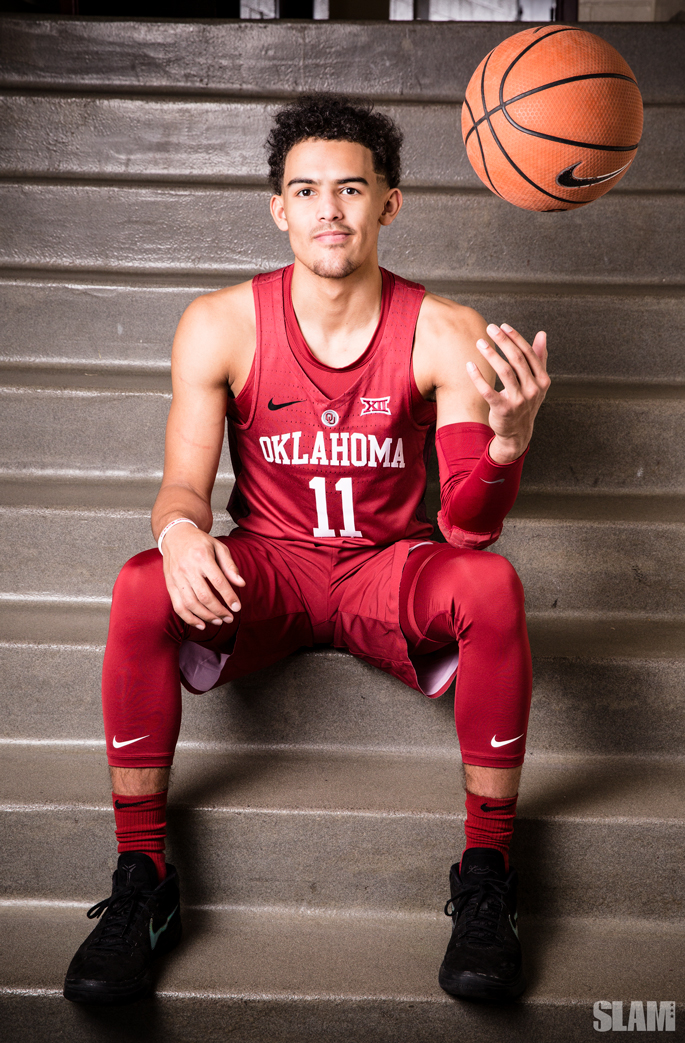 "I got an offer from Duke my junior year. Kentucky, Kansas, they all offered me my junior year," Young says. He also took official visits to his father's alma mater as well as Oklahoma State. "Any high school basketball player would want to get an offer from those schools, so it was a dream come true—I always wanted the opportunity to play for them. But in the back of my mind the whole time I wanted to be different. I wanted to make my own legacy. I wanted to pursue a different route than a lot of the other guys that were five-star players.
"With me having the opportunity to play for a [future] Hall of Fame coach and play in my backyard and represent my city and state—it was something that I wanted to do and to take a different route was something that I took as a challenge."
By deciding to stay local and try to help carry the Oklahoma program, Young was definitely taking up one tough challenge. In recent years, other five-star recruits opted out of attending top-rated schools in favor of programs that were coming off rough seasons. Ben Simmons tried to right the ship at LSU, Markelle Fultz at Washington, and Dennis Smith Jr at NC State. All three failed to lead their teams into the NCAA Tournament.
Nevertheless, the Norman native was ready for the road ahead, despite the risk.
While he had accumulated an impressive résumé—with all the accolades and leading stats—before he ever stepped foot on a college campus, his name was nowhere to be found in NBA mock drafts coming into this season. And Trae certainly took notice.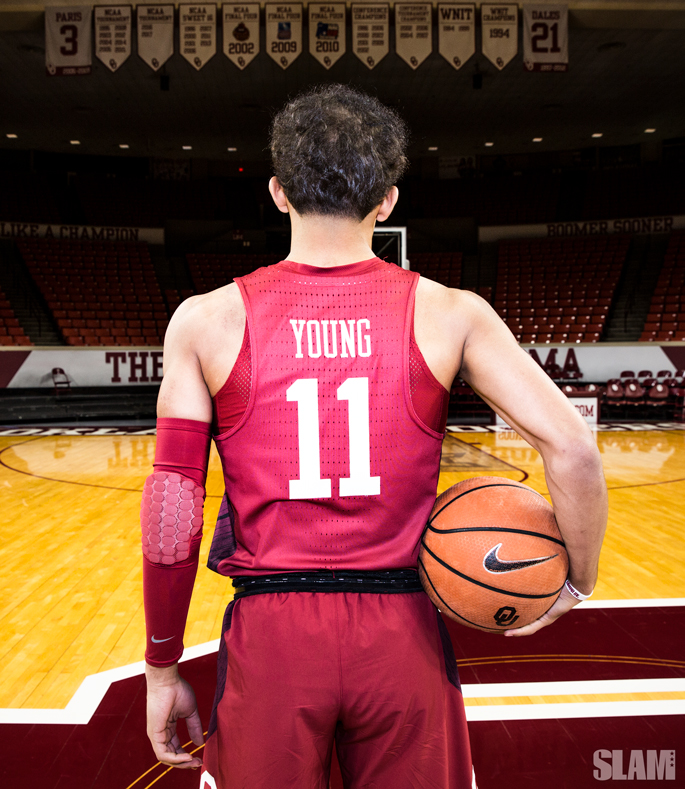 "A lot of people say they don't look at social media and stuff like that. But I'm not gonna lie to you: I'm a 19-year-old kid, I look at Twitter, I look at Instagram, I look at the mock drafts," Trae says. "I noticed in the summertime that I wasn't on anything. But I've been blessed enough to have people close to me who have been through this process and kept me leveled headed."
Just three games into his college career, Trae posted his first 30-point game. He dropped 43 the next night against Oregon. The following month he tied the NCAA record for most assists in a game with 22 dimes (he also finished with 26 points, becoming the first DI player in 20 years to finish with at least 20 points and assists in a single game).
He posted 20 or more points in all but one of his first 17 games. He posted 10 or more assists in nine of his first 15 games. The aforementioned outing against TCU made him the only major-conference player in the last 20 years to finish a game with over 40 points, 10 rebounds and 10 three-pointers made. No freshman in the last 20 years has reached 500 points quicker than Trae. As of mid-January, he led the nation in both scoring and assists, averaging 30 points and 10 dimes per outing.
"Oh, it's ridiculous. If I told you that I would've expected all of this, I'd be lying. I knew he would have a really good year because I know how hard he works and I know how much he wants it, but to be leading the country in points and assists—that's just unheard of. As everyone is saying, it hasn't happened in the last 50 years," Rayford says, referencing when Pete Maravich averaged over 43 points per game his first year of varsity ball at LSU. Pistol Pete reportedly scored or assisted on 51.8 points per game that year. Throughout the first couple of months of this season, Trae had scored or assisted on 52.6 points per game.
In a matter of two months, he went from not finding his name on mock drafts to being slotted as a likely top-5 pick.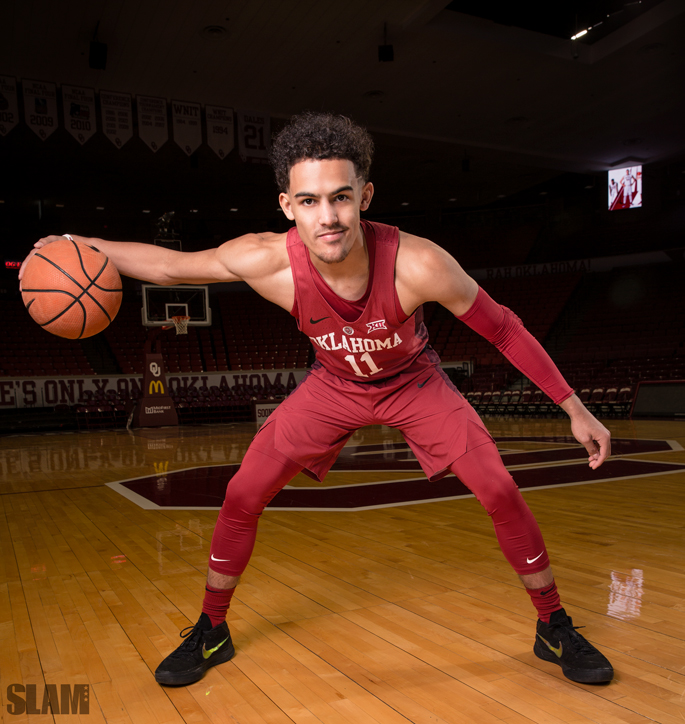 "It's crazy because I don't think I've played any different than I did in high school. I just think that maybe what they saw in high school is something that [they thought] couldn't be done at this level," Trae says. "I'm doing the same thing I was doing in high school, just at a different level. It's always been there, it's just that people didn't see it or didn't believe it at the time. Now they do."
He has a valid point there. In retrospect, it's difficult to pinpoint the reasons why Trae was so slept on coming into the season. He's leading the country in scoring just like he did in high school. He's leading the country in assists just like when he was averaging over 10 dimes on the Nike EYBL summer circuit.
Maybe scouts were deterred because he isn't the biggest or strongest guard on the court. Maybe it's 'cause he isn't the most explosive or athletic prospect on the hardwood. Or maybe he just wasn't taken seriously because he came from a relatively tiny town in Oklahoma instead of one of the usual basketball hotbed regions of America or a national-traveling basketball academy. Whatever the reason, he finally has the attention of the hoops world. And even NBA stars like LeBron James, Stephen Curry and Russell Westbrook have publicly shouted him out.
Beyond the numbers, his style of play—particularly the volume of very deep threes he sinks on a nightly basis—have drawn him wide comparisons to Curry.
"I'm humbled by the comparisons. Who wouldn't want to be compared to a two-time MVP and champ? It's awesome," the 19-year-old says. "But at the same time I feel like I try to be a mixture of multiple point guards. I'm just trying to be the best version of myself and so hopefully I can start a new wave."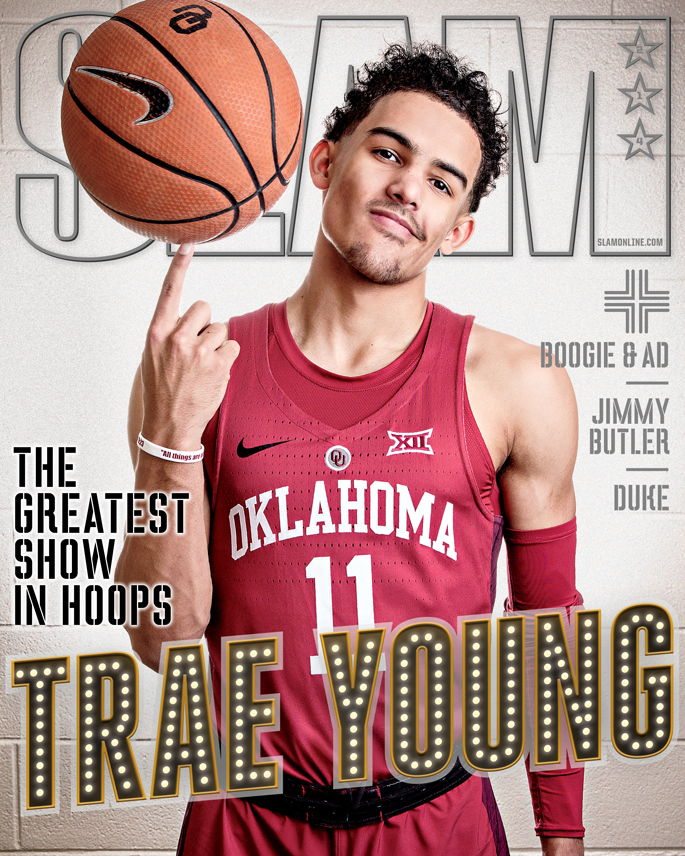 Specifically, there's one retired player whom Trae says he studied and watched the most tapes of growing up.
"My main guy, my favorite player of all time, is Steve Nash," he says. "I just love his all-around game. His touch—he was able to score from all three levels on the court, and he was able to get all his teammates involved."
Young credits the advice from his inner circle for helping him choose this path and staying on course when not many believed it was his time just yet.
"One of the main things is to just enjoy this time. This is supposed to be fun. Because at the next level, that's a business. I'm so happy I made this decision because I don't know where I would be at if I went anywhere else."
—
SLAM 214 is available on newsstands next week!
—
Franklyn Calle is an Associate Editor at SLAM. Follow him on Twitter @FrankieC7.
Portraits by Travis Shinn.