Gerald Davis grew up loving basketball and has always wanted to make a difference in people's lives. That's when he found coaching.
To him, it's not all about the Xs and Os. It's about lessons you're taught in life and the way you use those lessons to better yourself as a human being. We caught up with him in New York to talk over his most recent book, So… You Think You Want To Be A Coach?
SLAM: What inspired you to write this book?
Gerald Davis: Well, it's my second book. The first book that I wrote was Coaching With The Scriptures. As you can see from the title, it was really geared to the Christian or biblical individuals with that type of knowledge. So, it was kind of narrow just for that genre. I decided that I wanted to reach a little bit more. I want my demographics to branch out more. That's when the idea came about: "So… you think you want to be a coach?" What I wanted to do was not be so pigeonholed, and my idea was, we live in a society where everybody can contribute. You can see on the news now with Carmelo, with the death of Muhammad Ali. The athletes are now starting to come together and try to join forces to make a difference in their culture. So I believe there are different cultures. There's a culture in athletics. There's a culture in entertainment. There's a culture in business. There's a culture in the culinary arts. With each and every one of these cultures, you can make a difference. So, with my background as a coach and a teacher, I said, why not make a difference as a coach? I think it's a vital title, but everyone who calls themselves coach is not a coach. I wanted to put it down on paper areas that affect the coach and how he or she can be a better coach.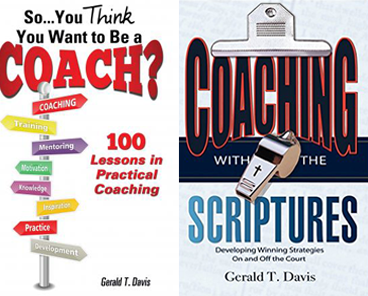 SLAM: With 100 lessons in the book, did you just sit down and write or what was your thought process for it?
GD: I went from A-Z and I brainstormed in area of As, what we did with as coaches in the As. So, I have academics, making halftime adjustments, I speak about the age factor, being an ambassador, showing ambition. How anger affects coaching. And what I did was I correlated different situations that maybe professionals have dealt with and just attached an example with it.
SLAM: I see this book as kind of like a coach's bible. Something they can look to for advice and reassurance. Would you agree or what do you think?
GD: I would say so. The idea is to show that coaching is first difficult, but you're going to see some of the good qualities that we as coaches have and some of the negative qualities that we have as coaches and let the reader decide how that affects themselves individually and maybe get them onto a path of thinking, "What can I do better? How could I do anything better?" It's just another way to challenge them.
SLAM: How has the feedback been since the book has been released?
GD: It's been pretty good. With the release of my second book, I started my website. You're able to see what I'm about, what I'm trying to get out there, and you can purchase the first book or the second book. So far, the sales have been pretty good. I've been out to a couple of festivals selling that way. I'm really involved in the church, so my book is in the bookstore. You can also get my book from Amazon, which is good, and through the publisher themselves, Xulon Press.
SLAM: Planning on writing anymore?
GD: Oh yeah. I just finished my third one. It's called A Coach's Diary and what that's going to entail is I went from the beginning of the season to the end of the season and I made entries every day. It could be whatever transpired that day and how it impacted me or how it impacted one of my players or administrators or athletic directors that I wanted to put on paper. Again, this is more geared to the biblical side and what I learned from that experience. What I did was I attached a biblical scripture to that day and it relates to that situation that day. It's coming out soon.
Photos via coachingwiththescriptures.com