by Martinis Jackson / Hardwoodinsiders.com 
Rounding up the best players in one state is a difficult task in itself, but putting together a half-day event that plays host to the top basketball players in three states is an entirely different feat. Nevertheless, DMV Elite Showcases pulled it off. The 3rd annual DMV Elite 80 was held labor-day weekend at Henry Wise High School in Maryland and the gym played host to many of prep basketball's rising stars in the Washington, D.C., Maryland, and Virginia areas.
Players from across the tri-state accepted their invites in exchange for a chance to show off the skills they acquired over a long summer of competition in various circuits. With an abundance of high school conferences, summer tournaments and leagues, players who live just blocks from one another may never clash for those bragging rights that every young athlete cherishes. On Saturday, fans witnessed a rare face off between top area players before they begin their high school campaigns.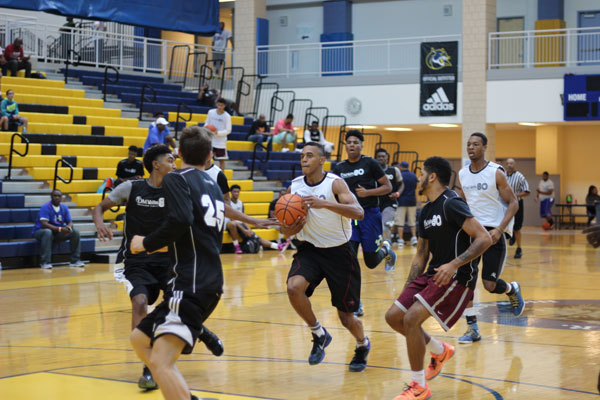 The day began with skills sessions on 3 separate courts. Each court focused on different techniques, ranging from ball handling and passing to using ball screens and knocking down jump shots. Stations were timed and each group rotated so players had an opportunity to participate in the gamut of developmental activities. Once the drills ended, 5-on-5-play began and a number of players had impressive performances that turned heads. With so many games and players to cover, it was almost impossible to compile a complete list of notable players from the event but below is a non-exhaustive list of the standouts from the event.
Chyree Walker | 6'4 junior guard | Bullis High School (MD)| Walker's performance can be summed up in three letters M-V-P. The brawny shooting guard did everything a coach could ask him to and more. Posterizing dunks, knock down jumpers, stiff defense, and a game winning flush that won his team the championship trophy. Virginia won't be the last major college offering Walker before the year is up. He was one of the most impressive players at the event.
Naji Marshall | 6'5 junior wing | Eleanor Roosevelt (MD) | Marshall has a motor like no other player I saw at the event. He is a scoring machine who is very effective getting into the lane. He finishes with contact and can knock down the jumper. Throughout the day, he was absolutely unstoppable at the rim. With two more years left, expect him to receive offers from a number of major division 1 schools.
Daquan Bracey | 5'11 senior point guard | St. Frances (MD) | No matter how many times you watch Bracey, his game never gets old. Whether it's a thread-the-needle pass or a jaw dropping crossover, he brings a certain level of excitement to the game that is unmatched. Although Bracey has flash, he is also a very cerebral player who continued to make the right play throughout the event elevating his team to the championship game. Whichever college he chooses, they will acquire a solid point guard for the future.
Elijah Clarence | 6'2 Junior point guard | St. Maria Goretti (MD) | Clarence is a fierce competitor with great athleticism. He had some electrifying highlights in the games I watched and does not take plays off. He plays physical on offense and defense and was a standout amongst his peers.
Noah Locke | 6'2 sophomore wing | McDonogh High School (MD) | Locke was by far the most impressive sophomore at the event. Locke can flat out score and can really bounce. He seemed to score every time he touched the ball and his stock just shot through the roof after this event.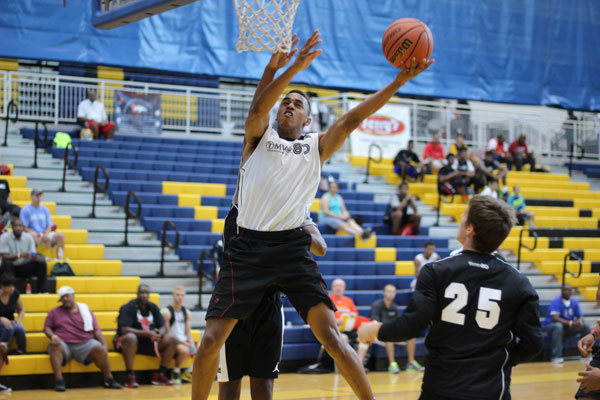 Honorable mention
AJ Wilson | 6'7 senior forward | Elev8 Institute (FL)| superior athlete with a nice touch
Eddie Scott | 6'5 junior guard | Gonzaga College High School (D.C.) | proficient slasher and solid shooter
Tre Wood | 6'0 sophomore point guard | St. John's College High School (D.C.) | strong ball handler with great speed
Kirk Hawkins | 5'10 senior point guard | Laurel High School (MD) | pesky defender with impeccable handles, exceptional speed
Cameron Norman | 6'0 junior point guard | Good Counsel (MD)| knock down shooter who is also not afraid to finish with contact at the rim.
Kobbey Ayete | 6'6 junior forward | Capitol Christian (MD) | excellent rebounder and shot blocker
Antwan Walker | 6'6 senior forward | H.D. Woodson (MD) | versatile scorer with athleticism, rebounds wells
Christian Matthews | 6'6 senior forward | National Christian High School | Georgia Tech Signee | creative near the rim, attacks the boards on both ends
Darron Barnes | 6'5 junior forward | Henry Wise High School (MD) | exceptional rebounder who is developing a soft touch
Blake Francis | 5'11 senior point guard |Westfield High School (VA) | smart play maker who can catch and shoot very well
Dajour Dickens | 6'10 junior forward | Miller School (VA) | very soft mid range touch for his size, good rebounder with long wingspan
Ryan Allen | 6'1 junior point guard | Dematha High School (MD) | good in the screen and roll and knows how to run a team
Luka Garza | 6'9 junior forward | Maret High School (D.C.) | Averaged 11.5 points and 6.5 rebounds throughout the event. Garza is a strong rebounder who finishes near the rim.
Miles Wilson | 6'1 senior point guard | Mouth St. Joseph (MD) | Prolific scorer who has great change of pace. Wilson is a reliable shooter with good athleticism.
(Photo Credits: T'Neisha Turner/ DMV Elites)
111