With over a 1,000 coaches coming in and out of Homestead High School in Mequon, WI, for the NY2LA Sports Summer Jam on July 13-17, high schoolers with hoop dreams competed to showcase their talent in hopes of getting a chance to continue their careers beyond high school.
Though he hasn't even begun his junior year of high school, J'raan Brooks was one of many in attendance who already has some high major Division I scholarship offers and the sense his basketball aspirations of playing at the next level are no longer just a dream.
"This year I noticed when I started working harder, it was becoming a reality," said Brooks, who picked up his first offer last July from Washington. "I've gotten stronger and better at finishing inside the paint. I want to improve my versatility, start to dribble more and become more of a hybrid big man."
The Garfield (WA) High School product was one of the most impressive prospects at the Summer Jam from the Class of 2018 running with Dreamvision because at 6-9 he can run the floor, finish above the rim and has a developing face-up game to go with everything else. At times, he was dominant on both ends of the floor and oozed potential of a future star.
Like all 16-year-old hoopers, other times throughout the Summer Jam it showed just how far he has to go to swap out the potential for production.
DreamVision's 16U squad is coached by Olden Polynice – who had an accomplished collegiate career at Virginia, and went on to a 15-year NBA career after being selected 8th overall in the 1987 NBA Draft as a 6-11 center. Polynice knows first hand what it takes to achieve success at the highest levels, and sees plenty of potential in Brooks but also noted what it will take to cultivate that potential.
"He has a knack for the game, and he's got some good spin moves and a hook which we've been working on," Polynice said. "He just has to do it all the time. He's got to work on his endurance and condition. When you're young and you're the biggest kid, you might take shortcuts. So I'm trying to get him to understand there are no shortcuts in this.
"If he can work on getting up and down the floor even more than he is now he could really, really dominate. When he puts his mind to it, he's unstoppable. Right now it's like today he does it, and tomorrow he might not. But that comes from being a young kid."
Brooks currently holds offers from Washington, Washington State, Arizona State and Montana. It's a sure bet the rest of the Pac-12 and elite programs nationally will monitor Brooks' progression because of the impact he can provide as a post player.
However, he also showed off the ability to knock down a 15-footer with a nice looking stroke as well as the ability to drive by his defender. With both the collegiate and professional game seeing more and more offensive systems that space the floor and value big men who can step out and knock down a three-point shot, Brooks said he hopes to have the versatility to play wherever a coach wants on the court by the time he's a finished product.
Polynice believes that while versatility in a big man's game is valuable, being great in the post will never be a lost art. He's hoping to help Brooks understand that while adding perimeter skills will be beneficial, if he can prove to be an automatic bucket when he catches it in the paint it will be just as impactful in helping him continue playing the game at the highest level.
"There's never been a problem with guys shooting from the outside – just mix it up," Polynice said. "Just don't rely on shooting jumpers. You've got to have a go-to move (in the post). So that's what I've been trying to get him to understand – you've got to have a back-to-the-basket move. I don't care what they're saying about where the NBA is going. If you go into the NBA, fluid and solid with your back to the basket you'll be a lot more valuable because a lot of teams don't have that. Don't get caught up in the myth."
OTHER NAMES TO REMEMBER FROM THE NY2LA SPORTS SUMMER JAM
(Note: With games being played simultaneously on six courts from 8 a.m. to 10:30 p.m, one pair of eyes wasn't enough to cover the entire event. This is NOT an exclusive list. Listed in alphabetical order.)
EVAN BATTEY – 2017 – PF – DREAMVISION
We first talked to the California-native at last year's Summer Jam when the 6'8 forward was without a single Division I offer. Much has changed in that department over the last year, particularly since the spring evaluation period began. Mid-major Division I offers have poured in, and he also has picked up a few high major offers as well with Purdue offering on Sunday. His imposing physicality on the court continues to be complemented by an array of offensive skill and a defensively ability that is rare among peers who share his frame. His production game-in, game-out is impossible to overlook.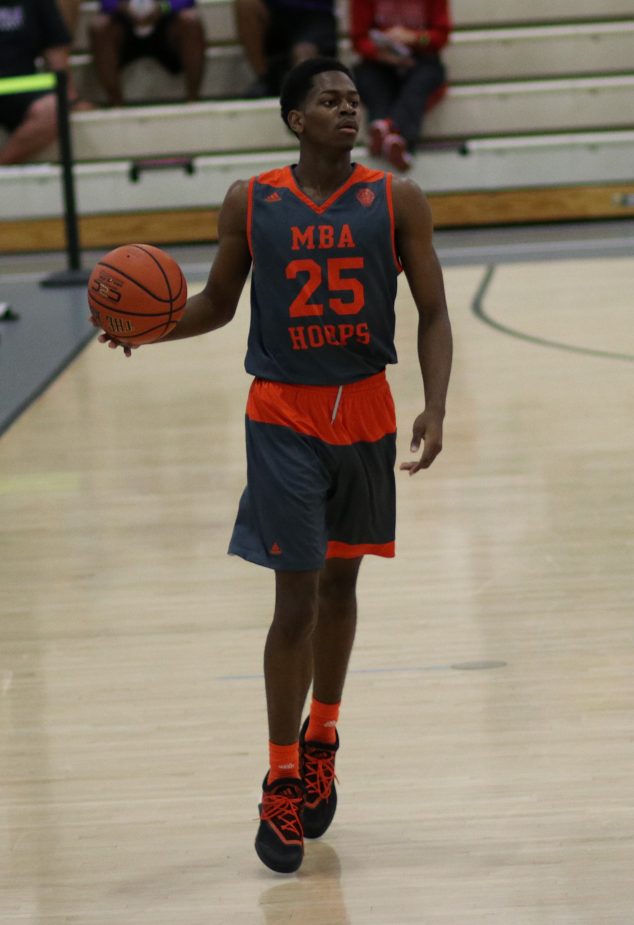 LEDARIUS BREWER (above) – 2017 – G – MBA HOOPS
The 6'5 shooting guard from Meridian (MS) High came into the Summer Jam without any Division I offers. Brewer has ideal length, athleticism and skill for a DI two-guard and the ability to be productive on both ends of the court. He was effective both knocking down shots off the catch and off the dribble, as well as driving to the hoop. Sharing the backcourt with high major point guard Nick Weatherspoon, Brewer will have another chance to impress coaches during the final live NCAA evaluation period in July.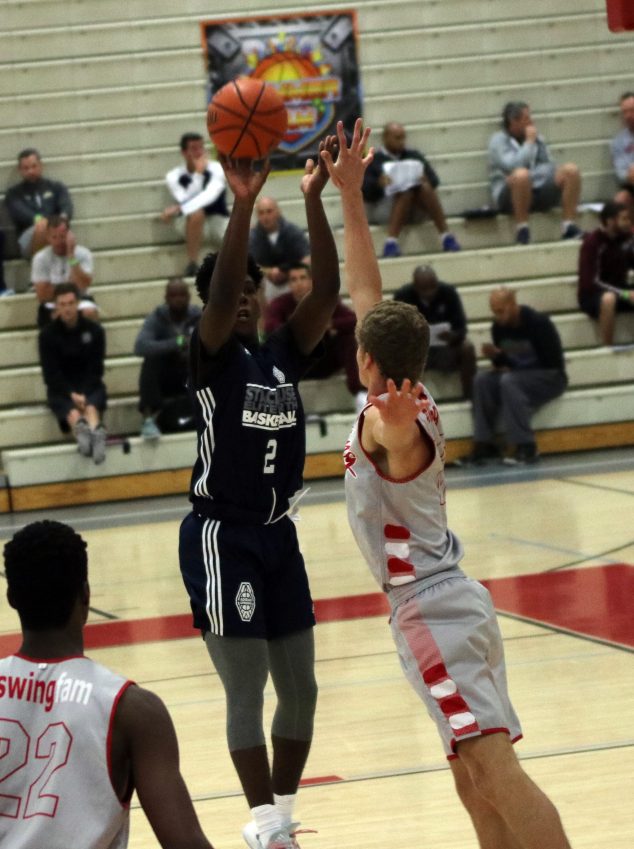 MARCUS CARR (above) – 2017 – PG – STACKHOUSE ELITE NORTH
Carr transferred to Montverde Prep (FL) prior to last school year but missed the season with an injury. The 6'2 point guard looked to be in fine form at the Summer Jam, and possesses high major talent. His three-point shot has improved greatly since last summer, and it makes him even more dangerous as he's got a crafty handle and ability to find creases to drive and collapse a defense. The Toronto native has good vision and passing ability, and will be a dangerous weapon in the backcourt where he winds up in college.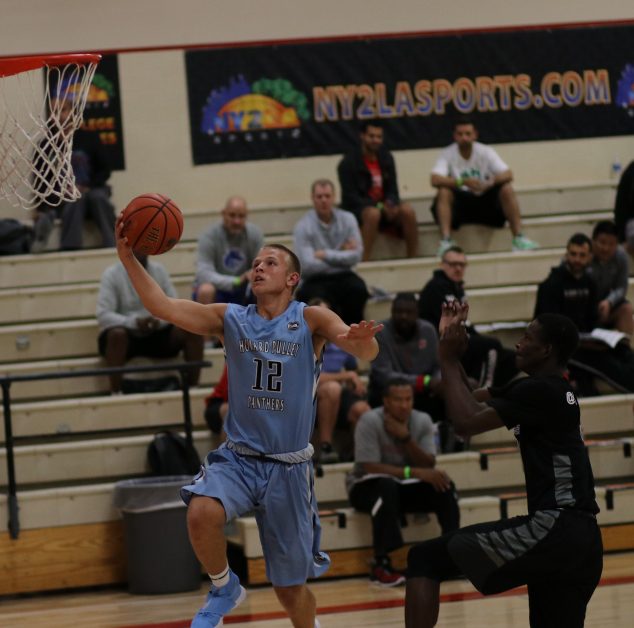 BRAD DAVISON (above) – 2017 – PG – HOWARD PULLEY
Davison recently gave his pledge to play for Wisconsin, and as Badgers fixture at point guard Bronson Koenig prepares for his final season in Madison, Davison seems primed to compete for that starting spot the day he steps on campus next year. The 6'3 Maple Grove (MN) product is steady with the ball in his hands, and has used his added strength to become an effective driver. At the Summer Jam, Davison really stood out shooting the ball and was lights out from three-point land the entire tournament.
AYO DOSUNMU – 2018 – G – MAC IRVIN FIRE
Despite playing in only two showcase games at the Summer Jam, Dosunmu made his case as not only the best prospect from historic hoops hot bed Chicago's class of 2018 but one of the best in the city regardless of class. There isn't much the 6-3 combo guard from Morgan Park can't do with the ball in his hands, and with the ability to guard either guard spot on the perimeter it's safe to say you can add his name to the long list of high major Division I players to come from Chicago.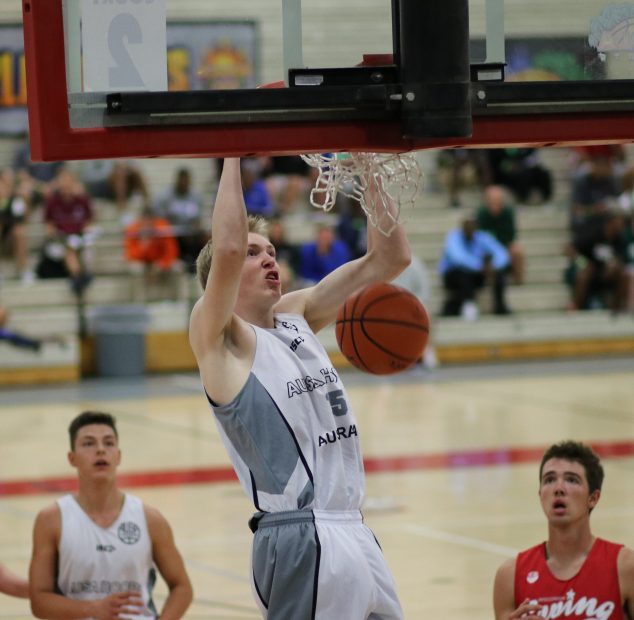 JACOB EPPERSON (above) – 2017 – C – AUSA PLATINUM
Perhaps no player enjoyed a bigger breakout at the Summer Jam than Epperson. The 6-11, and still growing, post prospect from Australia showed the makings of a future pro due to his frame, ability to move and offensive skill. Since coming to compete on the club circuit during the live evaluation periods with AUSA, Epperson has been stockpiling high-major Division I interest and offers. Aside from the experience of playing against high level American competition, adding strength will be Epperson's biggest hurdle to clear in becoming a big time player.
ARMAAN FRANKLIN – 2019 – G – INDIANA ELITE
It's tricky to project a player who just finished their freshman year of high school, but the Fishers (IN) 6'3 guard was too good at the Summer Jam to overlook. The righty was absolute cash from three-point line off the catch, and also scored a ton driving and finishing both with his right and left hand. Franklin was one of the best scorers in the 15U division and is a name to remember for recruiting junkies.
A.J. GREEN – 2018 – PG – IOWA BARNSTORMERS
The Iowa Barnstormers 16U team captured their age group's Platinum Division title, and has been one of the best club teams nationally at that age due in large part to Green running the show. Iowa-commit Joe Wieskamp (6'5, Muscatine) and 6'8 high major forward Joey Hauser (Stevens Point, WI) are the club's two highest rated prospects, and also majorly important to the team's success. Green's recruitment will be intriguing to follow as the 6'2 point guard has major game. He's got a yo-yo handle, great feel for the position and an ability to knock down shots from all over the court off the dribble as well as spot up shots off the catch. His father, Kyle, is an assistant at Northern Iowa. While the recruiting gurus and rankings services haven't put Green in the top 100 yet, he certainly has that potential and could play his way into some high major offers the remainder of this July and into next year's club circuit.
TYLER HERRO – 2018 – G – WISCONSIN PLAYGROUND WARRIORS
Herro (Whitnall High) has ascended up the rankings of the top players in the class of 2018 nationally, and appeared to show no signs of slowing down at the Summer Jam. The 6'4 athletic guard can score at all three levels on the court, including a deadly midrange pull-up. He already sports several high major offers, including a pair from in-state powers Wisconsin and Marquette, and should continue to attract more nationally as he continues to grow and get stronger over his final two high school seasons.
MUSA JALLOW – 2018 – G – TEAM BLAZE
The Bloomington North (IN) already holds an offer from the Hoosiers as well as Vanderbilt, but had just about every Big Ten program tracking him throughout the Summer Jam. Jallow is 6'5 and has elite athleticism and strength for his age. Not many opponents at the loaded Summer Jam could stop him from scoring when he had a full head of steam driving the ball, and he was also a monster in the paint blocking shots and grabbing rebounds. As he continues to polish his perimeter skills, he will only become more dangerous on the court as he projects out as a guard. He should have his pick of the litter in terms of high major programs by the time his high school career concludes in two years.
DANIEL OTURU – 2018 – F – HOWARD PULLEY
There is a chance that by the time all is said and done, Oturu could be the best big man prospect at the Summer Jam. Even though the 6'9 forward from Cretin-Derham Hall (MN) High was playing up an age level, he was highly productive on both ends of the court. Oturu is a great athlete in terms of running and jumping, and plays with the innate motor coaches covet in their players. He finished just about all his opportunities around the cup, and was hard to keep off the glass as a rebounder. Oturu currently holds offers from Minnesota, Providence and Northern Iowa, but will be fielding countless more over the next two years if he continues to play as he did at the Summer Jam.
(Photo credit: Rick Negus)