portraits by Diwang Valdez
A'ja Wilson was calling from the airport in Washington, DC, doing her best to answer questions while also making sure not to miss her connecting flight. She was almost home from Colorado, where she had just earned a spot on the USA Basketball U18 national team. High school graduation was just around the corner. She had every reason to be feeling good.
Not to mention a little relieved. "I was nervous just like any other girl was out there, trying to make the team," she says of the national team tryouts. "I can't really take anything for granted."
That's the right attitude, no doubt, but from our perspective, her inclusion was a safe bet. The consensus No. 1 player in the Class of 2014, Wilson is a 6-4 forward with prototype inside-outside game. She was a member of last year's U19 World Championship-winning squad, and capped her prep career by claiming pretty much every national POY award out there. Making that USA hoops squad was no surprise. Her college choice, well, that's another matter.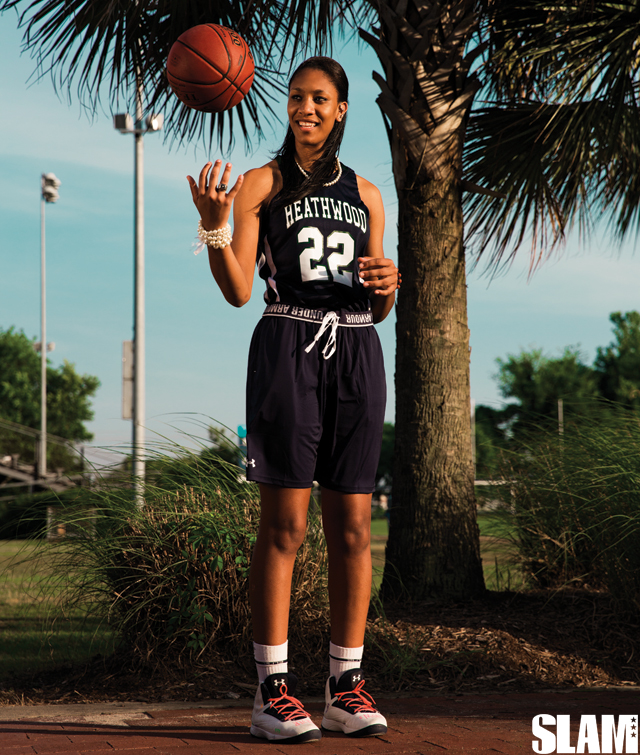 In April, the Hopkins, SC, native committed to South Carolina, the home-state school about 20 minutes from where she grew up. It's not the choice that fans are used to from top recruits, and indeed, Wilson had more traditional options like UConn and Tennessee on her list. But given the school's proximity, the presence of head coach Dawn Staley—herself a women's basketball legend—and the program's rise to last season's SEC regular-season title and a first-ever No. 1 NCAA Tournament seed, Wilson couldn't see a good reason to go anywhere else.
"My support system has been unbelievable," she says. "My school, my church, the community, my parents and family—I really focused on the little things throughout my recruiting process, and I realized everything I need and want is right in my backyard."
Wilson says staying close to home wasn't a priority, but it doesn't hurt that she grew up going to games in Columbia, watching the program progress to where it is now, on the verge of being a national power. "I remember going to games in eighth grade, seeing nobody in the arena, and now seeing like 10,000," Wilson says. "Starting from the bottom of the bottom to being SEC champs, South Carolina is on the rise."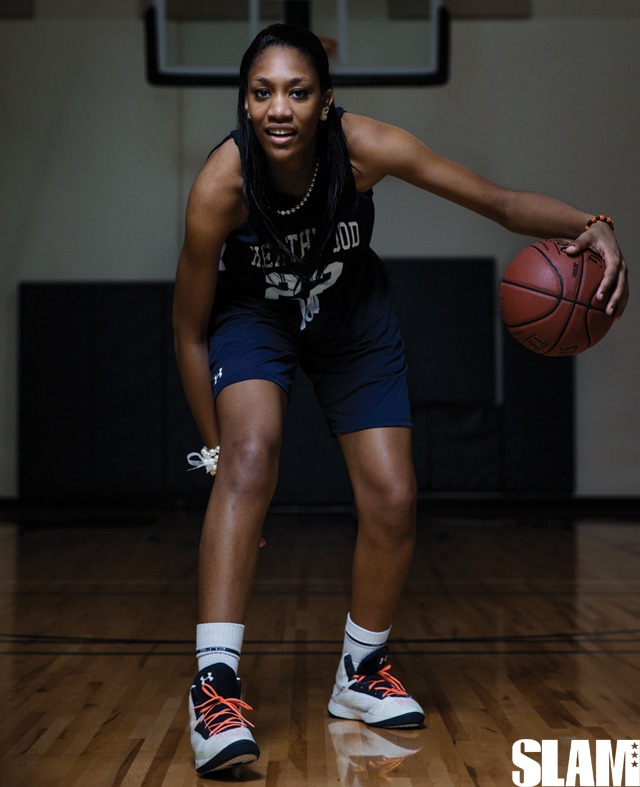 Expectations are at record highs after last season's 29-5 record and run to the Sweet 16, and Wilson leads a five-player recruiting class that includes three other top-50 players. For a program that's just getting used to being a title contender, it all combines to put a ton of pressure on the Gamecocks' fab five. Wilson doesn't mind at all. "I guess if we don't make it to the Final Four, people are going to be looking around, like, 'What's up?' But that was going to be our goal anyway," she says. "All of my teammates have that same goal: winning the National Championship."
Wilson says she still has plenty to work on, but the tools she brings to college are already finely honed. A natural left-hander, she's comfortable on the block or the wing and capable of leading the break or finishing it. Honestly, there's probably only one thing SC fans won't love about their new star. "I'm actually a huge Clemson Tiger football fan," she says with a laugh. "But if I'm watching them, I'll just give 'em like two claps for a touchdown, then I'll go back to being a Gamecock."