When all of his neighborhood friends in Cairo, Egypt were kicking a soccer ball around, 9-year-old Assem Marei found his heart leaning toward something else—basketball.
"Like every Egyptian kid, I started playing soccer first," Marei, now 22, said. "But I didn't like it that much, so I switched to basketball. And I loved it."
The switch seemed natural, even for a kid from Cairo. With his 6-7 father an Olympic athlete playing for the Egyptian National Team in the 1984 Olympics and later coaching a team in his home country, Marei found himself around basketball a lot. He traded in a soccer ball for a basketball and never looked back.
Within a few years, Marei experienced yet another transition. He made the move from guard to big man after shooting up in his mid-teens.
"I grew like six inches in a year and a half or so," he said. "It was hard at first, [but] I adjusted pretty well because I always liked playing around the hoop instead of shooting. When I was playing a guard, I was always penetrating and stuff like that. I love playing around the basket, it's one of my strengths."
Marei displayed those exact strengths and more at events like the 2011 FIBA Under-19 World Championship. His averages of 18.5 points and 12.2 rebounds per game caught the attention of a number of schools in the United States. But because he was playing with professionals back in Egypt, he wasn't able to accept Division I offers according to NCAA rules.
But after going through the NCAA Clearinghouse and with help from Bill Bayno, an assistant coach with the Minnesota Timberwolves when he saw Marei play, Assem connected with Division II school Minnesota State University. He made the overseas move to the Land of 10,000 Lakes and suited up as a Maverick in 2012, a season in which he started all 33 games and led his team in rebounds and blocks.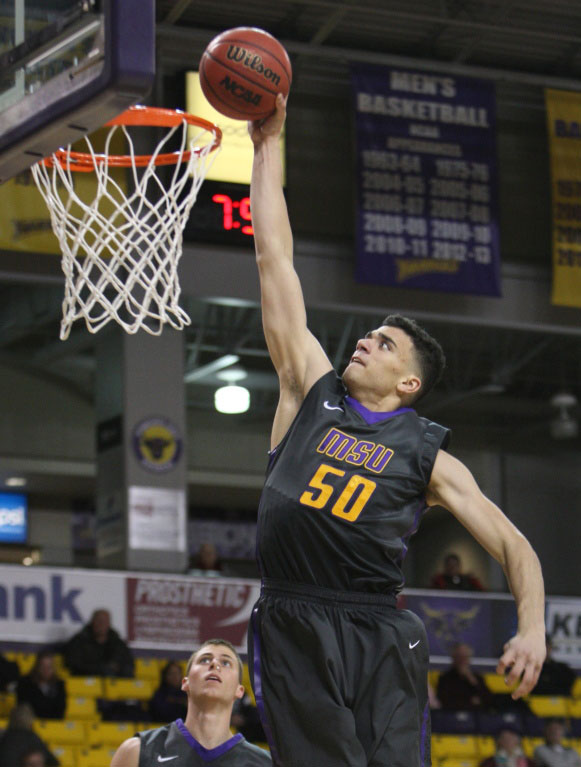 Despite the delay due to playing alongside pros back home, Marei said things worked out pretty well.
"It kind of worked in my advantage. [Playing] that physical type of game back home and then coming here, I felt like I had that advantage," the 6-9 Marei said. "Playing against more physical people made me more ready for [MSU]."
The summer following his first year in Mankato, Marei showed out at the FIBA Africa Championship, averaging 14.6 points and 11.6 rebounds per game (he was the top rebounder in the tournament) in Egypt's silver medal finish. Then in his second year at MSU, he again led the Mavericks in scoring, rebounding and blocks. This most recent season as a senior, Marei led the Mavericks in both scoring and rebounding averages with 19.6 (on 61.8 percent shooting) and 8.9 per game, a noteworthy improvement from his first year statline of 13.6 and 7.3. He again led his team in total blocks with 54. His overall career efficiency of 59.1 percent shooting and 161 blocks put him at the No. 2 spot in Minnesota State's program history for both categories, and he's in the top seven for multiple others.
So that's a lot of numbers in a lot of basketball at a lot of places around the world. And in a little over two weeks, Marei will find himself in another new place after graduating from MSU. A fresh phase in life, on the road to the pros.
But Marei is used to making a switch every now and then. From soccer to basketball, from guard to big man, from Cairo to Mankato—he's a quick adjuster. No sweat.
Photos courtesy of Minnesota State Athletic Communications