While Shabazz Muhammad was leading Bishop Gorman, in Las Vegas, to the Nevada state title three seasons ago, a couple of lanky freshmen were watching their schoolmate and preparing for their turn in the limelight. Now, with Muhammad long since gone to the NBA, top prospects Stephen Zimmerman and Chase Jeter are prepared to have sensational senior seasons of their own.
Before Zimmerman (above right), who is now 7-0, even enrolled in high school, he was receiving DI scholarship offers. No wonder, then, that he was placed on the varsity squad from the jump. With senior big men like Pac-12 and Mountain West forwards Rosco Allen and Ben Carter in front of him, though, the blue-chipper had to wait his turn with scattered minutes. Surgeries on a torn meniscus didn't help his cause, either.
"The summer after eighth grade, I was working out with Shabazz, so I already had a little taste of it all," he says. "But coming in and playing against guys like Rosco and Ben in practice helped toughen me up. Me being a freshman and being exposed to that level of basketball that early only made me better."
Known as an explosive force in the lane who can step out and shoot it from distance, Zimmerman's versatility was on full display for the Gaels by sophomore year. The uncommitted senior, who is being courted by the most heralded collegiate programs, says he hears Chris Bosh comparisons often but is hoping to end up closer to Larry Bird.
Chase Jeter's rise to five-star recruit status, on the other hand, wasn't always so obvious. "I wasn't brought up to varsity my freshman year," says Jeter, who played JV instead. "It motivated me a lot. I saw all the success that the older guys were having, especially Shabazz. Being able to watch how he carried himself and how hard he played, I admired that. It taught me what it took to get there."
Once Jeter finally got the call to varsity his sophomore year, he quickly began making a name for himself as a relentless worker on the glass and an efficient and fundamentally sound post player. The rugged 6-10 forward/center, whose father, Chris, played on UNLV's National Championship-winning team in 1990, likes to study film of LaMarcus Aldridge and Tim Duncan.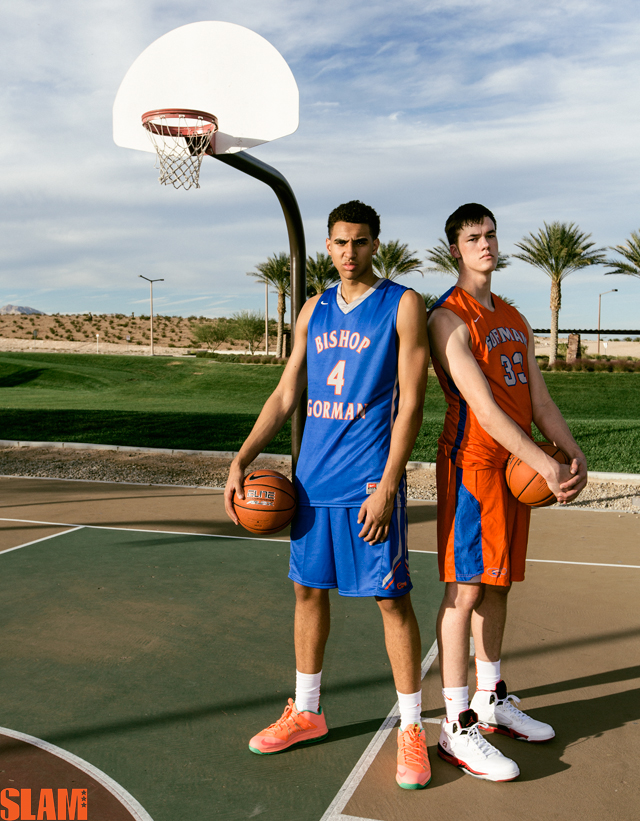 Obviously, this prep season isn't Zimmerman and Jeter's first in the limelight. After Muhammad's graduation in '12, the twin towers put Bishop Gorman on their backs. They carried the school to state titles in '13 and '14, making it three consecutive chips for BG. In last season's title game, Jeter posted a 21-point and 20-rebound performance, while Zimmerman added 11 points, 13 rebounds and 4 blocks.
Looking forward, Jeter and Zimmerman are one state title away from helping BG set a Nevada record for consecutive titles. Along the same lines, Zimmerman says he can become the winningest player in Nevada history. "Us being who we are, we're not going to settle with three," says Zimmerman. "We're going to try to make history with a fourth one."
"We have a big target on our backs and teams will be looking to give us their best every time," adds Jeter, who has committed to Duke. "We have a chance to do something special this season, but we know what we're up against. History's on the line."
portraits by Ahmed Klink
Franklyn Calle is on Assistant Editor at SLAM. Follow him on Twitter @FrankieC7.
218