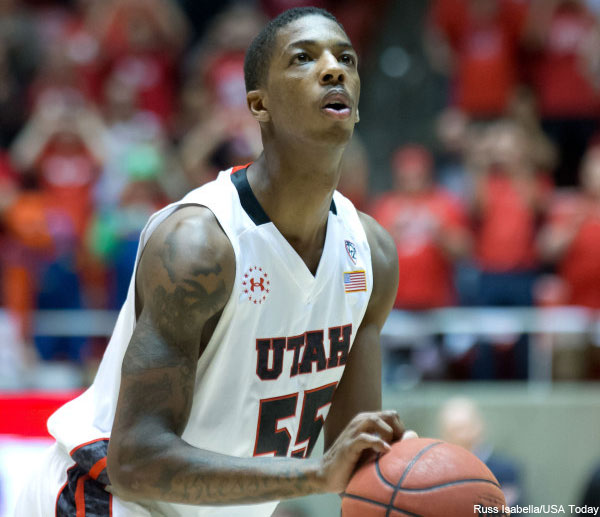 It's hard to get much past Delon Wright. And no, that's not a reference to the 6-6.5 wingspan possessed by the 6-5 Utah point guard. Well, actually, it kind of could be. But in this instance, it's more an allusion to his considerable qualities of retention. Ask Wright about the last shot in a given game, and he'll respond by breaking down each possession that brought it to that point. Dude's constantly evaluating in his mind.
Tether that to an unassailable work ethic, and a willingness to do the dirty work, and you've got a kid with exponential upside. When Delon was growing up, he'd tag along with big brother Dorell (a 10-year NBA vet) for runs at the gym. He was able to play with NBA types because he'd pass and work on defense.
And he just didn't make mistakes.
That background factored hugely into Wright's blistering 2013-14 debut for Utah, during which the soft-spoken star led the Utes in five statistical categories (including blocks) and emerged as one of the country's top performers.
But so did his two years at City College of San Francisco. Before he arrived, Wright had taken a circuitous path through the prep ranks. There were missed turns coated with smoke signals and false hope. He never obtained his GED. At CCSF, Rams coach Justin Labagh made sure he understood the value of hitting the books. You don't graduate, you don't play DI. So when Wright wasn't in the gym, putting up extra jumpers, he was in study hall. He got that Associate of Arts degree. "I owe him a lot," Wright says.
Utah coach Larry Krystkowiak has said that it often takes half a season before you notice a junior college player. Not so with Wright. Krystkowiak knew the type of talent he had from the start of last season. So did his teammates. "Playing with him through the summer, we knew he could be special," said Utes junior forward Jordan Loveridge. For many, Wright came out of nowhere to earn First-Team All-Pac-12 honors, as well as a spot on the All-Defensive team. Leading the league in steals helps with that.
So, what can we expect for an encore, in a season in which Wright is being bandied about as a frontrunner for Pac-12 Player of the Year? Was there a chance any of this would go to his head? Nope.
This is a guy who, when he won Pac-12 Player of the Week last season, had to be informed by teammates. His standard response? It's good for the team. "I think our team success will be better than any individual success, anyway," Wright says.
This isn't coach-speak, or a running-through-the-motions type deal. Wright excels at eliminating distraction, freeing his mind for what's important. He assumed his jersey number, the unorthodox 55, because, as a freshman at City College of San Francisco, he told Rams head coach Justin Labagh he didn't care what he wore. The same went for shoes and socks. Wright was too busy getting in the gym for early morning jumpers to fret about that kind of stuff.
This summer at Utah, Wright hit the weight room. After leading the conference in minutes (38.6!), he needed to get stronger. He hoisted jumpers just as he'd done a summer ago. He wants to improve upon last year's 22 percent from three.
Krystkowiak's take? He told KSL.com in October that Wright looks 10 times more aggressive in practice this year. "He was always ahead of the curve," Krystkowiak told KSL, "but I think he still deferred. Late in games, we put the ball in his hands, and he wasn't quite ready to make those plays. And this year, in our practice settings, he's been very assertive with that kind of stuff."
There was a point when it wasn't certain if Wright would return for this season. But after he decided to bypass last summer's NBA Draft, he set about maximizing his experience in Salt Lake City. He wanted to finish his Sociology degree on time. Even though by next spring, he'll be jet-setting to pre-draft camps and workouts, Wright refused to tailor his academic schedule. He doesn't want to have to return in future years to finish that degree.
The academic side doesn't come easily to Wright, but you'll be hard-pressed to find someone who works harder at it. Krystkowiak says that the academic service staff at the university rave about him. He's their favorite. "And that's not because of the way he plays out on the court," Krystkowiak says. "It's the way he comes into study hall and tries. He's fulfilling the definition of student-athlete."
"I give a lot of credit to my academic advisers," Wright says. "They believed in me, that I could knock it out right now. They helped me as much as possible, to get that done. They gave me confidence."
Buoyed by the knowledge that his star was coming back, Krystkowiak challenged Wright. What could the guard do to become even better? To start, the coach reflected upon the moments last season when he'd see his point guard make a play for the first time. OK, Krystkowiak said. Now, do it in practice. "I wanted him to be one of our hardest workers in practice," Krystkowiak says. "Not that he was ever a 'bad' practice player. But, if you really want to accomplish your goals, you have to close the gap between practice and games. As you practice way harder, all of a sudden you realize you're capable of doing some things that maybe you didn't know you could do."
Krystkowiak knows full well the rigors that await Wright at the next level. The former Montana star played 10 seasons in the NBA, and coached for three more, including the 2007-08 season at the helm of the Bucks. "He knows I've been in the NBA, and can help him out with a lot of things, but we don't talk a lot about it," says Krystkowiak. "His focus right now is figuring out a way to reach his full potential and lead our team. All that other stuff will come at the right time."
Back to the shooting. "He's not a bad shooter, but one of the little knocks on him is that he couldn't hit shots," Krystkowiak says. "Even when he missed last season, they weren't bad misses. He's an inch long, or an inch short. This summer, he put up thousands of reps, and he's making a lot of shots in our practice right now. If people decide to play soft on him this season, he's capable of hitting them."
Wright used an app that records the amount of time it takes to release a shot upon catching a pass. The goal: 0.7 seconds.
Before, as he'd prepare to rise up, his feet were often trying to catch up with the shot. So, Wright worked on his base. Now, when he receives passes, his feet are in perfect triple-threat position. Previously one to watch the ball upon release, rather than zero in on the rim, Wright forced himself to focus upon the latter. Krystkowiak references darts players: their eyes never leave the target. Neither should a shooter's.
It's coalesced with a strong performance in fall practice. Those thousands of reps are paying off. "He's making a lot of shots now," says Krystkowiak.
Add that to Wright's prodigious stat-sheet stuffing capacities (he averaged 6.8 rebounds and 5.3 assists in addition to his 15.5 points a season ago), and you've got a key ingredient for what could be a special season for Utah.
"He's an easy guy to pull for, because he does a lot of things right," says Krystkowiak. "He's been an integral part of us turning the corner at Utah. Just the fact that people want to talk about it means that he's doing something right."
107