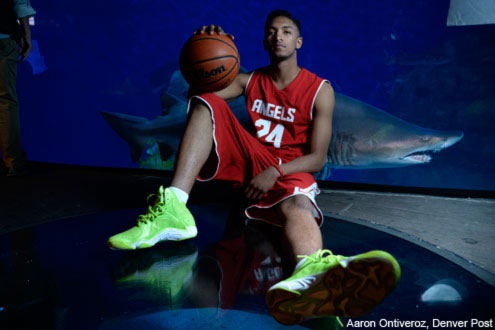 On June 1, Dominique Collier headed out along US-36 West from his Denver home. Some 40 miles later, he arrived at the University of Colorado at Boulder. He was three days removed from his high school graduation. Now he was, in his new home.
Twenty-five days later, Spencer Dinwiddie was selected by the Detroit Pistons with the 35th selection in the NBA Draft. One of the best players in recent Pac-12 history, Dinwiddie had announced this past spring his intention to forego his senior season at Colorado.
It seemed only natural, then, that Collier, who at 6-1 is widely considered to be one of the best floor generals in this incoming freshman class, found himself immediately thrust into the departed Dinwiddie's shoes.
Don't we have a habit of building up hype.
But let's hold up a moment before we go crashing into that ever-growing realm of unnecessary proclamations and outsized expectations.
That being said, Collier has the skill to back up the hype. He's a two-time Colorado Gatorade Player of the Year with a prep legend that could make Chauncey Billups, perhaps the greatest basketball name ever to emanate from Denver, blush. This past season, Collier averaged 21.6 points for Denver East, whom he helped lead to the 5-A state championship. He first began hearing from Colorado before high school—in eighth grade, actually—right around the time that Tad Boyle took over the head coaching position. As Collier progressed through high school, becoming a Buff became an increasingly appealing option. "When I saw what coach Boyle was doing at Colorado, and the way he was developing players, that really opened my eyes," he says.
Under Boyle, Colorado has gone to three consecutive NCAA Tournaments and consolidated its position as one of the top programs in the West. A slew of top prospects, several of whom come from the Los Angeles area, have signed in recent years.
Now comes Collier, and he'll join a number of in-state recruits on the Buffs roster, including talented posts Wesley Gordon and Josh Scott. Yet Collier is the first Denver Public League player to come to CU since a certain Billups. That means something substantial. "There's pride, coming from Denver," Collier says. "I'm playing for everyone back home. It's great to have their support. I want to keep proving that we've got some players in this state, too."
"As the University of Colorado, it's imperative that we get the best talent in the state to stay home," says Boyle. "This is the area we want to concentrate upon, and Dom's addition, following the lead of Scott and Gordon, is a big one."
His game is smoother than the acoustics at Red Rocks, his ability to lead a team proven at the highest levels of prep competition. Many are calling him the perfect addition to a Colorado basketball team that is preparing to make a serious run in the season to come.
But the next Dinwiddie? Boyle would appreciate it if we held off on that particular christening. Give the kid a chance to find his feet first. "One of the ways we've built Colorado basketball is to have a little bit of succession at our positions," says Boyle. "We don't have to have two or three freshman come in and have immediate impacts for us in order to be successful. That's part of our evolution as a program. Recruits can develop at a normal pace.
"It's not like we have to say, 'Dom, you've got to come in and save the world.' But I do want him to play and be a contributor. It's important he gets his feet wet as a freshman, and starts developing."
That's what Collier is looking forward to. He knows what's expected of him—working hard constitutes a large part of it—but he also possesses the requisite confidence, honed over years of work, required to contribute in a large way, right away. And that could come quite in handy come next season.
"There was a lot of attention placed upon him because of his skill level, quickness and basketball abilities," says Boyle. "But the thing I loved most was watching him grow and develop a team-first attitude in high school. He's a true point guard who thinks pass-first, score second."
***
Collier's mother, Lori, is fond of joking that her son grew up with a basketball in his hands. When asked about this, Collier doesn't exactly demur. "Everyone in my family played basketball, so I was around it every day from when I was a baby," he says. "My brothers, my dad, my cousins—they made me want to start playing."
As a youngster, he gravitated toward Allen Iverson and tried to catch any game he could of the transcendent Sixers guard. And then there was this connection to the family of a certain local legend.
"I think it started with my dad and brother," Collier says. "My brother played against Chauncey Billups in high school, and my dad was good friends with his dad. When I was 5 years old, I started playing on the same team as Chauncey's younger cousin. He was in my grade, and we played on the same team all the way to high school."
Billups became a mentor for young Collier, someone he could hit up out of the blue. "Basketball or life, I'd text or call him, and he'd tell me his insight and guide me," Collier says. "He was just a mentor."
There are stages in any young man's growth, and in addition to the Billups link, Collier enjoyed a chance to grow his game in the summer before his freshman year of high school, when he stayed with his family in Milwaukee, WI. Why? Well, the whole thing happened almost by accident. When Collier was in seventh grade, he'd participated in an All-American camp in Virginia Beach, VA, where he played on the same team as Riley LaChance.
LaChance hailed from Milwaukee, and the following summer, one of the point guards for his AAU team, Ray Allen Select, moved to Florida. His father, Tom, was one of the coaches, and both LaChances had an idea of whom they'd like to fill this roster spot. "My dad got to know Dom's parents pretty well, and he said to them jokingly, 'Yeah, you should spend a summer in Milwaukee and play for us,'" says LaChance.
"[Dom's] parents wanted him to do it. So we talked it over, and long story short, he ended up playing for Ray Allen Select." That summer was marked by growth. Quiet by nature, the new surroundings forced Collier out of his comfort zone. If he was going to help his team win, he had to speak up on the court.
LaChance agrees with Collier's self-assessment that in those months, Collier became a better floor general.
The level of intensity from that summer, emanating from so many grueling workouts with LaChance, has remained with Collier. "When I played in Milwaukee, I played true point guard—and that taught me how to do it," Collier says. "In workouts here at Colorado, I've been able to display my point guard role. I want to come in and be a leader, be a point guard."
LaChance, who will play for Kevin Stallings at Vanderbilt this season (he's one of the best shooters in the country), calls Collier "the nicest dude ever." Well, at least until Collier gets on the court, where his game is fresh snowfall-levels of cold. And that smoothness…
"It's almost effortless," says LaChance. "Dom can get wherever he wants on the court. And he's always looking for somebody else to pass to."
***
On January 12 of this past season, Colorado headed to Seattle for a Sunday showdown with Washington. The Buffs boasted a 14-2 record, and were ranked 15th in the country. They'd already shocked then-No. 6 ranked Kansas at home, thanks to an Askia Booker bomb at the buzzer. This team had "tournament dark horse" written all over it.
Then against the Huskies, Dinwiddie went up for a ball and came down in shuddering collapse. The anterior cruciate ligament in his left knee was torn. His season was over.
Colorado, reeling.
And yet. There is a resiliency in this cast of characters Boyle has assembled in Boulder. In late September of last year, the team participated for the second consecutive year in a grueling weekend training camp, called "The Program." It's overseen by ex-military men, and while it ain't fun, it sure is beneficial.
After the loss of Dinwiddie, the lineup was tinkered with. Boyle landed upon a rotation that featured three sophomores, a redshirt freshman and a junior. Booker (the junior), who emerged as one of the leaders during The Program, helped key the charge. So did Scott. The Buffs found a way to push through to the NCAA Tournament, where they lost to Pittsburgh in the Round of 64.
"It gives us confidence," says Boyle, when asked about last season's finish. "The way I look at it, we got an 18-game jump on this season. But that's also a double-edged sword. I feel very good about it because of the confidence our players developed, and the fact that we've got a lot of good, young talent back."
That includes juniors Xavier Johnson, a 6-7 swingman from Los Angeles, and Scott (14.1 points, 8.4 rebounds), who transformed into one of the conference's dominant post presences. They'll pair with Booker (13.7 points), now a senior. Consider that four freshmen played serious minutes off the bench, including the high-flying Tre'Shaun Fletcher, and you get a sense for the optimism.
But then…
"On the flip side, we were 9-9 without (Dinwiddie) last season," says Boyle, alluding to the span after 'that' injury. "That won't cut it this season. We need to make sure that the offseason is a time where the players coming back, along with Dom and Tory [Miller, a 6-8 freshman post] are working hard every day in the weight room and developing.
"But I like our team. I like the youth, the talent, the length and athleticism."
Make no mistake, Dominique Collier knows full well the task arrayed before him. It's one reason why, after committing to Colorado in May of his junior year at Denver East, he began working with a personal trainer.
"The biggest question mark on our team now is the point guard position, because Spencer's injury, and his decision to forego his senior year, puts us back to where we were at this time last year," says Boyle."But we've got different guys who can handle that role. Xavier Talton had great minutes in critical games for us. Jaron Hopkins is a big, physical guard."
Here, his days are filled with the of work. At 6 a.m., he lumbers out of bed and heads off to weight training. Then there's school, followed by more workouts in the afternoon. But Collier has a strong support group around him—including Rodney Billups, a Buffs assistant, and Chauncey's brother. "(Rodney) was a great point guard, too, and he teaches me a lot, like going somewhere with my move, and not turning the ball over so much," says Collier. "It's great having him here."
"The biggest issue he'll have will be transitioning to college," says Boyle. "He's moving up a level now in terms of talent and quickness and strength. That physical maturation will take time to acquire. What I don't want to see is people's expectations early in his career getting out of whack. It's important we guard against that, and understand that this is a development."
Dominique Collier is learning the collegiate ropes, but he's not really sweating the season just yet. When asked about the summer so far, he keeps it succinct. "It's just been good," he says.
"He's adjusting academically, athletically and in the weight room," says Boyle. "That's not a room he's been accustomed to living in. But that being said, his talent and skill level are exactly what we thought it would be. Once he gains the confidence to finish at this level, he'll be a very good player. No question about it.
"It's just a matter of when; not if."