It's March, and you know what that means: We're just days from the start of the NCAA Tournament. That also means that in Kentucky, they're also just days away from the start of another run toward a National Championship. That's right, it's become a bit of a spring rite of passage down for Coach Cal down in Lexington: Take another group of young ballers, have them peaking in March and competing for a title, before packing their bags and sending them straight to the NBA Draft lottery.
That's been the case since Cal arrived back in 2010, and a new book is out which actually chronicles Calipari's first season at Kentucky. It's called "One and Fun: A Behind the Scenes Look at John Calipari and the 2010 Kentucky Wildcats," and through interviews with everyone from John Wall, Patrick Patterson, Eric Bledsoe and Calipari himself, the book really does take fans behind the scenes of that first year of the Calipari era, where Wall, Bledsoe and DeMarcus Cousins had the 'Cats on the verge of a National Championship.
Of course there's a reason we're telling you about the book, and that's because it has a SLAM twist to it. If you'll remember, back during that 2010 season we featured Coach Cal and his crew on our cover under the headline "The HitMaker."
Today, author Aaron Torres has been nice enough to share that excerpt, told through the eyes of the 'Cats who lived it.
Enjoy.
*****
Kentucky's season was rapidly coming to an end, although the players probably didn't fully realize just how quickly things were winding down. They were too busy having fun, too busy busting each other's chops, and too busy being, well, college kids to even notice.
The 2010 Kentucky Wildcats were a very close team, yet over time an extra-special bond had formed between the school's three uber-talented freshmen: John Wall, DeMarcus Cousins and Eric Bledsoe. The trio had known each other to varying degrees from their younger days; Wall and Cousins from the AAU circuit, and Cousins and Bledsoe as old high school rivals in Alabama. But once they got to Kentucky, the three formed a bond that was airtight. And it would last long after they left Lexington.
"We used to call them 'The Three Amigos,'" assistant coach Scott Padgett said. "You could not separate John Wall, DeMarcus Cousins and Eric Bledsoe. To be honest with you, other than them playing against each other, they're probably still on the phone with each other all the time (to this day). They're still very tight."
The three became as close as brothers, although as the rest of the Kentucky squad quickly found out, even brothers tend to fight every now and again. 'The Three Amigos' were no exception, with one player in specific taking the brunt of the teasing: DeMarcus Cousins. Cousins wasn't just the biggest player on the team, but had the shortest temper as well.
It made him an easy target for Wall and Bledsoe.
"John and Eric would make fun of DeMarcus," fellow freshman Jon Hood said. "They made fun of the size of his head. DeMarcus has a very small head, so they always said it would fit in a tea cup. They would call him that. They would say 'cup' and he'd get all frustrated."
It was typical kid stuff, but although Cousins' would take it, even he had his breaking point. You know what happens when you pick on the biggest, strongest kid for long enough, right?
"It was like making fun of the bully at recess," Hood said. "They'd make fun of him, and he'd just take it, and take it, and take it. And then he'd start to get mad, and they'd just lay down on their beds and say 'chill, chill, chill, you're huge, calm down.' You tease the big bear until the big bear decides to do something about it. Then you run."
Yes, there was plenty of good-natured ribbing between the three, but as Kentucky's players and coaching staff found out, there was also genuine love and affection. And there was no better example of that, than an incident which popped up toward the end of the regular season.
At that point in the year, Kentucky was far and away the biggest story in college basketball. That was nothing new; Kentucky had been the biggest story in the sport since November, and the media relations staff was used to dealing with it. But in late February of that year, they got a unique request. Even by the insane standard of media requests that the 2010 Wildcats had dealt with all season.
The request was from SLAM Magazine, one of the most prominent and well-respected basketball-specific magazines in the industry. SLAM serves as the voice of an entire generation of basketball fans, with most of the magazine's focus on NBA-related stories. They also cover street ball, international hoops and will even occasionally profile an up-and-coming, can't miss high school superstar. But the one area of basketball that SLAM rarely ever covers is college basketball. That was, until 2010, when the magazine reached out to Kentucky about a potential cover shoot.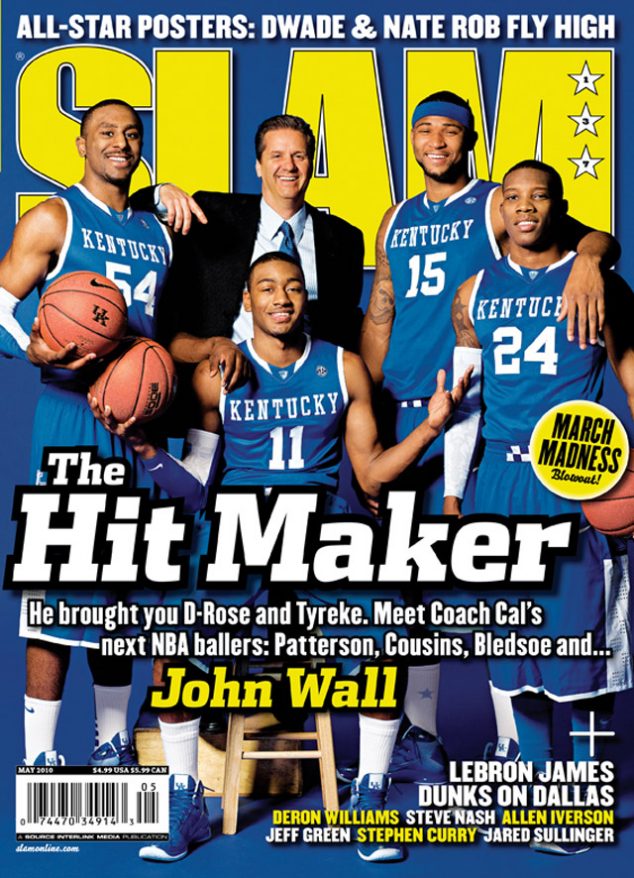 The thing was however, that the magazine wasn't so much interested in featuring the whole team. They were interested in putting John Wall on the cover. Wall was the player that just about everyone agreed was the NBA's next great star. He was also the next in line of great John Calipari coached point guards. Derrick Rose was the reigning NBA Rookie of the Year, and Tyreke Evans was on his way to winning the same award that year. With Wall almost certainly on his way to the NBA, and very likely to NBA superstardom, it made sense to profile. SLAM is an NBA-themed magazine, after all.
But what SLAM hadn't taken the time to consider was that the Wildcats were about much more than just John Wall by that point in the season. Kentucky hadn't gotten to the No. 2 ranking based solely on Wall; it was a team effort to not only get to the top, but stay there. It just didn't seem fair to single fair to any of Kentucky's administrators to single out Wall for the team's success.
"They had come in and they wanted to do something with John Wall," sports information director DeWayne Peevy said. "We said we didn't want to divide them (the players) up. We had been a little protective of that, because John had already done the Sports Illustrated cover."
SLAM Magazine understood, and offered a counter: How about they feature Wall on the cover with John Calipari. Calipari was the common thread between the NBA's present (Rose and Evans) and its future (Wall). It made perfect sense to include Coach Cal on the cover, with his next great NBA superstar.
SLAM assumed that compromise would work for Kentucky. The answer they got back surprised them.
"We said 'Well, we really don't want to do it with one player,'" Peevy remembered. "And they said finally, 'We've never put that many players on the cover' and they were willing to add Patrick Patterson and DeMarcus Cousins."
That had to be good, right?
Well not exactly.
As it turned out, the guys felt like there was a fourth star that deserved equal recognition for the team's success. That was Eric Bledsoe. Sure, he didn't have the numbers that the others guys did, and no, he wasn't yet being projected as a top NBA Draft pick either. But Bledsoe's own teammates knew how good he was, and how important his play had been to the success of the team.
Therefore, the players drew a line in the sand: If Eric Bledsoe wasn't on the cover, they weren't going to be either.
"Those three guys refused to do the cover if Eric Bledsoe wasn't included," Peevy said. "So we called SLAM Magazine and we were ready to turn down the cover. And at the time, that was a big deal for us because they didn't do a lot of college stuff, and they end up deciding to put Eric on it."
SLAM did in fact relent, and a few weeks later the magazine arrived in the mail. The headline said it all, calling John Calipari "The Hit Maker" with subtext that said, "He brought you D-Rose and Tyreke. Meet Coach Cal's next NBA Ballers: Patterson, Cousins, Bledsoe and John Wall." The cover has become a bit iconic in Kentucky basketball circles and is still prominently displayed in Kentucky's basketball offices to this day.
But while the cover was just further proof that Kentucky had "arrived" it also provided much deeper symbolism for Peevy. In a season where many in the national media continued to push a narrative that Kentucky's freshman were selfish and egotistical, that one picture showed the exact opposite.
"That was a big moment for us," Peevy said. "Because I felt like 'this isn't fake.' There really is a bond. They really are willing to sacrifice for each other."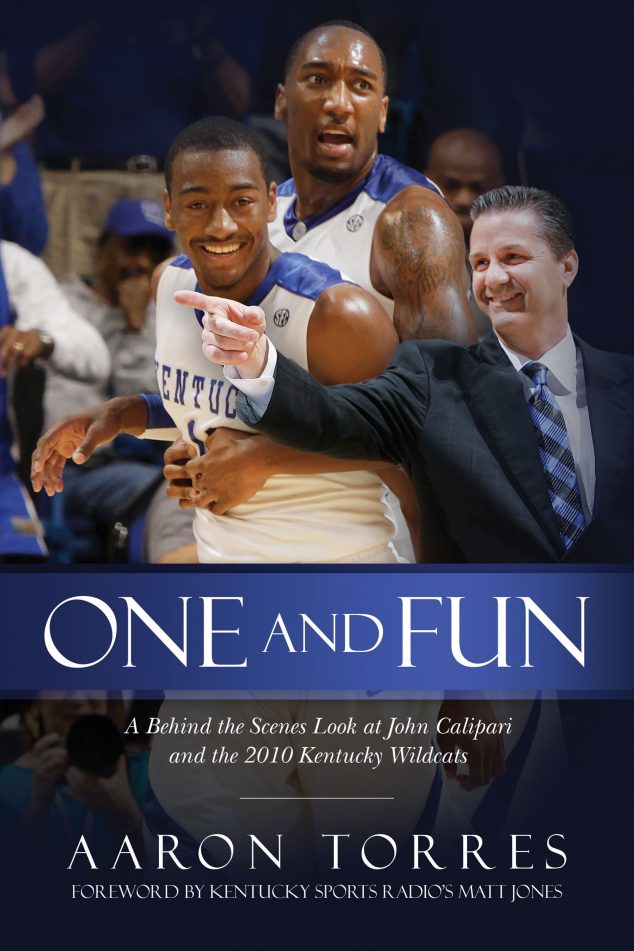 One and Fun: A Behind the Scenes Look at John Calipari and the 2010 Kentucky Wildcats is available in paperback and Kindle on Amazon, with more details, excerpts and information available at KentuckyBasketballBook.com as well.
Author Aaron Torres covers college hoops for Fox Sports, and has also done freelance work for Sports Illustrated, TSN and a handful of other local and national outlets. Follow him on Twitter @Aaron_Torres, Facebook or ask him a question about the book by e-mail at ATorres00@gmail.com.