Year one of Eric Musselman's tenure as coach at Nevada finished with a 24-14 record and a College Basketball Invitational championship.
Now in his second year in Reno, Musselman has put together a squad that currently sits at 19-5, 8-3 in the Mountain West Conference (tied for 1st place) and has its sights set on the Big Dance.
Musselman's recipe for the early success since taking over a program which had won just nine games during the 2014-15 season, and finished second to last in the league, has been sacrificing depth for talent. Three of the Wolf Pack's key players this season all sat out last year per NCAA transfer rules, and there are currently four talented transfers from high major programs currently sitting this season out who figure to play primary roles on next year's squad.
The importance of having an entire team connected both on and off the court as a unit is not lost on Musselman, who coached in the NBA for over a decade before joining the college ranks. Many programs around the country consist mostly of players who were recruited to the team as freshmen, so the makeup of Nevada's roster is unlike most others. Musselman recounted his playing days at the University of San Diego when the coach who recruited him left and a new coach came in, and there was a feeling of difference throughout the roster depending on which coach had recruited each respective player.
So the concerted effort to ensure that history didn't repeat itself with the Wolf Pack has had positive early returns.
"We made a big-time effort to really bond last summer," Musselman said. "We spent a lot of time in Tahoe training and team-bonding. The other night before our home game we all went to a movie. When you've been around basketball a long time, you understand the importance of chemistry. I think the number one thing that we have going for us right now is our team chemistry above all else."
Jordan Caroline (transfer from Southern Illinois), Marcus Marshall (Missouri State) and Leland King II (Brown) all fit well from a chemistry standpoint with the significant contributors from last year's squad – 6-6 senior shooting guard D.J. Fenner, 6-8 sophomore forward Cam Oliver (above) and 6-4 sophomore point guard Lindsey Drew.
The six main players Musselman leans on this year each bring something different to the court and they all can roll.
Marshall leads the Mountain West in scoring at 21.1 points per game, while Fenner leads the league in three point shooting percentage (48.3) coupled with a sweet midrange pull-up game. Drew tops the assist leaders in conference play at 5.3 and Oliver is the league's leading shot-blocker at 2.8 per game.
Caroline was named to the All-Freshman team in the Missouri Valley before transferring, and acts as a Swiss Army Knife-type player for the Wolf Pack. At 6-7, 235-pounds and with great athleticism, the sophomore is able to play both guard and forward spots and has been averaging 14.2 points per game to go with a team-high 9.2 rebounds per game.
Though national expectations for Nevada coming into this season were minimal as it was without a single preseason vote to win the conference, it was the opposite for the guys on the squad. Caroline was itching to take the court with his new teammates after only being able to practice alongside them a year ago.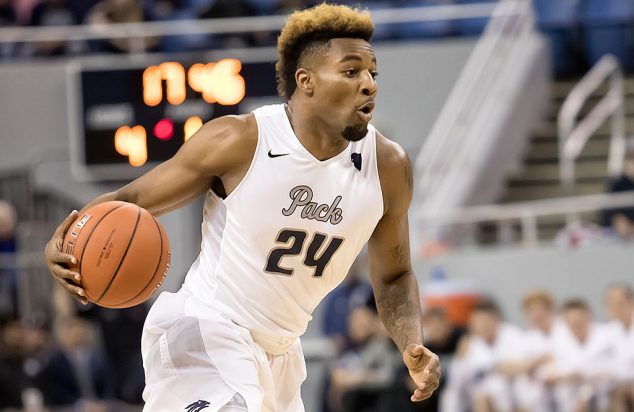 "The transition from sitting out to playing was a big learning experience for me," said Caroline (above), who had a 45-point eruption in a win against New Mexico earlier this season. "I learned a lot from the guys who are in front of me on and off the court."
Bolstering the frontcourt is Oliver, last year's media pick for MW frosh of the year.
Last year's experience was huge for Oliver, who averaged 13 points, 9 boards, and 2.6 blocks per game, especially because it was his first season back after taking a year off. After a knee injury took away his junior year of high school ball, he committed to Oregon State as a senior. When the Beavers' staff was let go, the NorCal native de-committed and took the next year off to figure out his next move.
Parlaying an impressive first year in Reno, Oliver is looking like a future NBA player at times this season. Currently the 6-8, 230-pound sophomore is averaging 15 points, 8 boards, and just under 3 blocks per game. He's also a highlight-factory above the rim. His potential to be a scoring or playmaking threat at all three levels on offense has flashed plenty this season, and he's got the athleticism, length and instincts to be a stalwart defensively.
The work he put into his game between last year and this year is evident.
"I've done better being more versatile, showing I can shoot the ball behind the arc, my midrange, be able to dribble up the court and find open guys," Oliver said. "I just want to show that I'm capable of doing a lot of things. I watch a lot of Draymond Green, so I take his game into consideration and how he works as a four. Now I've been focusing on defense more than anything."
For many players who ooze potential, doing it throughout the entire course of a game, and an entire season, is what separates the good from the great.
"He continues to work on trying to be a consistent player, but he's got a bright future if he brings it every night," Musselman said of Oliver. "He's got great versatility because he can post up and play with his back to the basket, he can also face up and shoot the three or he can face up if we isolate him to put him in dribble-drive situations – then obviously on defense he's one of the best rim protectors in college basketball."
With this year's team still striving for consistency, while still maintaining a league lead in the Mountain West, the Wolf Pack should be a team to watch in March if they continue on this trajectory. Throw in NC State transfers Caleb and Cody Martin, Purdue transfer Kendall Stephens, and Iowa State transfer Hallice Cooke next season, and Musselman's formula should continue to yield successful results.
"We're not satisfied," Oliver said. "We have to keep going and see how far this hard work can take us. We're definitely capable of making a lot of noise here in Reno. We're so hard to beat because we have so many people who can do so many different things. This is a very fun team to play with."
Photo credit: John Byrne, Nevada Athletics Communications. 
113