It's the morning of the NBA draft and midtown Manhattan is filled with young hoopers nervously waiting for the evening to arrive. In a few hours, these ballers will live out their dreams of crossing the stage at the Barclays Center to shake NBA commissioner Adam Silver's hand and become instant millionaires. It's something anyone who has ever picked up a ball has fantasized about at some point.
Just 15 miles east, a lanky, 7-foot teenager is putting up shots on a concrete playground in Hollis, Queens. His goal is to one day be in the same spot as those other guys who today are just a few subway stops away.
But on this sunny summer Thursday, Moses Brown, a rising senior at Archbishop Molloy HS, is just another inner-city kid keeping the dream alive while watching from afar with his father by his side.
The duo has been inseparable ever since Moses' dad, Malcolm, got sole custody when his son was only 9 years old. As a single parent, Malcolm has experienced his share of challenges. And with Moses emerging into a top-10 national recruit in the Class of 2018, sacrifices have become inevitable.
"After I got custody, someone illegally stole the house that we lived in," recalls Malcolm. "We moved to The Bronx, where the living conditions weren't the best. Me being a carpenter, I did the best I could do. I hooked it up with Sheetrock and painted it, so that when the ACS people came, they would see that Moses had a decent place to stay."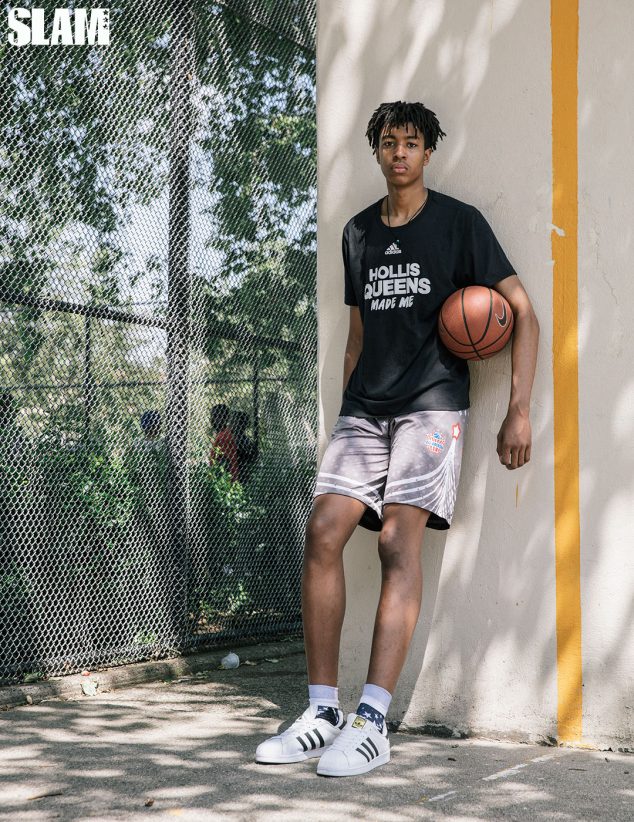 But as Moses grew older, Malcolm realized that he needed a better home setting to raise his son in. So he took out his annuity money, packed their bags and moved into an old home that his father once had in Queens. Things were finally looking up. Housing was no longer an issue and Malcom's mother was staying with them to help out with Moses, who by his freshman year of high school had emerged into a promising prospect.
But then life threw another curve ball at them last year. On September 23, 2016, Malcolm's mother passed away. Soon after he was faced with a tough predicament: How to go about taking care of Moses alone moving forward. He decided to quit his job in order to look out after Moses full-time.
"Cooking, cleaning, washing—I'm just making sure he's 100 percent right when he steps out that door," says Malcolm. "It's been hard and we've had to sacrifice a lot."
"He's always there and drives me everywhere," adds Moses, who runs with New Heights on the AAU circuit.
Regarded as the top senior prospect in the Big Apple, Brown faces lofty expectations. He's showcased some impressive mobility at his size to go along with his physical impact in the paint, and his high ceiling still hasn't even been scratched yet—it's the ultimate potential and continuous progress that have skyrocketed him up the rankings.
"Nothing has really changed as far as my mindset," says the 7-1 center of his national emergence. "Just gotta keep working because at the end of the day, being a top-10 player in high school is not really going to matter at the next level."
If Moses maintains that same mentality and his skillset continues cruising in the same direction, it could only be a matter of time before he finds himself 15 miles west on a Thursday morning in June, knowing that housing conditions will be the least of his worries moving forward.
—
Franklyn Calle is an Associate Editor at SLAM. Follow him on Twitter @FrankieC7.
Portraits by Ricky Rhodes.