Years ago, if you picked up a dictionary and looked up the words "peripatetic" and "wanderlust," you might have seen the words "See also: LARRY BROWN." Like the motion offense he is teaching the SMU basketball team, Larry Brown was himself a man in motion.
By 1988, Brown had already been head basketball coach of the Carolina Cougars, Denver Nuggets, UCLA, New Jersey Nets and the University of Kansas.
What was up with the many arrivals and departures?
Brown kept on moving, too. San Antonio, Los Angeles, Indianapolis, Philadelphia, New York City, Charlotte and now, deep in the heart of Texas, in Dallas. Say those cities aloud and it almost sounds like Chuck Berry's song, "Sweet Little Sixteen."
And as Martha and the Vandellas have sung, "Can't forget the Motor City." Brown won an NBA Championship there in 2004 and he will always have a place in the hearts of Pistons' fans because of it.
Coach Larry Brown has also been firmly ensconced—in Springfield, MA, most specifically, where he has "resided" in the Basketball Hall of Fame since 2002.
Saying Larry Brown had a longing to travel was like saying the father of the Jewish people, Abraham, had wanderlust. If God spoke to Abraham and told him to leave his home country and to travel to Canaan, then God took Larry by the hand and brought him all over America to coach basketball.
Brown, the Jewish kid who grew up in Brooklyn and Long Island, who speaks neither loudly nor fast, with no hint of a New York accent, is Abraham's progeny. And a light unto Southern Methodist University, a strong academic school that houses the George W. Bush Presidential Library.
Last season, his second at the school, Brown led SMU to a 27-10 record, second-most wins in school history and reached the finals of the NIT tournament. The Mustangs beat eventual NCAA champion UConn twice in American Athletic Conference (AAC) games.
As we went to press, the Mustangs were 22-5 this season and ranked No. 21 in the AP poll. All this despite losing their premier recruit, Emmanuel Mudiay, to China before he played a game, and arguably their best active player, Keith Frazier, to academic suspension.
But sometimes, a coach is so good he can help make up for lesser talent. And fans have noticed. SMU's classic old venue, the 7,000-seat Moody Coliseum, is now packed regularly; two years ago the team only averaged about 2,000 per game.
Last season, an official student group for men's basketball, called the Mob, was formed. "It is named after head coach Larry Brown. He is nicknamed the 'Godfather' and students are his 'Mob,'" reported Stephanie Gentile in the SMU student paper.
In Coach Brown's 13 head coaching positions, 10 of his teams improved its record his first year. The other three: two years to improve one team, another, UCLA, went to the NCAA finals his first season, and there was no second year with the Knicks. Even Abraham could not change everyone.
I went to Dallas just before this season started to see the master at work. Travel from New York to Dallas aside, this is an easy thing to do since Brown readily opens practices to approved observers.
On the day I stroll in, Brown is concerned. In a recent scrimmage against Baylor, Brown saw plenty of things he needed to teach and re-teach. The simplest basketball plays were not made.
Coach Brown lives to teach. He loves practices, dreads games. Like a teacher, he is afraid he may not have prepared his students well enough for the test.
You know the expression, "This is a teaching moment?" For Brown, every moment is a teaching moment. It literally seems not one moment goes by in practice that Coach Brown is not making a point, persistent and repetitious teaching to make sure the lessons are learned and applied.
"He's just not going to let you do it the wrong way," says second-year assistant KT Turner.
Associate head coach Tim Jankovich, who's been in the game a long time and came to SMU with a strong recommendation from his former boss at Kansas, Bill Self, cites Brown's persistence to detail as the most important lesson he's learned from him. Lessons/subjects we see imparted while we're at practice: Know where you are on the court and why you are there. Are you getting better? Are you helping your teammates get better? Are you standing around doing nothing?
Being around a Larry Brown-run practice is like meeting someone you haven't seen in a while and being asked, "So, what are you doing with your life?"
Says special assistant Jerry Hobbie, "He is so humble, he would talk to a seventh-grade girl's coach and pick their brain if he thought there was something he could learn from them."
Brown also relays a healthy distaste for selfishness. Outside the players' locker room is a quote put up by Coach Brown: "Only a life lived for others is a life worthwhile."—Albert Einstein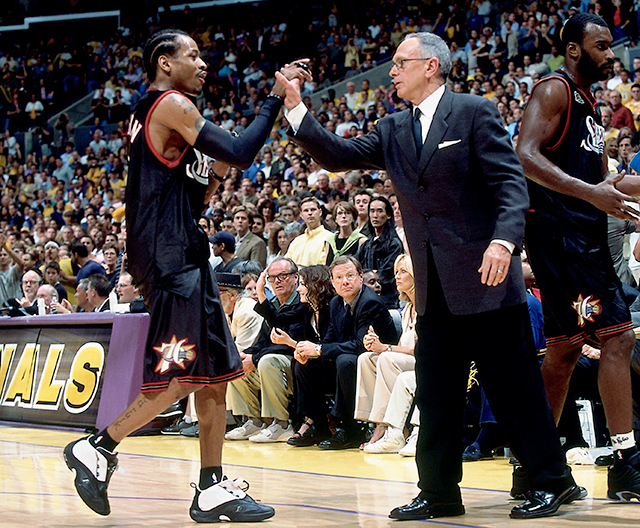 Strength and conditioning coach Rick Dudley sums up this teacher with a short story. After Brown let a player know it when he failed to box out, Dudley recalls, he immediately ran an offensive play for the player, who scored and had his spirits lifted.
Perhaps Brown knows the mind of a player because he was no slouch as one himself. A tough point guard with a knack for making the right pass, Brown played his college ball for legendary coach Dean Smith at the University of North Carolina, won a Gold medal on the 1964 US Olympic team and played five years in the ABA, winning a championship in 1969 with the Oakland Oaks, appearing in three All-Star games and leading the league in assists his first three seasons.
On the first day we were at practice, we asked Brown if he thought NBA players gave full effort every night. Two days later, he referred to it. Said to his team, "If you think, like the guy from SLAM asked, that NBA players don't play hard all the time, you're mistaken. They play hard all the time. Young players want to emulate NBA players. Play hard."
Brown, his staff and his players talk about and practice moving without the ball, setting screens away from the ball, how to roll, slip or pop after you set a ball screen, sharing the ball, working the ball to get the best possible shot, attacking the rim, running to the rim, defensive stance on the ball, talking on defense, providing help defense away from the ball, closing out on a shooter, rotating on defense, limiting a team to one shot and not a good shot, rebounding and boxing out, and always running the floor. It is an abject lesson in the fundamentals of good team basketball.
Players look at Brown when he speaks and listen intently. There is steady dialogue between the players and coaches.
Coach Brown prefers to attack the basket with a drive or pass. Penetrate in the paint if possible. Draw a foul. Not a big fan of the three-point shot, but uses it smartly.
At the end of the day, Coach Brown is a defensive coach first. Man-to-man, help defense. It's a strong recruiting point. Coach Brown knows what it takes to play in the NBA and he can teach it. Red Holzman's mantra, "See man, see ball," is a constant refrain. "Jump to the ball" is another.
Coach Brown has preferences in style of play, but he is practical. He has played zone. At UCLA he learned and used the high-post offense. Coaches Brown and Jankovich talk about the evolution of styles of play.
The values remain: Play hard, play together, play smart and have fun.
An exhaustive list of former assistant coaches and players who became head coaches or senior basketball executives are an endless source of pride for Brown. Try these two: Gregg Popovich, coach of the NBA champion San Antonio Spurs, and UConn coach Kevin Ollie.
Brown says he never had a job, yet he is still working hard, learning, caring about his players and teaching values that will serve them well beyond the basketball court.
Thoughtfully and passionately, Brown speaks out about issues affecting the college and pro game, on and off the court. He is proud of walk-on sophomore Jonathan Wilfong, who with a friend started a program, Coaching for Literacy, which raises money to fund literacy programs for elementary and middle school students.
Like a good financial analyst, Coach Brown knows basketball statistics can be helpful, but also knows they can be misleading and that you need industry experience and good judgment in determining the abilities of a player and the value of any stat.
Senior guard Ryan Manuel, whose minutes were significantly cut last year and who continues to face competition for shots, soaks up Coach Brown's lessons well. Manuel says he has a better appreciation of the game because of Coach Brown. "I think he's helped me kind of maximize my potential," says Manuel, who was averaging 6 ppg in 26 mpg when we went to press. "It's become fun again."
Asked for a philosophy, Coach Brown quotes legendary Kansas coach Phog Allen, who was Dean Smith's college coach and was coached by basketball's inventor, Dr. James Naismith. "Don't judge my team until 25 years after kids graduate and let's see what they do and how productive they are and what kind of families they have." Brown then adds, "That's a pretty profound thing to think about."
Andy Lipton is a SLAM contributor.