It's easy to notice that basketball youth development has become big business. From expensive high-end facilities offering bracketed packages, to private trainers and top-dollar camp fees, the monetization at the grassroots level can make it difficult for some kids looking to expand their skill-sets on a limited budget. Then there's the mental part of the game that's often neglected at the lower levels but ends up playing a huge factor down the road in careers.
As a result, a fairly new national camp tour has emerged looking to tackle those two issues. The Leaders of the Hardwood Skills Academy, after successfully launching a trial program in four cities in 2015 (NYC, Charlotte, Atlanta and Richmond, VA), will be expanding its offerings to 12 cities in 2016. It varies from other regular basketball camps by not only placing emphasis on what physically happens on the hardwood but also on the mental part that plays a huge role in the results. That leadership and character building component is administered by the Marines Corps, who take participants through intense strength and conditioning exercises while speaking on the aforementioned necessary mental growth. And most importantly, it's all free of charge.
It is that kind of unique element—Marines pushing kids to their limits and building mental growth through character and leadership workshops—that separates this one-day camp from the rest.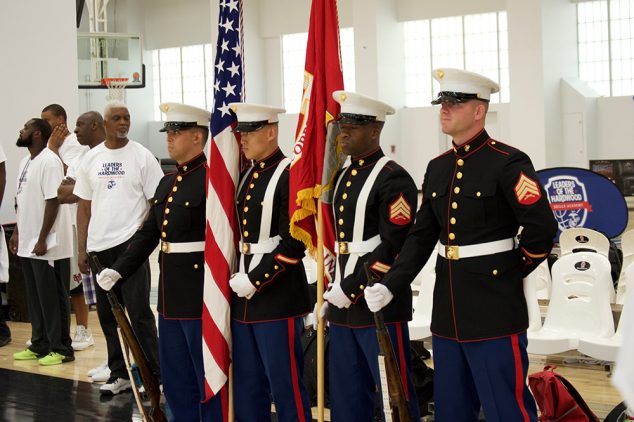 "Most camps teach kids how to be a great player on the court, but they don't really give you the life skills that help you become a great individual or citizen beyond the court. There's a lack of leadership development for our youth today," says Leaders of the Hardwood president Ron Payton. "You see that when you see some of the NBA players on the news for different reasons."
The motto of the camp is "Building character through competition." And that's reflected on the camp's itinerary. Aside from the Marines, the camp also features former players and current coaches as instructors. The day follows a 9-to-4 schedule. It kicks off with some stretching and conditioning sessions run by the Marines. Then everyone gets broken off into groups where drill rotations for skill development become the main focus. That is followed by five-on-five games, dunk contests and three-point contests before the awards ceremony. Additionally, throughout the day there are five breakaway sessions where workshops on five different topics are held on off-the-court issues like image, etiquette and academics.
The camp, which opens this year in Hampton (VA) on March 10 and has a curriculum that caters to intermediate/advanced players, serves both boys and girls between the ages of 14 and 19. In 2017, it plans to launch All-American games for the top 48 boys and girls in the country. Furthermore, Payton says former NBA superstar Tracy McGrady has come on board to serve as "Dean of the Academy." It also plans to launch an extensive series of instructional videos that will be available to kids year-round. The camp also continues to pursue partnerships, such as in apparel, as it looks to build out its offerings—again, all of it free of charge.
"This camp is not for the weak," Payton warns. "What we tend to see is the kids who rise to the occasion at these camps are the kids who are captains on their teams and want make it to the next level with basketball."
—
Franklyn Calle is an Assistant Editor at SLAM. Follow him on Twitter @FrankieC7.
94