While in New York for the adidas Uprising All-American Camp in July, SLAM had the opportunity to hang out with some of the top prep prospects in America at the famed Rucker Park in Harlem. Selected for being among the best recruits that the adidas Gaunlet summer youth circuit had to offer this summer, each of the blue-chippers below are five-star hoopers that have generated a buzz over the years for their respective accomplishments and swag on the hardwood. While the arguably top-ranked prospect to suit up in the adidas Gauntlet circuit this year, Dennis Smith Jr., wasn't able to make the trip to NY and be part of the shoot, the four names below are ones you'll want to remember moving forward, as they're each bound to make headlines for years to come.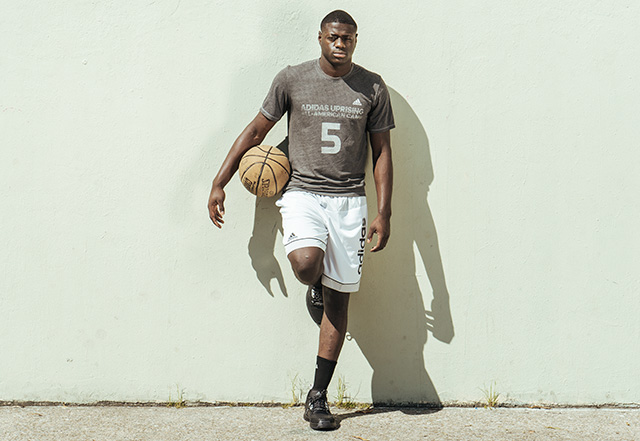 Rawle Alkins
Middle Village (NY) Christ the King, 6-5, G
With the likes of Lamar Odom and Speedy Claxton among the long list of alumni who went on to play either in the NBA or collegiately (its WNBA alumni list includes Sue Bird, Chamique Holdsclaw and Tina Charles), Queens-based Christ the King's basketball program is considered the pinnacle and model institution for all other HS programs in the Empire State to follow.
Yet, despite its rich history, only rising senior guard Rawle Alkins can claim to have played with the varsity squad as a ninth grader. And technically, it was all by default.
After having played some varsity games as an eighth grader in Florida, CTK head coach Joe Arbitello found himself with a tough decision regarding the Brooklyn native. "There is a rule here that you can't move a player down," says Alkins, the second leading scorer of the adidas Gauntlet regular season with 24.3 ppg, of how he ended up on the varsity team. "So Coach took a risk and put me on varsity. A lot of coaches would've been like, 'You can't come here anymore,' because they wouldn't want to take that risk."
Three years later, after helping CTK become the first CHSAA program to win three consecutive city titles in 34 years, Alkins has now emerged as a top-20 national prospect this summer and is considered to be the best guard New York has produced since Lance Stephenson.
"I came in virtually unknown," says Alkins, who will have to transfer to a prep school for his senior year due to state rules only allowing four years of varsity eligibility. "But nothing is given to you, everything is earned."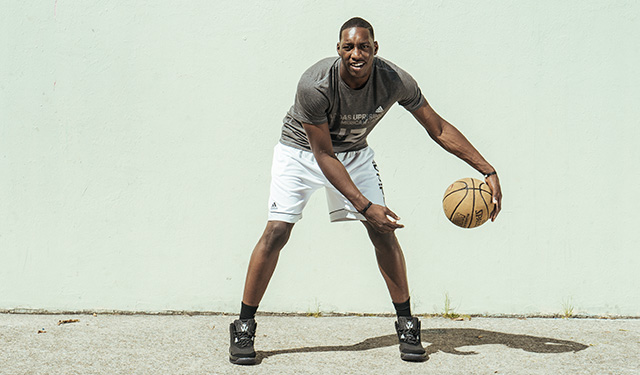 Edrice Adebayo
Pinetown (NC) Northside, 6-10, F
When you're only a high school junior but already possess an NBA-ready physique while averaging video game numbers, like 32.2 ppg, 21 rpg and 4.5 bpg, a nickname like "Bam Bam" (of The Flintstones) seems fitting. So for Edrice Adebayo, the way he earned his aforementioned stats last season—and throughout the summer circuit, i.e. the game at Rucker Park during the adidas Uprising All-American Camp in NY—only validate the nickname he received after picking up a coffee table (just 'cause?) at the age of 1.
Having been made well aware of his physical blessings since a young age, hooping only seemed natural. "It all began when people started programming it into my head: 'Boy, you're tall. You can go somewhere with it,'" recalls the Pinetown, NC, native. "So I started thinking, Yeah, I can really make a lot of money with this."
And while the possibility of future earnings is enticing, Adebayo currently spends his days studying the bigs he one day plans to go up against. Having drawn comparisons to a young Dwight Howard, the 6-10, 240-pound Adebayo is too strong and borderline too otherworldly athletic to be contained.
"I'd probably say I like to watch tape of LaMarcus Aldridge because I just like his footwork and his jump shot," says the undecided five-star rising senior. "I'd say DeMarcus Cousins, too, because he has great footwork on the post and he takes nothing from nobody. He's one of those dudes that's like, You're not going to bully me unless I'm just having a bad day. And me? I don't take nobody bullying me."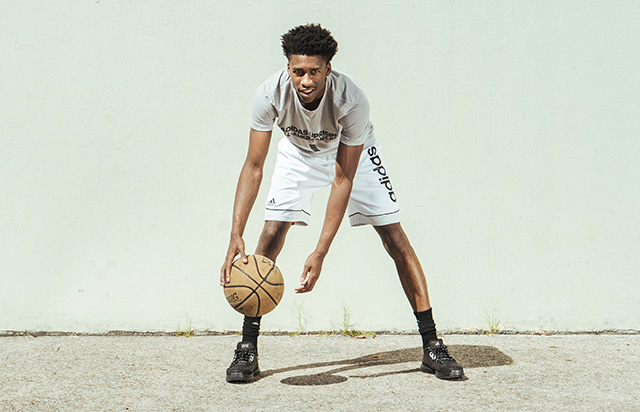 Kobi Simmons
Alpharetta (GA) St. Francis, 6-5, G
Originally from Crown Heights, Brooklyn, Kobi Simmons is highly regarded as the next young stud to come out of the ATL area. Known for his explosiveness and scoring prowess, the 6-5 rising senior has helped lead his St. Francis squad to the state title game in all of his first three years, winning it all in the last two.
And taking teams to the championship game isn't just a regular high school season thing for him, either. Simmons, who many argue is the top point guard in the Class of 2016, carried his Atlanta Celtics youth travel team to the adidas Uprising Gauntlet Finale championship game after averaging 16.1 points, 3.3 rebounds and 3 assists during the two regular-season sessions this spring.
"I really do this for my mama and my little sister," says Simmons of his motivation. "Just want to make sure they don't have to need anything. They get whatever they want. My mom has done everything. So if I can do anything to give it all back, I'm doing it."
With a who's who list of the top collegiate programs vying for his services and an array of analysts and scouts trying to figure out who to compare him to and where he ranks among his peers, Simmons just wants to let the journey do the talking.
"Everyone in my city has seen me play," he says. "They know I can go far. Just can't let my talent go to waste. I just put on for my city and do what I do, and we'll see what happens after that."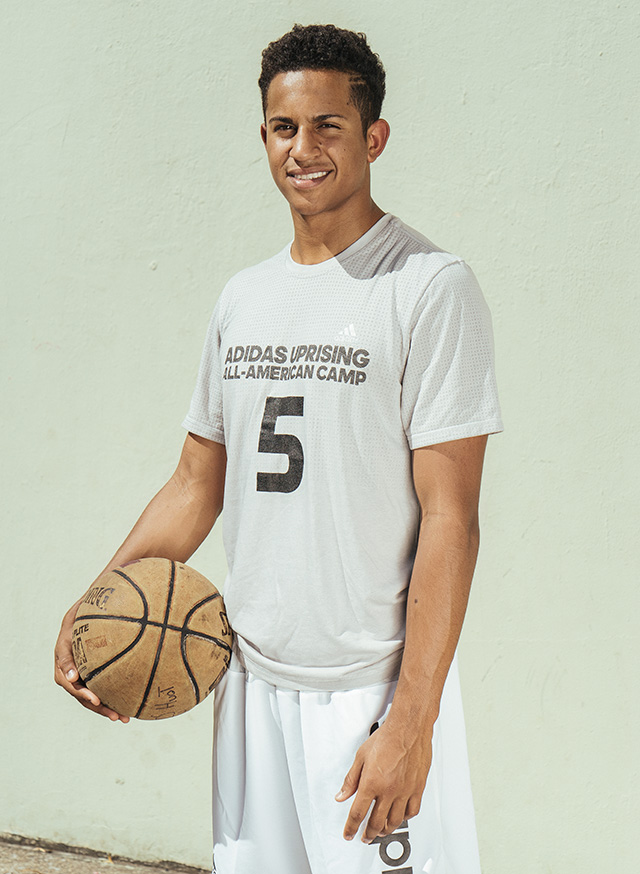 Frank Jackson
Highland (UT) Lone Peak, 6-4, G
On February 15, 2013, Frank Jackson, a relatively unknown freshman at Lehi (UT) High at the time, wasn't at his most confident state of mind as he prepared to take on Utah powerhouse Lone Peak. Led by BYU-bound Nick Emery, a top-50 prospect in the Class of 2013 whom Jackson was matched up against that night, Lone Peak would go on to be named the '12-13 MaxPreps national high school champs.
"I was terrified because those guys were looked at as the biggest cats in Utah," recalls Jackson. "So I just went out there and said, I'm going to do the best I can. I made my first shot and I was like, You know what? I'm feeling good. And then I just started firing away. I ended up scoring 30 points and that's kind of how I blew up from there."
The following summer, as his stock continued to skyrocket, Jackson committed to BYU and transferred over to local power Lone Peak for his sophomore year, where he helped the Knights win their fourth consecutive state title. After re-opening his recruitment before the start of last season, the 6-4 guard averaged 26.9 points and 4.5 rebounds as a junior, which included a school-record 54-point outing.
Now a five-star prospect in the 2016 class, Jackson is aware that as a hooper from a small town in Utah, there's still reason to have a chip on his shoulder. "I'm used to people not knowing who I am or what I can do," he says. "Every time I step on the court I want to prove to everyone that I can be the best and I can compete against the best."
All images by Ahmed Klink
Franklyn Calle is an Assistant Editor at SLAM. Follow him on Twitter @FrankieC7.