Before 9:30 a.m. has passed, nearly every day this summer, Matt Bohannon has already completed three workouts.
Here's the first, which he's done since arriving at Northern Iowa, four years ago. When Bohannon's alarm blares at 5:45, he heads to the gym to make at least 500 threes. Some days, he'll hit 750.
Then it's off to a 6 a.m. lift session on the track with the team. Three days a week, Bohannon will go for a post-lift run with junior teammate Jeremy Morgan. After that, a little more lifting.
Bohannon, who is a fifth-year senior, doesn't have many class requirements these days, so he'll often catch a quick nap before heading back to the gym for the Panthers' afternoon session.
All those jumpers to start the day might seem a bit much, but for Bohannon, they were a way to begin to adapt to the rigors of college basketball. This message was imparted from Marc Sonnen, a 6-3 junior during Bohannon's first season at UNI. Sonnen had picked up the act from Ali Farokhmanesh, he of the Kansas-destroying NCAA Tournament threes.
Bohannon quickly settled upon a mantra: I want to do this.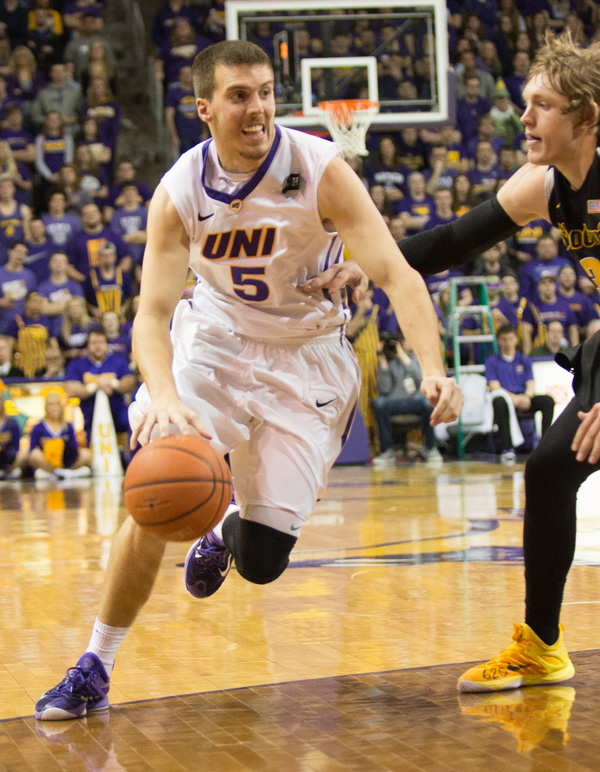 "At first, it kind of sucked, hitting that alarm so early each day, but I got used to it, and I began to understand what it takes to be successful," Bohannon says. "I wanted to be the best shooter I could be, so I got in the gym every day."
During the summer, the 6-4 redshirt senior will usually set up the Gun. Sometimes, he'll bring in team managers, so he can have a rebounder and a passer. As the season looms larger, he'll start going through these paces at game speed.
"He spends a ton of time working on his game, and working on that jump shot," says Northern Iowa coach Ben Jacobson. "Two things it's done, is help him improve as a shooter, but the other part, and maybe more impactful for our program, is that his teammates know he's up at 5:30 every morning, shooting those 700 shots. He does it day after day, month after month."
A player who's started 66 straight games, grinding. Last season, Northern Iowa went 31-4, won the Missouri Valley Conference tournament, and reached the NCAA Tournament Round of 32.
Bohannon averaged 5.7 points, down from the 9.9 he'd posted as a redshirt-sophomore in 2013-14.
"But we had an even better season," he says. "We were winning games, and that's what you want."
Says Jacobson, "If you asked him today, would you take 31-4 and a shot at Louisville, or average 10 points, 'Bo' will give you the right answer—and he'll mean it."
Before 2014-15 began, Jacobson told the Panthers that given the talent and experience on the roster, sacrifices would have to be made. Bohannon's recollection of the collective response: Let's go for it.
"It was the whole team buying in," he says. "We really wanted to commit to it."
Seth Tuttle, a Panthers senior forward, and one of the best players in the country, got frequent isolations in the low post. From there, UNI spread the floor with shooters, most often including Bohannon. Can't really argue with the .885 winning percentage.
A guy like Max Martino, who'd been a key sub as a junior. Even as his playing time dwindled in '14-15, he didn't let it affect his leadership. Or Marvin Singleton, who was in the gym shooting 300 threes most days. He only took two for the entire season, but he wanted to make sure he was ready, just in case the situation called for it.
"And I could keep going down the line," Jacobson says. "It was remarkable, to see the number of places on our team where you saw real sacrifice."
Fifty-four of the 63 shots Bohannon made last season were threes. He's hit 175 for his career, at a 38 percent clip. He now has a chance to break Northern Iowa's all-time record for three-pointers, currently held by Ben Jacobson, who sank 203. (It's a different Ben Jacobson.)
"It shows hard work paying off," says Bohannon. "The record would mean a lot, but I'm more interested in wins and losses. It's all about reaching the team goals."
That's a message Bohannon has sought to impart this offseason. Last season was fun, but it's time to focus on the next one.
"The three seniors have done a terrific job all summer," says Jacobson. "I feel great about the way they'll lead this team. With Bo specifically, it'll be a lot by example, but I've seen more from him in terms of being a little more vocal, and grabbing guys a little bit."
Northern Iowa's campus is just 45 minutes from his home, in Marion, but it is another closeness that most resonated with him. He can call the Ben Jacobson he might unseat on the three-point list "Benny Jac." He rattles off the number of past Panthers he's worked out with.
Bohannon's college decision came down to UNI and Creighton. But as he kept coming up to campus, and meeting with the Panthers, he began to get a sense of why UNI would be the place for him.
"Just to be around the team that made the Sweet 16 run in 2010, and understanding how close they were, and how much it meant to them—that sold me," Bohannon says. "I said, these are the guys that I want to play with. I want to try and do something special."
On those daily jumpers. It got handed down to Bohannon, and he'll pass it on, and it'll keep going.
Says Jacobson, "That's one of the ways our players understand you can make a difference in this program.
"It's one thing to do it for three to four months to get ready for a season. It's another to do it for a couple years. You make that commitment, stay on it for the better part of three years, and you've got something. That's what you leave behind, in terms of tradition."
Photos courtesy of Northern Iowa Athletics