EDITOR'S NOTE: This feature was written and shot weeks before the COVID-19 pandemic led to the suspension of basketball seasons.
—
Gilbert Arenas realized Skyy Clark was special very early on. The 12-year NBA vet first caught a glimpse of how special Clark, now a five-star PG in the Class of 2022, was before he stepped foot on a high school campus.
"We lived next to each other, so I got to see him before he started his basketball career," Arenas tells SLAM. "He was just a young kid playing around. Me and his dad played in a rec league together and we were blowing a team out so bad [and] he went in there and hit four threes."
Arenas also signed off on Clark using the "Hibachi" nickname, one of the many monikers the three-time All-Star had in the NBA.
"It was an honor for me that a young kid that talented wanted that name," Arenas says. "I told him if you're going to be 'Hibachi,' you gotta burn these people up and he's doing it. It's just an honor that he'd want to carry the name for the rest of his career."
Clark comes from a lineage of professional athletes. His father Kenny played in the NFL as a wide receiver with the Minnesota Vikings. Dante Culpepper is his cousin. He does strength and conditioning with Arenas at EPX Facility in Woodland Hills, CA, and soaks up free game on the court. Only a sophomore at Heritage Christian (CA) HS, Skyy has been exposed to the pro lifestyle since birth and knows the type of work it takes to make the next level.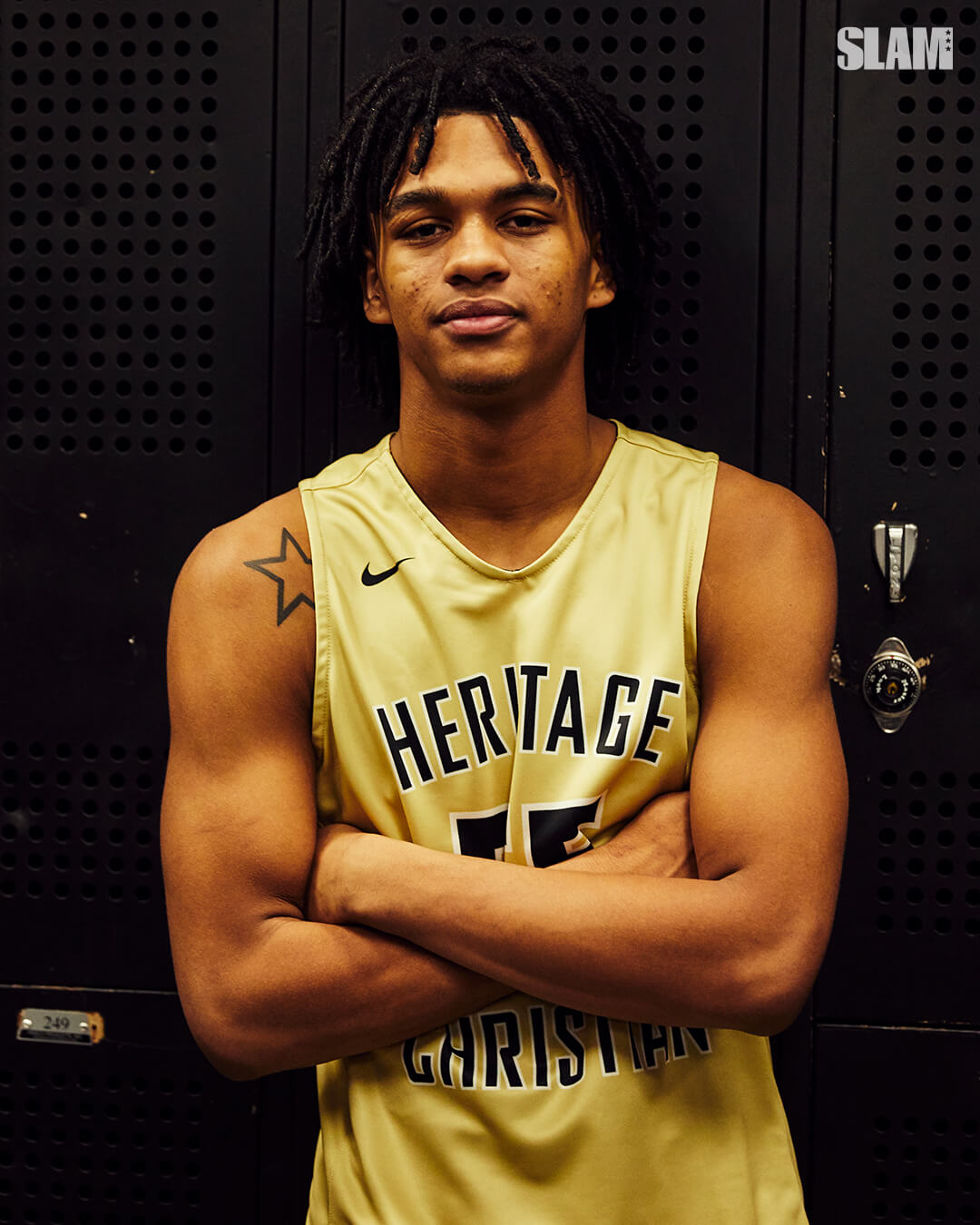 "The progress of Skyy's development's been unbelievable," Arenas says. "The dedication that a kid has at this age is unreal. To see his development and his skill level at a peak right now is just unreal. There's no surprise that he's this talented at this age."
During his freshman year, the 6-2, 175-pound PG led the Warriors to a 24-6 record and averaged 20 ppg, 7 rpg, 7 apg and 4 spg. He guided the Warriors to an Olympic League title and also earned Defensive MVP honors.
"I actually like it better than scoring 30," Skyy says about locking up. "I've had games where I've had 8 or 9 steals and those are the games that you know you shut someone down."
This past season, Heritage Christian went 26-5 (7-1 in league) and Clark posted numbers of 24.9 ppg, 5.1 rpg and 4.4 apg. He was also named league MVP.
"Skyy is definitely one of the elite guards in the country regardless of class," Heritage Christian head coach Paul Tait says. "He's a student of the game [and] he's constantly watching film and getting better."
He's fielded offers from UCLA, Auburn, Arizona, Arizona State, Kansas, Memphis, Georgetown and Michigan. Clark also spent last summer with Strive for Greatness in its inaugural season on the EYBL circuit.
"Having LeBron on the sideline is a different type of feeling," he says. "Just knowing that he's got your back."
When he's not hooping, his hobbies vary from fishing—"Fishing takes a lot of patience," he says—to dancing and making TikTok videos.
When it comes to his game, he's a basketball savant. He draws comparisons to Kyrie Irving for his explosiveness and handle, but he studies all kinds of players—both present and former—and doesn't put a limit to what he can do on the hardwood.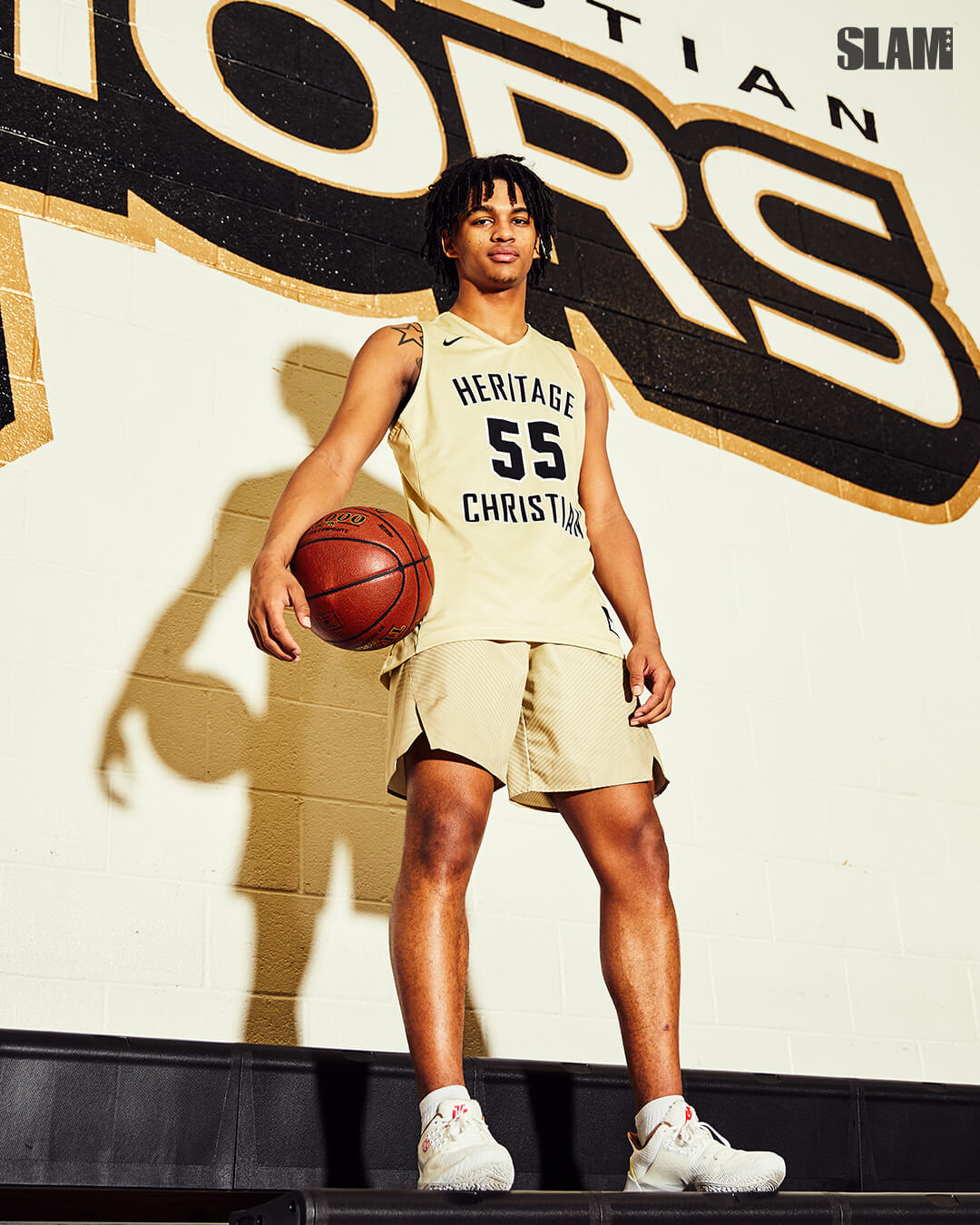 "I watch Lou Williams, John Stockton for the pick-and-roll, some of James Harden's stuff," he says. "I'm trying to get Kobe's post stuff. I just take a lot of players—everything they're good at—and try to add it to my game."
With two more seasons of high school basketball left and the idea of the prep-to-pros rule being lifted, Skyy Clark's ready to take his game to the next level.
"It can always go back to square one," he says, referencing his motivation. "That's why I always put in as much work as I can and give it my best, because I know there's someone out there that could be working harder than me."
—
Drew Ruiz is an Associate Editor at SLAM. Follow him on Twitter @DrewRuiz90.
Portraits by Ryan Young.