The NBPA Top 100 Camp Continues to be the Most Exclusive and Unique Grassroots Event Around
"You had to be there" moments are far and few between nowadays. Technology is the main culprit of that. While it's brought many positives to the world by the way of access, it's also led to many authentic or intimate experiences now feeling overexposed and losing their true purpose. Grassroots basketball has felt the effects of this just as much as anyone. Social media has helped in transforming talented high school hoopers into online celebrities with large followings overnight. That has led to many grassroots showcases and tournaments drawing large in-person crowds—sold out, standing-room-only, in many cases. And even if you've been unable to attend one of these events in person, many HS events today are televised or live streamed. Point being, if you've ever wanted to watch America's top HS prospects in action, you've had plenty of ways of doing so at your disposal.
The NBPA Top 100 Camp, though, has always been and remains the most "You had to be there" event on the calendar. It's as super exclusive and private as it gets. Since its inception in '94, the camp's true vibes have only been experienced by a select few. If you haven't played in it, are a parent of someone who has, or worked in it in some capacity, then "you had to be there" certainly applies to you.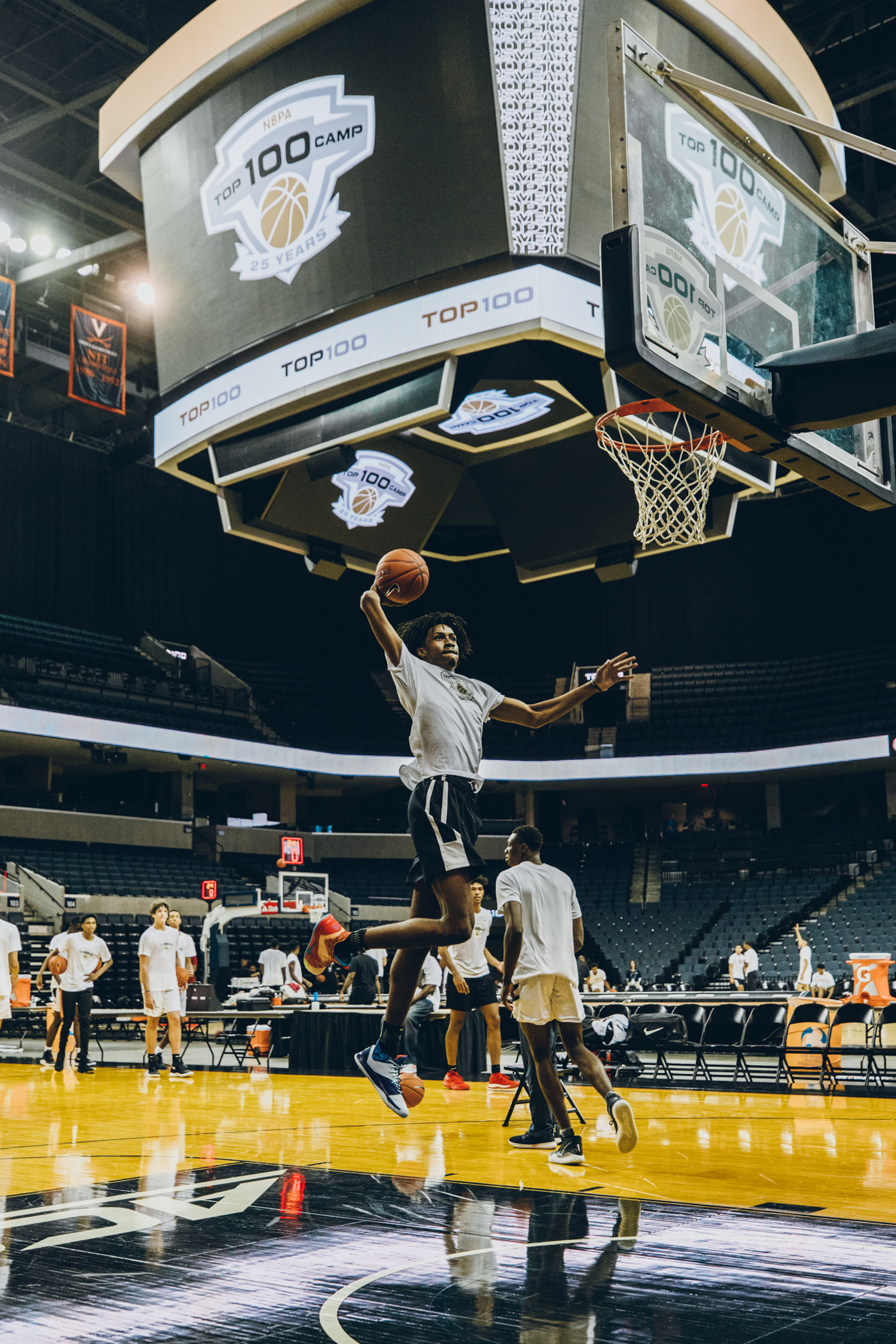 With its sole priority and mission being on the development of its invite-only attendees, instead of self-branding, self-promotion or looking to push a product (sneakers, sports drinks—you get the picture), the camp has purposely never been open to the general public, nor have its games ever been televised or live streamed in the past. Instead, the camp has focused strictly on the kids it serves and on creating an atmosphere where they don't have to worry about playing to the crowd or looking good on television. The result has naturally been an ultra-intense competitive aura, where the players get after it and are locked in on learning from and listening to their camp counselors. You won't find many showcases or tournaments that have the same type of intensity from its players as the NBPA Top 100 Camp garners, and the exclusive, intimate setting is the main driver behind that.
Purvis Short, a former NBA player and currently Chief of Player Programs at the NBPA, has seen the camp grow from just a concept to now one of the most prestigious invitations a young hooper can ever get.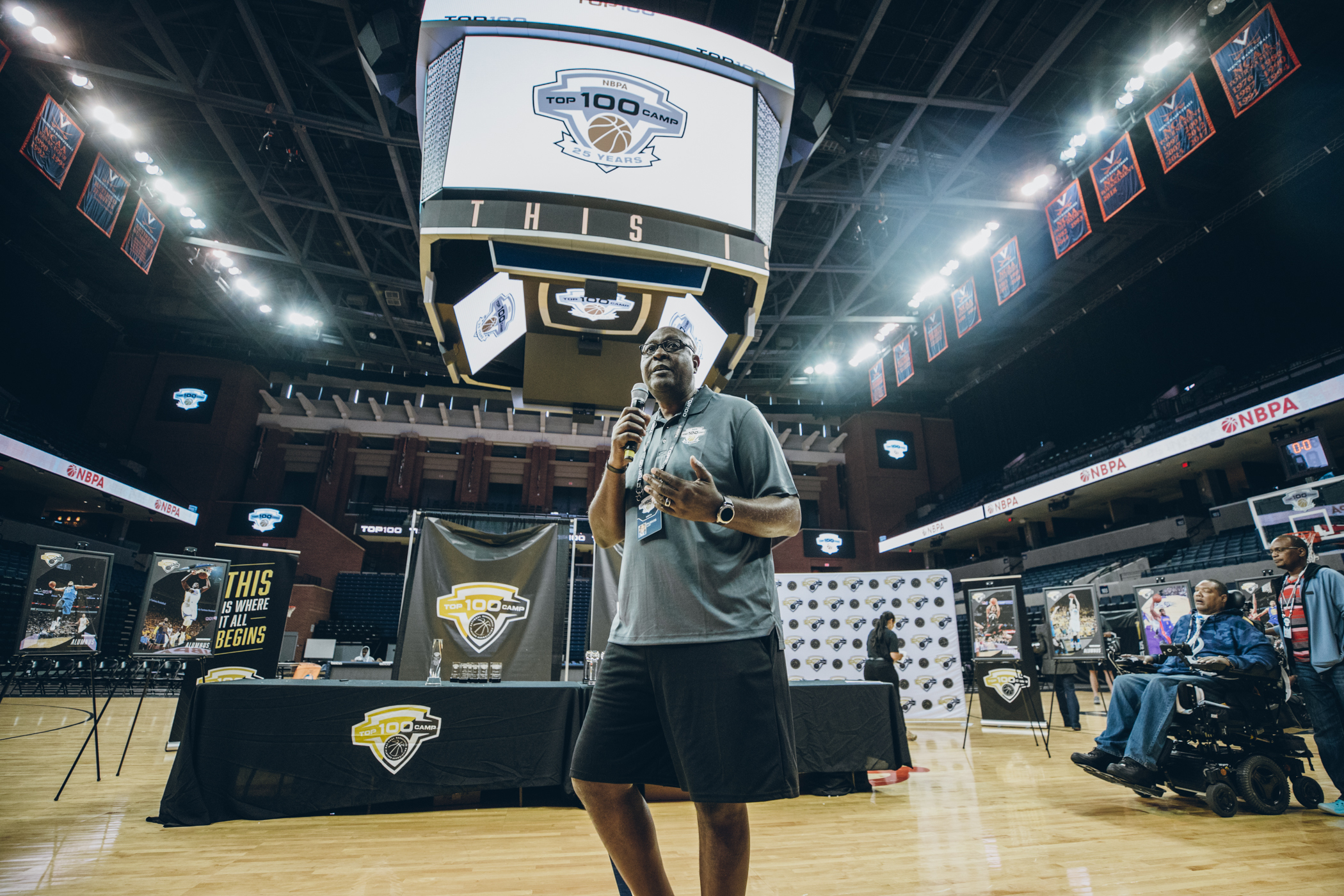 "My second year, working as an employee at the union, NBA players wanted to create a camp that would really be unique. Something that would help future NBA players establish a better foundation—not just with basketball, but in the areas of life skills [too]," says Short, who played for the Golden State Warriors, Houston Rockets, and the New Jersey Nets. "The mission was to create this basketball camp that would focus on life skills as much as it focused on basketball development. What we wanted to do and the way we started out, we actually started out on academic institution campuses. Our first six years, we were at Princeton University. The first year we had Kobe [Bryant], Jermaine O'Neal, Baron Davis—they kind of set the tone that this camp was truly unique and that it would be a camp for the elite players and that there was a serious undertone with it.
"I think in the early days, in the beginning, it was about creating this exclusive camp where everyone that came in knew that we were there for a purpose—we wanted to shut out a lot of the noise, if you will. At some point, we may open it up to the public, but we just felt that in order for us to create the foundation, the kind of atmosphere of a camp that we wanted to create on behalf of our players, then we should start out with no fans and really focus on what's important."
Aside from the effects of the ultra-exclusive-private atmosphere it provides on the hardwood (the basketball portion of the camp is composed of games officiated by NBA referees to go along with skill development drills stations), another factor that goes into the high intensity of the week-long camp is its coaches program. Made up of current and former NBA players—in the past it has included the likes of Rajon Rondo and Andre Iguodala— the coaches program provides mentorship directly from those who have already reached the same level that the campers dream of one day getting the opportunity to also experience.
And as if the intimate and exclusive vibe of the camp, along with an all-NBA coaches program, weren't unique enough, what also separates the NBPA Top 100 from any other grassroots event out there is that it has a classroom/workshop component as well. And not just for the players. The parents also sit in on parents-only workshops, with topics including everything from handling expectations to going through the agent selection process. Due to the ongoing pandemic, the parent workshops will be done via Zoom this year while the players' in-classroom component is also being altered.
"As much as [NBA] guys were committed to improving [HS players'] basketball skills, they were also committed to improving their life skills. And, so, over the years, it just kind of evolved. We were different in that we did a lot of life skills teaching and group discussions—trying to help these young men identify issues that not only are they struggling with but also understanding the resources available and how to deal with problems. Also, basic professional skills, basic etiquette skills," says Short. "It was really our players' mandate. They really wanted to create something that would stand the test of time and in some small way make a difference in the lives of some of these guys. And we've stayed true to that mission."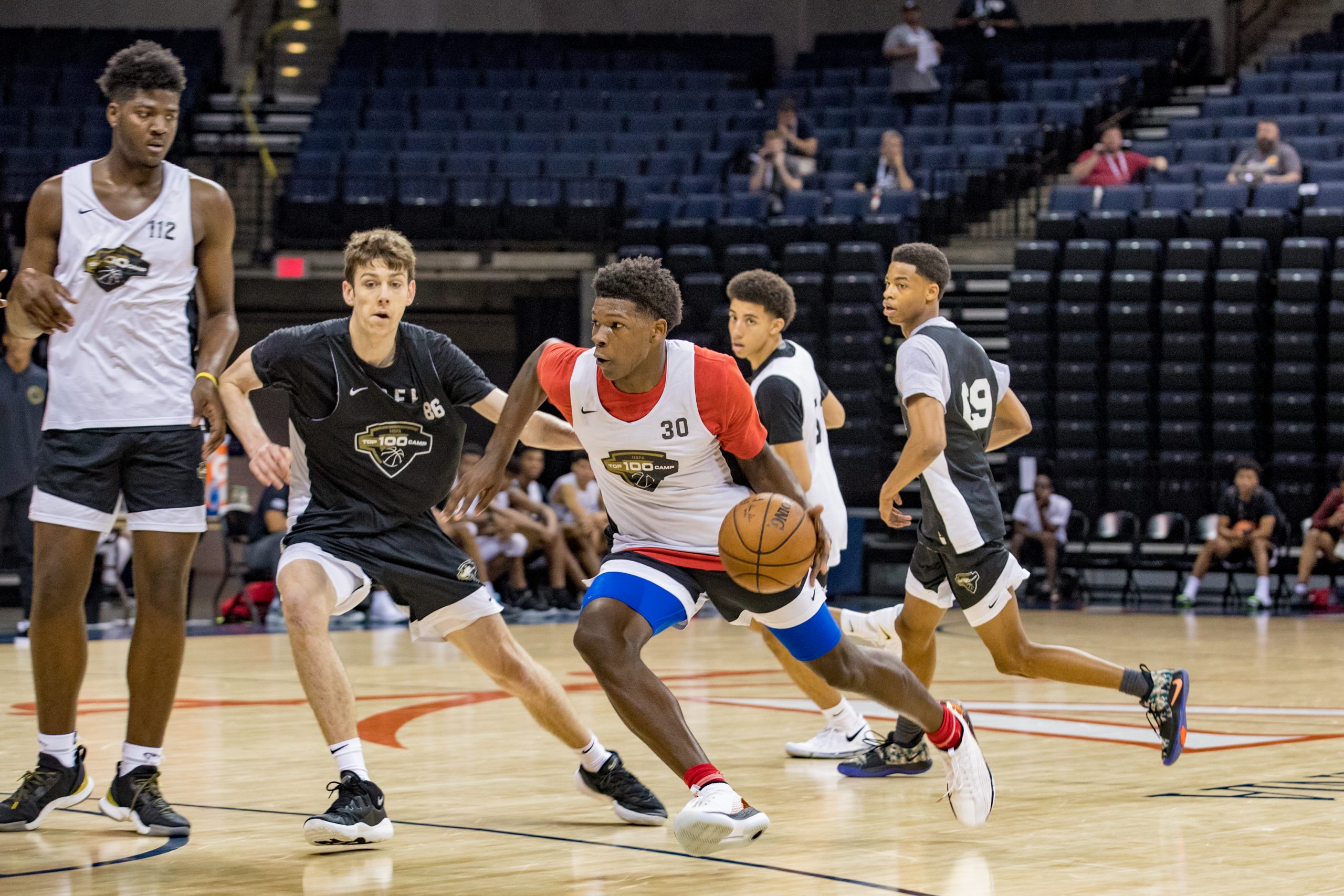 Another major change to this year's camp is its location. After years on the campus of the University of Virginia, the NBPA Top 100—which actually will only have 60 campers this year as a precautionary measure due to the same COVID-19 pandemic that forced the cancellation of last year's festivities—has relocated to the ESPN Wide World of Sports inside the Walt Disney World Resort in Orlando. The spacious 220-acre multi-purpose sports complex allows the NBPA Top 100 Camp to follow all necessary safety protocols—which for the players this year included testing upon arrival as well as a quarantine/isolation period before the start of camp (which runs from Tuesday to Friday this week). The large complex allows Top 100 to create a true "bubble" experience on the same site where the NBA finished its 2020 season last summer.
"There were a lot of things that went into that decision. Number one—just from a growth standpoint, we were very fortunate when we got into the University of Virginia; they had just opened that arena. [But eventually] we had really outgrown UVA and so in the process of looking for a new location, we were fortunate enough to land in such a luxurious, top-of-the-line place," says Short. "There were certain standards of protocol that we wanted to be sure that happened. If we're going to bring these kids in, we want to make sure that we're giving them the best tests we could give them. That we're as safe as possible. We feel like we have a robust COVID protocol. We're going to see how it unfolds, but we've taken additional steps. We'll have cohorts, pods, if you will. So, teams will stay together through the week." 
Among the top players in this year's camp are Keyonte George, Jazian Gortman, Brandon Miller, Jarace Walker, and Bryce Griggs. Additionally, there's a slate of legacy players that will also partake in this year's camp, including Juwan Howard's son Jett, Larry Hughes' son Larry Jr, Ricky Davis' son Tyree and Ron Harper's son Dylan, among a few others.
For those wondering if they'll ever get the chance to experience the action at the most exclusive grassroots event on the calendar, this year might be your first chance at getting a glimpse. The NBPA is currently finalizing a deal to have its championship game live-streamed on Friday—the first time ever in its camp's history that a game is broadcasted. More details regarding the live stream are expected in the coming days.
"We feel it's time. One thing about Top 100, we don't just do stuff just to do it. We really try to be particular about the things that we do. For the first time ever, we will be streaming our championship game. We're really excited about it. And hopefully if we can pull this off and it comes out pretty good, we'll expand it. But we do feel in this moment and time that it's the right thing to do," says Short. "When we had our camp in 2019, we had just been granted the right to have NCAA coaches and NBA scouts there. We had over 300 NCAA coaches that attended and over 30 to 40 NBA representatives that attended. For us, that spoke volumes. So, slowly, we're starting to roll things out. There's a lot of excitement about where Top 100 could be in five years. Top 100 was never designed to be out in the media. It was always this hidden gem."
As the camp soon approaches its 30-year anniversary, Short has accumulated endless stories of memorable moments throughout the decades. But one sticks out the most, which he finds himself retelling to campers often.
"As a player, I was known as a shooter. When I was a little younger, I would challenge all these good kids when they came through camp. I would want to shoot against them and I never let anybody win. When Kobe came to our camp, I use to shoot against him. We're shooting and I'm killing it. Talking s**t to him. And he did something that I had never seen before. Typically, we just played H-O-R-S-E. I always felt, if I start off first, I'm not gonna miss. I'm gonna run the table; the game is going to be over," recalls Short. "I missed, and Kobe had like an R or S. Kobe goes out to the three-point line and he starts shooting left-handed jump shots. Left-handed three-point jump shots. I had not been able to do nothing with my left hand other than eat with it. [Kobe] was in high school. I've seen Jordan, Magic, Bird, Kareem, and Dr. J, and these guys were just phenomenal. Kobe beat me. He really set the tone, he and the other guys that came in that first year. We were trying something new and we were just blessed to get probably one of the greatest groups of high school players that's ever been assembled."
You had to be there.
---
FOLLOW @SLAM_HS TO KEEP UP WITH ALL NBPA TOP 100 COVERAGE!