Standing on the famed Kingdome playground, located right in the middle of the King Towers public housing projects in Harlem, five-star Class of 2017 prospect Mohamed Bamba and his older brother Ibrahim share some laughter as they go back and forth on memories on this very same blacktop while on the set of our photo shoot.
While the court is known for its summer pro-league, the Kingdome Classic, which saw NYC legends like Walter Berry, Ed Pinckney, Rafer Alston and Ron Artest all pass through and partake in the action over the decades, for Mo and Ibrahim, it's just simply the playground located across the street from their apartment on the other side of Malcolm X Boulevard—and where Midnight Madness has been given a new meaning.
About three years ago, Bamba, who hoops with PSA Cardinals in the Nike EYBL summer circuit, along with his brother, began partaking in summer pick-up runs at midnight at the hallowed court along with local hoopers, taking advantage of the lights that illuminate the floor at dusk.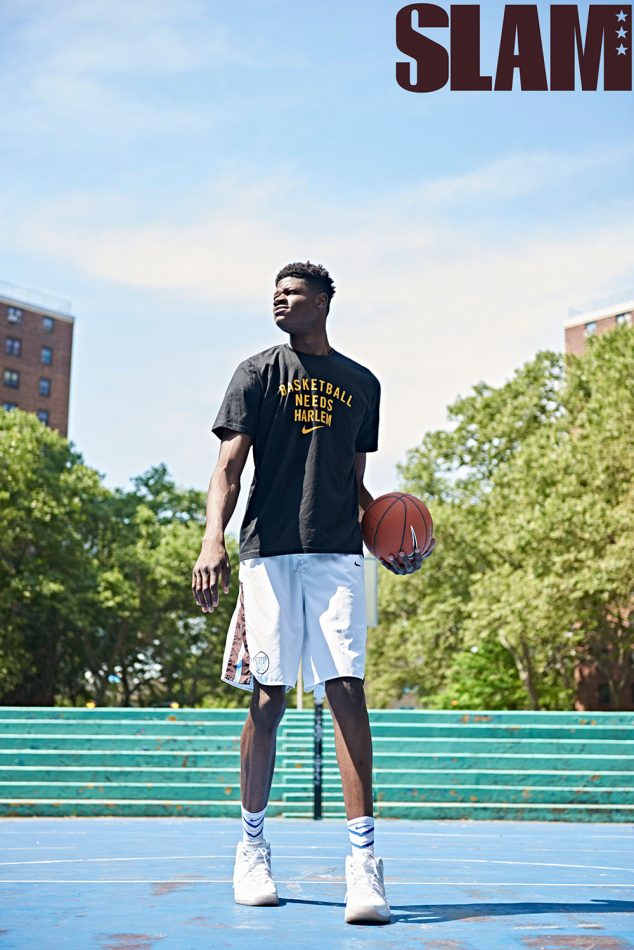 "You can't call fouls," says Bamba of the action, which he says ran to as late as 3 a.m. on some nights. "It's hard-nosed basketball. It's a good workout. There are men out there. Like, men. Fights break out. But I love it and embrace it."
Last summer, though, the cops came and shut it all down. The crowds gathering on and around the cement bleachers were growing exponentially, and the police didn't want to risk any more incidents.
Yet, it's in these situations when it becomes evident that Bamba's place in the community goes beyond hoops.
"Our demeanor toward cops is just completely different, especially after all the shootings that have been happening," says the 6-11 center, who took it upon himself to speak with the police about reconsidering their decision. "I just respectfully went to an officer and was like, Excuse me sir, a bunch of my friends would like to hoop here for a bit. It's all out of respect and love."
A few days later, the playground was once again opened to hoop at night. In an area where the relationship between police officers and the community, particularly the youth, is fragile at best, Bamba's outlook and maturity has developed differently than the average Harlem teenager.
It's not his profile as a top-3 national prospect, but his experiences outside of his environment the past few years that have allowed for him to see progression and upward mobility in a different light than many of his neighborhood peers.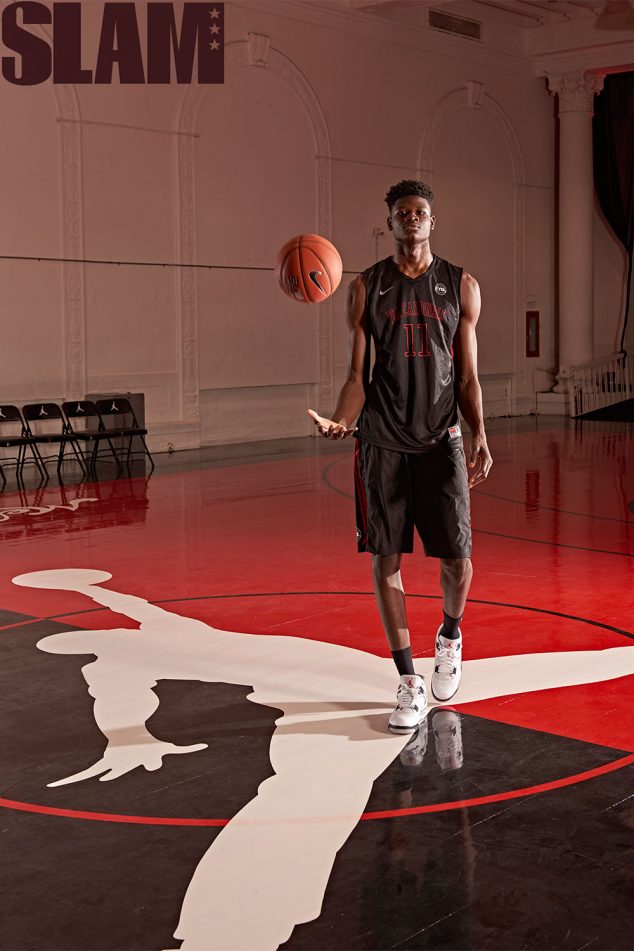 Bamba, whose family hails from Mali and whose older brother Sidiki Johnson hooped at Arizona, Providence and Wabash Valley, has been attending out-of-state boarding schools since the eighth grade. He spent eighth and ninth grade at Cardigan Mountain School in New Hampshire before transferring to the Westtown School in West Chester, Pennsylvania for his sophomore year. There, he helped lead the school to its first state title in any sport after averaging 18 points, 14 rebounds and six blocks per game last season as a junior.
"You went from seeing skyscrapers to cows," says Bamba, the youngest of six siblings, of leaving in 8th grade. "It was a cultural shock. But I feel I adjusted pretty well quickly. When I left, my mom actually encouraged it. She didn't want me to be around the hood. She knew I was smart enough to not feed into my environment."
Blessed with a crazy 7-8 wingspan, impressive athleticism and agility for his size, as well as great hands and mobility in the paint, it's his full potential—still years away—that has scouts and college coaches alike drooling.
"My hunger to make Harlem a better place for everybody is what inspires me," says Bamba, who has said he's looking to visit Harvard among the high-major programs vying for his services. "It's what makes me want to run harder when I'm running the floor or jump higher when I'm blocking a shot. That's always in the back of my mind. This place is a diamond in the rough and I'm going to show everybody that."
—
Franklyn Calle is an Assistant Editor at SLAM. Follow him on Twitter @FrankieC7.
Portraits by Chris Razyok
Video by R.B. Umali / www.rbumali.com