Given his 6-10 frame and the Slim Shady-bleached hair he rocked last year, it can be hard to miss Tim Kempton on the Lehigh campus. Add in the fact that Kempton has spent the past two seasons starring for the Mountain Hawks, and you understand why dude has grown accustomed to fielding a set of standard questions—even if they're not really related to his game. In vintage good-naturedness, he puts up with answering them once more, at a SLAM writer's beckoning.
How did an Arizona kid end up at Lehigh? "Honestly," says Kempton, who's from Phoenix, "the first time I heard about Lehigh was when they beat Duke (in the 2012 NCAA Tournament)."
How do you deal with the weather in Pennsylvania, after all that sun growing up? "Some people call it gloomy here, but we never get rain in Arizona, so I don't mind dealing with rain now. The green and the trees are a nice change of pace. And dealing with winters? Well, that's basketball season, so I'm in the gym, sleeping, or doing schoolwork. You just have to throw on one, or two, extra layers when you head out to the car."
In addition to being one of the most refreshing interviews in college basketball, Kempton has established himself as one of country's premier low-post players. Patriot League Freshman of the Year in '13-14, followed up with a conference POTY last term. He earned this latter award playing the majority of his sophomore season with a broken thumb.
Kempton didn't actually learn of the injury's extent until he re-injured it on the final play of the Mountain Hawks' thrilling, three-overtime win at Arizona State last December, and he didn't undergo surgery until this offseason. He still posted 15.8 points and 8.7 rebounds, on 50 percent shooting.
His well-versed post game hearkens to mind the Gasol brothers' ability to mix power with finesse, an ability that Kempton notes "seems like a lost art in the modern game."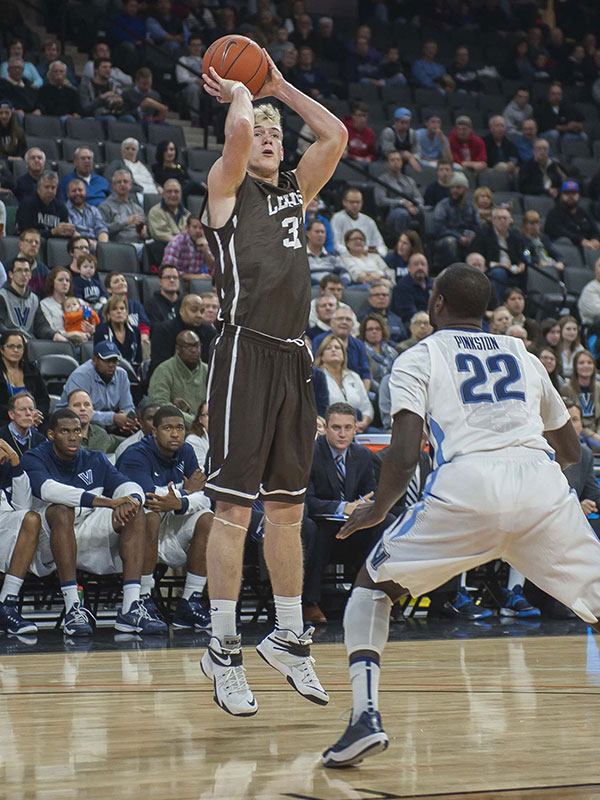 He has a nickname, "Sweet T," which heralds the finesse with which he works. This moniker was handed to him on his recruiting visit to Lehigh, when Kempton calmly sank a mid-range jumper during a pick-up game. Thanks to Gabe Knutson and Holden Greiner, on the Mountain Hawks' roster at the time, he's been Sweet T since.
Kempton had been hosted by Knutson, then a senior, who Kempton says was tied at the hip with Lehigh great—and current Trail Blazer, CJ McCollum. Here were two players who'd helped vault a small, elite academic school's basketball program into the national conversation. "When I took the visit, CJ and those seniors really showed me what the program was all about," says Kempton.
Says Lehigh coach Brett Reed, who's been with the program since '02 and at its helm since '07, "Tim came into a great group of guys that really valued what we're trying to do with basketball. They valued their relationships with each other, they were unselfish and caring, and Tim walked in and saw that, and I think it was really attractive to him."
Reed credits assistant coach Antoni Wyche with developing the key relationship with Kempton on the recruiting trail. When Reed evaluated Kempton, he was impressed with the mobility he showed for his size, but it was a series of plays Kempton made on the perimeter that sold him. It hinted at Kempton's potential as a national-level force.
"He had this passing ability, and good hands," says Reed. "I thought there were the makings of an excellent player. And fortunately for us, Tim was very mature—he's very intelligent, and he wanted the best in terms of basketball and academic opportunity."
Reed says that the deal was sealed by a phone call from Kempton's father, Tim Kempton Sr, to Fran McCaffrey, the former Lehigh coach currently at Iowa. It was a serendipitous case of six degrees: when McCaffrey coached at UNC Greensboro, Reed had been on his staff. Tim Sr, who'd starred for Notre Dame hoops in the '80s, knew McCaffrey from the latter's 11 years as an assistant with the Irish program. So he called McCaffrey, and asked about Reed and this Lehigh program. McCaffrey gave the go-ahead.
Tim Kempton Sr, himself a 6-10 post, had enjoyed a 14-year professional career that included 280 games in the NBA. Dad's first lesson to son? Establish a jump hook.
Kempton didn't hit his growth spurt until his sophomore year at Brophy College Prep, and when he did, he coupled skill to physical power to wreak havoc.
"My dad was the type of physical post player who loved rumbling," says Kempton. "That's where most of my moves come from. I have a post coach who knows exactly what I want to do. We have the exact same picture in mind."
Since arriving at Lehigh, Kempton has thrown himself into film work. Last season, he watched Frank Kamisnky and studied the way the Wisconsin star used sublime footwork to dominate the paint whenever he wanted. "Tremendous," Kempton says of Frank the Tank.
Reed can see the next stage in Kempton's development—this summer, he stressed conditioning and extending Kempton's shooting range. There is also his growth as a leader. Lehigh was very young last season, and a resilient core has grown up alongside Kempton. The Mountain Hawks' point guard, Kahron Ross, was named Patriot League Freshman of the Year last season.
"We're excited about the success we had last season, but we're trying to get to the level where we have the confidence to go and beat whoever's on the schedule," says Kempton. "That's what the great teams have."
"We utilized Tim at a high rate as a freshman, and he produced," says Reed. "As a sophomore, the focus was to change his body—lose excess body fat, tone up, and get stronger. That's not just for injury prevention but also for performance. He did a very good job with that."
When Reed is asked about momentum, he calls the vibe on campus this summer tremendous.
"We were able to invest in younger players these past few seasons, and now we have a great nucleus with strong experience," says Reed. "We anticipate a strong season, to compete for championships at our level. There's a real excitement. This could be a special year."
Photos courtesy of Lehigh Athletics