It looks like a normal home from the outside, but it isn't until Ben Simmons takes you down to the basement of his new crib that you realize you're entering a pretty special place. As you go down and make a left, you're greeted by a neon sign that reads "SIMMO THE SAVAGE!" which pays homage to the gamer tag Ben's held since his teen years.
The made-for-Instagram space is only a reception area that eventually leads you into the video game room on the right side. The eSports room features four stations, each with a dual monitor display (240hz monitors), a tower with maxed out specs, and a gaming chair. Each computer has 20+ games. Call of Duty: Modern Warfare is Ben's current go-to. His favorite game mode is 2v2 Gunfight. He plays on a custom FaZe Scuf controller.
Right outside the gaming room hangs a collection of framed jerseys, from his high school Montverde Academy jersey to signed jerseys of Magic Johnson and Lionel Messi. It's a collector's dream.
The hall leads you to the pool room, where Simmons' logo sits at the center of the table. A gigantic fish tank with neon blue lights above it sits across from the table. The 76ers guard quickly points out that one of the fish is poisonous.
The pool room leads into a candy kitchen, where Simmons has collected and stored candy from tons of brands. You find the usual—Skittles, M&Ms, Sour Patch Kids, Kit-Kats, NERDS—but he also has a drawer filled with imported chocolate bars from his native Australia.
"I'm Australian so I like my Flake," says Simmons when asked for his favorite candy, while pulling out a chocolate bar in yellow wrapping. "Those are my go-to. You gotta try them. These are my favorite. Growing up, we always had Flake."
On this day, he's hosting FaZe Clan co-founder and renowned pro gamer Thomas Oliveira, aka Temperrr. The two connected online years ago and have remained in close contact ever since.
FaZe Clan, formerly known as FaZe Sniping, is an American eSports organization based in Los Angeles. They have teams in Call of Duty, Counter-Strike: Global Offensive, PLAYERUNKNOWN'S BATTLEGROUNDS, Tom Clancy's Rainbow Six Siege, FIFA and Fortnite Battle Royale.
FaZe is the most popular eSports organization to blend lifestyle and gaming. It has won 22 championships across all of its teams and became the first eSports brand to build out a physical house for its members, which is now a central incubator for content creation. [SLAM and FaZe have a merch collab dropping in late February.]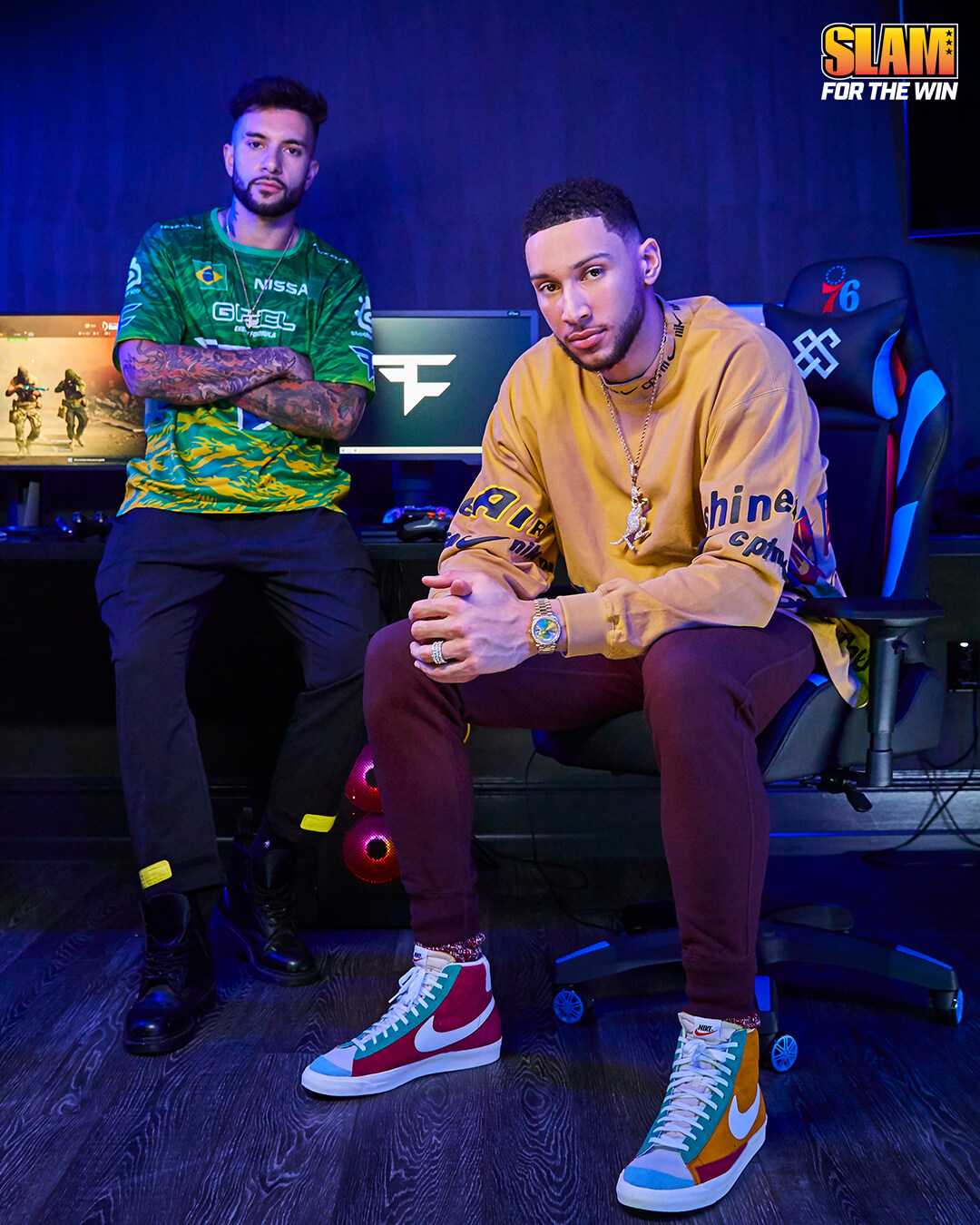 Ben's meticulously laid-out basement offers a glimpse into his off-court passions and business interests. While giving us a tour, it becomes clear that he takes gaming seriously and the lounge isn't some vanity space he built just because it would look cool. Ben's love for gaming can be traced back to when he was a youngster growing up in Australia.
"He's the youngest, so youngest goes last in any big family," recalls his older brother, Sean. "Myself and my older brother, we were playing Mario Kart, NBA Jam—all that stuff. We would be playing for hours and Ben would just patiently sit there until we either gave up or we finally died, but then we would find some sort of excuse for why we needed to go again. He would have to wait for literally hours and he would just sit there patiently waiting, never getting a turn. That's my first memory of him being a part of gaming."
Eventually, Sean realized Ben was serious about it. On many occasions, Sean would wake up at 2 a.m. and head to the kitchen for some water. In the living room, he'd find the future NBAer playing video games with another Australian kid who had hoop dreams just like him.
"He was gaming with Dante Exum," adds Sean. "It was two in the morning, [they are] just up and bright-eyed, not going to sleep anytime soon. They're playing Call of Duty at the time."
Fast forward a decade and Simmons, now an NBA star, is connecting with eSports industry leaders, and he's used those connections to learn more about the space and the different elements within it.
"I don't really try to do everything, in terms of who I am as a brand, but the one thing that has always come back to me that I've enjoyed and wanted to find out more about is gaming," Simmons tells Temperrr. "Obviously when we started talking, that was one of the things I was so interested in. Building off that and seeing where it could go—connecting, talking more, and meeting everybody in the FaZe house. That felt like a family. It felt like home. I could relate to you guys. It wasn't like a weird thing, which was cool."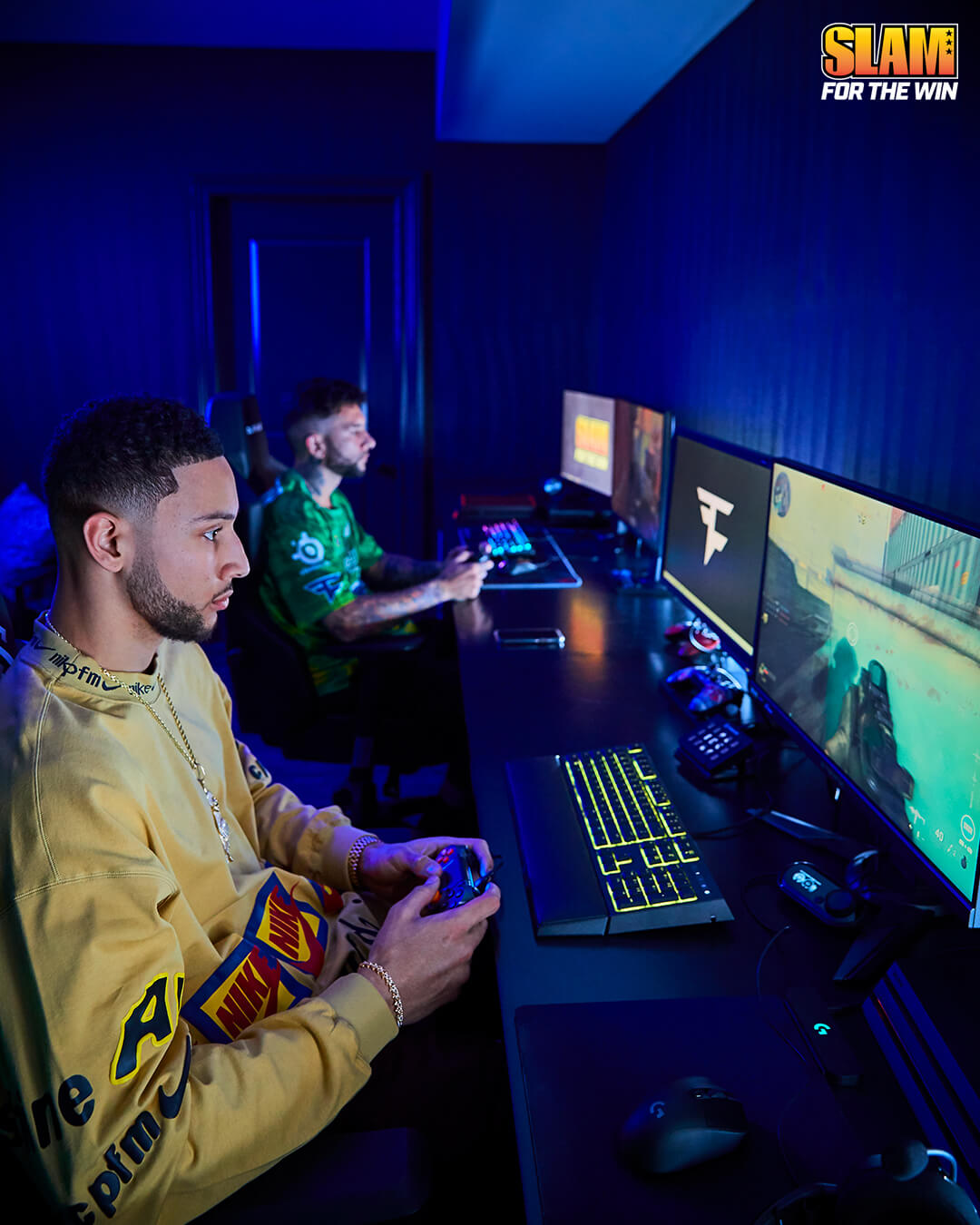 While he doesn't rule out business opportunities in the gaming sphere, it isn't the driving force behind him networking with the biggest names in the space.
"There's a few other people I've talked to. Obviously, Hector of Optic. Hutch—Old Man of Optic. I grew up watching them, seeing them make their YouTube videos. It's just been cool to be around that as a young kid and to still see those guys in the community, building off what they've been trying to do," says Simmons. "There's always opportunities in terms of investments with gaming. Every day there's something new coming out. But that's never really been one of the things I've been wanting to join for. It's always just been because I've been passionate about it. To me, the best part of doing something is because you love doing it."
"The beauty of gaming is that you're always talking to someone on your headset, so he's made a lot of relationships through the years," says Sean. "They've been talking about how it's been growing over the years and he's been paying attention. So, conversations with me when I'm sitting there with him—Alright, we need to look into this, people are starting to get involved with teams, people are starting to get involved with creating content—all these things, which has helped me decipher where to help him invest his time and his energy into the gaming world. First and foremost, he's an NBA player. But on the side, his hobby is gaming. He's learning that business and looking to invest in that business."
Gaming is such a part of Simmons' life that it's built in to his game-day routine. Just like the pregame nap is a must, so is setting aside some time to game.
"It's huge having that part of your routine, having something that relaxes you," says Simmons. "If I'm at home, my routine usually was—because I used to live in the city—go shoot, come back and play a couple of games, take a nap, then go [to the arena]. That would just relax me. I was playing PUBG, Call of Duty.
"If I'm on the road, I go on Twitch and watch somebody else's stream. That's something I enjoy, watching [people] play—which is funny, people laugh at it, but it's something people love to do."
Along the way, Simmons has gained the respect and admiration of many of the biggest names in gaming. It has become well known that he is actively linking and trying to broaden his understanding of how it all works. One of those who has taken notice is Temperrr.
"I definitely think you're at the forefront of the gaming world as far as—you're a real gamer but you're a pro basketball player," the FaZe co-founder tells him. "You know what's going on when it happens. It's a good place to be because anything could happen. Imagine hearing about Fortnite way before it was started and investing in it before the game goes live. You can invest in the next big game or help create the next big game. As long as you stay where you're at, which I'm sure you will, we're going to get this money!
"I'm not trying to gas him but he's definitely the best out of any athlete—honestly I was impressed when we were playing. He drops more kills than I do. I'm always using the sniper, granted, but he's always fragging out."
—
Franklyn Calle is an Associate Editor at SLAM. Follow him on Twitter @FrankieC7.
Portraits by Jonathan Pushnik.