A former NCAA Player of the Year isn't supposed to be in the D-League four years after turning pro.
A top-10 draft pick isn't supposed to playing in front of only a few thousand fans in places like Fort Wayne, Indiana and Mississauga, Ontario.
But that's exactly what Jimmer Fredette is doing.
"I just want to have a great time playing basketball. I think it's a fun place to be. I have great teammates and I've had a really great time," Fredette, now of the D-League's Westchester Knicks, says before a Saturday afternoon game against the Delaware '87ers at the Westchester County Center in New York.
"But obviously, everyone in the D-League wants to move forward with their career, be it in the NBA or Europe or wherever it is. Everyone's goal is to have that happen, so mine is the same. I've just got to continue working and obviously I do want to show people what I can do and try to get better while I'm here."
It might seem like ages ago, but Fredette was once college basketball's answer to Tim Tebow. He led BYU to the Sweet 16. He was on the cover of Sports Illustrated. He owns almost every scoring record for both his school and the Mountain West Conference. In 2011, President Obama called him "the best scorer in the country" while Kevin Durant one-upped that:
Jimmer Fredette is the best scorer in the world!!

— Kevin Durant (@KDTrey5) January 27, 2011
At that time, it seemed unthinkable that Jimmer would a few years later be in the D-League just trying to prove himself. But time has a way of changing things.
Jimmermania followed him to the NBA. His jersey sales single-handedly increased the popularity of Kings' gear by 540%—a few of those impossible-to-miss purple jerseys still pop up in Westchester as a reminder of what could have been.
He scored 21 in his pre-season NBA debut with Sacramento. Then, pretty much nothing happened. Despite playing nearly 19 minutes a game in his rookie year, Fredette averaged just under 8 ppg.
His numbers decreased over the next two seasons. The "best scorer in the country" wasn't scoring. And his subpar defense—which wasn't great to begin with—was being totally exposed. Two and a half seasons after Jimmer was supposed to take the NBA by storm, the Kings bought out his contract.
The teams changed—he spent the rest of 2013-14 with the Bulls, before spending a season and a few games with the New Orleans Pelicans—but not much else did. What once seemed unimaginable was now the norm: Jimmer Fredette wasn't playing and he certainly wasn't scoring.
"Just not the right things at the right time, you know," Fredette says of his NBA struggles. "That's kind of what happened, but you've got to continue to fight. I have to continue to work on all aspects of my game to get better. But at some point, I'll get the right fit. "
And when the Westchester Knicks selected him No. 2 overall in the D-League Draft, he was ready to take the step down in order to revive his career.
Was it a tough moment for him?
"Definitely," Fredette said. "You take a lot into consideration before making a decision like that; I mean it's your life. It's not something that you mess around with and you try to take everything into consideration. We felt like this was the best place for me to be.
"I definitely talk to my agent a lot and family was a big part of my decision. There are coaches from my past—my college coach [BYU's Dave Rose], I've talked to him a lot—and other guys like that," Jimmer says. "Everyone is encouraging, knowing that this is an opportunity for me to go out and play and show what I can do and see what happens in the future."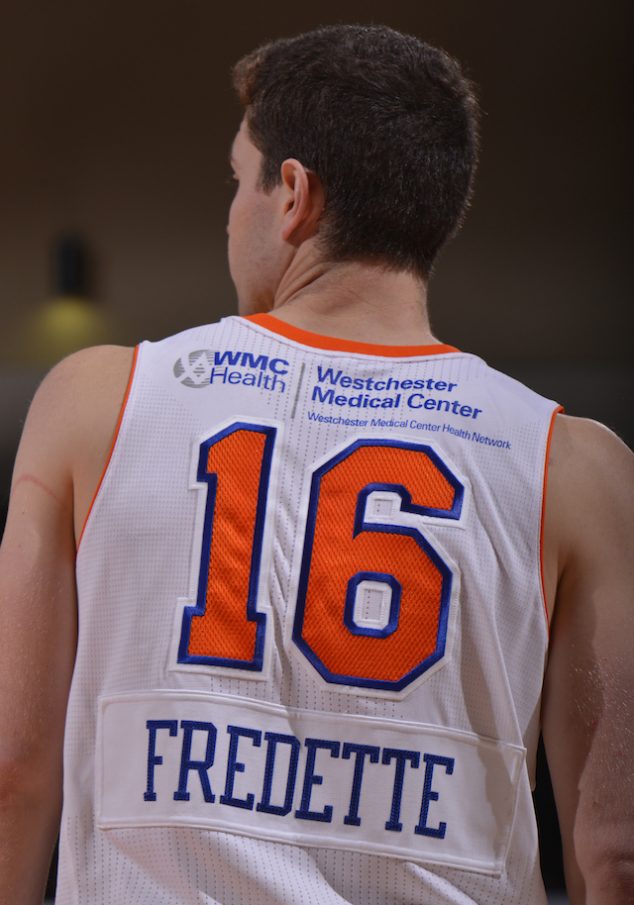 Systemically, the difference between the NBA and the D-League is night and day for the guard. Rather than being a bit part player at best—the 26-year-old was briefly recalled by the Pelicans this year under an injury hardship exemption and averaged three minutes a night before being waived—Fredette is Westchester's biggest threat. More often than not, the offense runs through his hands. For a player trying to get his groove back, being the guy with the ball in his hand again is a great feeling.
"Yeah, the reps are a big part of it, hopefully being able to go out there and get into a rhythm," he says. "I'm obviously trying to work on a lot of different things while I'm down here continuing to progress and trying to get better as a basketball player while helping the team as much as I can. I think those are the biggest things that I'm focusing on.
Those reps are paying off on the score sheet. Since joining the team, Fredette has averaged 24.4 points and almost 37 minutes a night; the team is 4-3 in that span. He scored 37 in his D-League debut.
"Once I've got the rhythm, I can feel the game out and take a shot if I'm open," he said. "And, if I'm not, get the other guys involved." (Fredette has averaged 4.9 assists per game with the W-Knicks.)
The challenge of being the guy can also help Fredette improve on both ends of the floor. Not only is he the target of every scouting report, but he's also called upon to stop the other team's top guard.
"I think the good thing for him on the other end is that he gets a chance to play against a legitimate scorer every night on defense," says Westchester head coach Mike Miller. "[Delaware 87ers guard Sean] Kilpatrick had a 45-point game last week. He's getting to play, so he's working at both ends of the floor and getting a chance to extend his minutes. He's obviously a very good player and he's helping our team a great deal."
His defensive prowess notwithstanding, one thing no one can debate is that Jimmer comes to work every day. "I've said this a number of times and it's the only thing that comes to mind: he is a professional. He handles himself and his business in such a professional way that it helps all of us. He's a great guy to have on the team," Miller says.
On the whole, Jimmer Fredette's life isn't that much different in the D-League. Sure the crowds are smaller and the he's not playing on the biggest stage anymore, but basketball is basketball. And if there's one place he feels comfortable, its on the court whether that court is Westchester, Sacramento, or anywhere in between.
"I feel good, feel confident. It's great," Fredette says. "I know that I can play at the NBA level; I've shown it before. I've had some really great games and some really good runs in the NBA. But sometimes it doesn't work out for you right away how you want it to. You've got to fight and work hard. I have confidence in my ability and that if I play in the NBA I can be really successful."
—
Photos via Getty Images