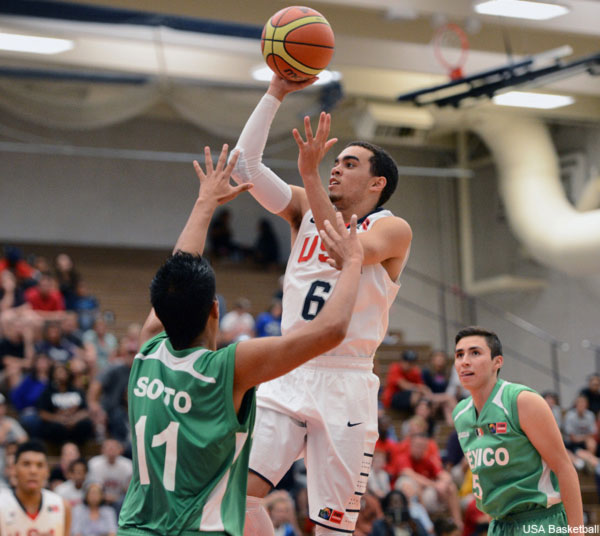 It's no surprise that the remaining quartet of incoming college freshmen on USA Basketball's U18 team have emerged as the squad's most important players as they contend for a Gold medal at the FIBA Americas tournament, held at the Olympic Training Center in Colorado Springs.
The duo of Duke signees Tyus Jones and Justise Winslow are two of the more experienced hands on deck, as Jones was a Gold medalist for the USA under-16 team at the 2011 FIBA World Championships, and Winslow won Gold last summer on the U19 team and both teamed up to win in 2012. Despite Jones, a true floor general hailing from the Minneapolis area, and Winslow, a powerful, defensive-minded wing from Houston, coming from different parts of the country, the pair has developed chemistry heading into their freshman year in Durham, beyond crossing paths occasionally at sneaker camps or AAU tournaments.
"I think it helps a lot, having such good chemistry, both on and off the court with someone going into school," explained Jones, the team's captain. "It just kind of speeds up the process of team binding and stuff like that, when you know some of the guys going into it."
Along with fellow McDonald's All-Americans Jahlil Okafor, a center from Chicago, and Florida sharpshooter Grayson Allen, Coach K's freshman class should make a big impact in the ACC next season. Okafor was also on that 2012 World Championships team, but with Winslow and Jones teaming up this summer, they now know each other's games like the back of their hand.
"Floor general, can shoot, makes plays for others and himself, unselfish and a really good leader," Winslow rattled off, when asked to describe Jones' skill set.
Countered Jones about Winslow: "He's always been big, physical, athletic and he's always been a great defender, but his shot is improving and his handle's getting a lot sharper."
Being veterans of FIBA play, they not only understand the differences in rules—"The ball, first and foremost, is a lot different to get used to and just how the European teams play. They just play a different style. They're not as above the rim as USA competition," Jones acknowledged. Winslow cited, "You've got to pay attention to the details. These teams really execute, so we've got to execute in everything we do, and really focus and lock in to the gameplan."—but the experience of receiving college coaching before setting foot on campus. Florida's Billy Donovan is the team's head coach and he's assisted by two other top college coaches, Arizona's Sean Miller and Providence's Ed Cooley.
"There's a difference between high school and college schemes, and Coach Donovan, Coach Miller and Coach Cooley have really been walking us through some of the things and learning a lot so far," Winslow observed. "So it's definitely going to help me before I get to Duke."
Jones concurred: "Playing for three great college coaches is only helping me a lot as a player. They have different mindsets and they coach differently than high school and even AAU coaches, so I think it's just a jump start on the next chapter."
The experience is a bit different for Stanley Johnson, perhaps the team's top scoring threat and a veteran of the same two U16 and U17 teams Jones played for in 2011 and 2012, as the physical, versatile Arizona-bound scorer is playing for Miller, his college coach in just a few months.
"This is the first time I've had a chance to get court-to-court, context coaching and playing at the same time, so this is great for me as a player. But he just does his job. Everything he told me about him as a player, as a coach, he's enforcing right now and it's for good things to come in the future. So I'm happy to be with him and all the other great coaches that are here with us, too," Johnson said of his relationship with his present and future coach. "[Miller] said to just be yourself and just do what you do best. He's going to put me in positions to be great [at Arizona], and as long as I'm assertive about what I'm doing and play with my instincts, I'll be fine."
For his part, Miller isn't putting any undue pressure on his talented incoming freshman.
"I try not to do it. It's still summer for him. I want him to be treated just like the other 11 players on the team, but we just know each other better than I know the other players. So just that alone, no question, this time is well spent for both of us," the former Pitt point guard explained. "Stanley and I have known each other for almost about three years, through the recruiting process. But very seldom do you have an opportunity to coach one of the players that you've recruited prior to them getting to, in my case, Arizona.
"It's a great opportunity, I think, for the both of us because he's being coached as if he's already in college. Great competition," Miller continued. "I think not only is he learning a lot, but some of the things that he's learning have direct carryover into making him more ready and a better player at Arizona. So I think just for his own experience, it's great. With me being here, I think it continues to solidify our relationship and I think most importantly, I can help kind of coach him prior to him actually being with us."
At the same time, Miller isn't downplaying Johnson's ability, as the L.A.-area native might be the most talented newcomer wing in the country next season.
"The one thing you can go on with Stanley is the fact that he won four state championships, which is remarkable in the state of California, and it just seems like whatever team he's played on, he's won. I know we also have some other players on this team have done the same thing. He's a winner. I think you can see that by how he carries himself, how intelligent he is. That's why we're so excited to have him as a part of our program at Arizona," the coach said. "He can play a number of positions. He can play the 3, he can play the 2. But it's not as much the position he plays, but his style. He's very versatile, as you had mentioned. He's really become a better passer and ballhandler over the last year-and-a-half, partly because he did play a lot of point guard with his high school."
Indeed, Johnson's senior year at Mater Dei, in which he served as the perennial powerhouse's primary ballhandler, has had a direct effect on the evolution of his game, evidenced by the playmaking ability he's displayed in Colorado.
"You see the floor a lot better. I feel like before this year, I saw the floor kind of narrow and now I see from a little bit of a wider perspective, so it's helped me out a lot," Johnson said, going on to describe his development during his entire USA Basketball career. "I started with playing the four and just being really versatile, so every year is a little different. But this year obviously, I'm more of a leader, probably one of the main scorers on the team. So I have to bring it every game, where other games, I had Aaron Gordon, Jabari Parker, Jahlil Okafor, different guys on the team. The whole goal is to win games. If we do that, we'll be fine."
Before he gets to Tucson, Johnson still has some work to do before fulfilling expectations as a potential one-and-done phenom, following in the footsteps of the aforementioned Gordon, his former national team and AAU teammate.
"I think defensively, guarding smaller guards. Stanley's high school defense is much different than here. This is much different and it's really much different in college," Miller said. "So like all freshmen, that's the biggest learning curve, but he'll get it. He's a smart player and he's obviously been very well coached."
Johnson added: "I want to drop like five or 10 pounds and just make a consistent jump shot. I think if I do that, I'll be fine."
Similar to Winslow and Jones, Johnson's presence as an elder statesman and having previously played in FIBA competition has put him in a leadership position, making it a must for him to bring effort and energy at all times to set an example for his younger teammates. But he can't ignore the obvious—NBA personnel watching Team USA's games and practices—though he claims that the scouts and handful of executives at the Olympic Training Center daily don't have any impact on his performance.
"No, I do what I do. There's no counterfeiting, no fake. You are who you are as a player and you're out here to show it every time, and whether you come see me now, later, here, there, it's going to be the same thing every time," Johnson explained. "I just try to win. I think our coaches put me in great position to do things I know how to do really well, and I think we're a great team and we do great things together. I think after we start winning games, people that are watching the games have to respect everybody on the team because we're winning games."
Myles Turner, on the other hand, didn't deny that he took notice of the scouts.
"No, not really," the Texas-bound big man started to say, before admitting, "Well, yeah. I notice them. It's hard not to. But it doesn't make me nervous as much as it motivates me to play hard."
The player with arguably the most upside of any on the team—Turner, the Dallas-area resident is a serious shot-blocking presence, while combining a developing post-up game with face-up shooting ability—is also a hard worker and his enthusiasm for the game is readily apparent upon watching him practice and play in actual games, as Donovan explained.
"Great kid, great attitude, unselfish, really into the team. I think as he continues to grow and develop, one of the things that he can do for a big guy right now is he can step away and he can face up and shoot the basketball. He's probably got to get a little bit more comfortable with his size, with playing with his back to the basket and being a little bit more physical at the rim. But he's got, obviously, a world of potential and a great future ahead of him. More than anything else, not because of his talent, but because of his attitude. He's just really, really enthusiastic, he's got good energy and passion, and it's been a pleasure to coach him," the coach said. "What happens sometimes is when guys play AAU basketball, a lot of times it's hard to see the intangible things and I think when you coach guys here, in this kind of situation, you can see a lot of the intangibles and that's why I think Myles is going to be so great. He has an enormous amount of intangibles, he's a great kid, he's a worker, positive attitude. He lifts people up, he's eager to learn, eager to get better, he wants to win. If things are not going well for him, he's not a pouter. Those are intangible things that a lot of times, when you go to AAU events, sometimes you can't see all those things. But here, these kids have worked really hard."
Even with the expectations surrounding the in-state recruit when he arrives in Austin, Turner—who played alongside the aforementioned trio in April's Nike Hoop Summit all-star game, USA Basketball-FIBA event held in Portland—knows that he has a ways to go, regardless of where he's projected to be drafted in 2015.
"I want to continue to get stronger and get a little bit more comfortable in the paint," he said. "But really, I just want to enjoy the whole process, get better and win games."
Just like Johnson, Jones and Winslow, if that happens, the foursome will be well on their way to not only meeting the lofty expectations placed on their shoulders, but exceeding them.
*Baltimore native Dwayne Morgan, who will be a forward at UNLV this fall, also made the squad, but due to a family emergency, he left prior to tournament play beginning and was replaced by Chase Jeter, a 7-0 rising high school senior.