Months had gone by. They said it would just be a day, maybe two, before they heard back. But nope. It had been months since twin brothers Ryan and Adam Goldston met with the NBA in late July of 2010. The brothers had to get their new basketball sneakers approved by the League before players could wear them on-court. But weeks and weeks and weeks passed. Ryan's still got excitement in his voice all these years later while he talks about it.
"Adam and I were high school basketball players," he says. "Our high school team won Southern California Championship. We played in college at SC. Our dreams growing up was literally to be in SLAM."
The brothers didn't make it to SLAM as ballplayers. They made it as businessmen. They used all the money they had to buy an ad in SLAM to launch APL, their sneaker company. Athletic Propulsion Labs was meant to be the pinnacle of basketball performance footwear.
That was the only paid advertisement they did. And it worked.
"You have these NBA players and their agents reaching out to us," Ryan continues. "We ended up getting invited to the NBA Finals, when the Lakers were playing the Celtics, 2010. We ran into David Stern and Adam Silver. We were talking to them about APL and the shoes and they said, 'If you guys want any NBA players to wear it, you have to come meet with the NBA prior to August 1 of the upcoming season to show them the product and make sure you get approvals.'"
The APL Concept 1 was a performance monster, highlighted by the Goldston's proprietary Load 'N Launch technology. Load 'N Launch is a forefoot spring pad. The "Load" part happens when a player jumps, compressing the springs. Then the "Launch" comes in the form of a release at the moment of liftoff. The kicks, simply speaking, gave wearers stupid bunnies.
The brothers' initial idea for APL was to be on the "highest end of the performance spectrum," according to Ryan. APL ended up flying too high for the League.
"We're waiting, waiting," Ryan says. "It passes August. It passes September. We finally hear back from them. October 19, 2010. The NBA banned the shoes because they said it 'provides the wearer with an undue competitive advantage.' That was their exact wording. The greatest wording we could've ever hoped for."
A decade to the day later, he's going back through the story with pure joy. He and Adam would spend the next four years consistently selling out of their basketball silhouettes.
And now the brothers are celebrating their decennial anniversary with the release of two new basketball sneakers, the APL SUPERFUTURE and the APL Concept X.
"It's a 26-piece upper with a new type of Exolock material that we created," Adam says with the Concept X in his hand. "It's super stretch but it also locks your foot down with this material. The cool thing about the Concept X is we took the original technology that was banned by the NBA. Now it's much bigger and performs insane as a full carbon plate that runs from the heel to the forefoot.
"Cars are a huge inspiration for us," he continues. "Cars have gotten faster but the main thing that they've done is they've gotten lighter. We tried to use inspiration from the way that they invent vacuum-wrapped cars and the fastest cars and the most exciting cars are the ones where there is real motion in it but it looks like it's shrink-wrapped. That's what we tried to do with these shoes.
"This is the SUPERFUTURE," he says with their newest model in front of the Zoom camera. "It's a laceless basketball shoe. This has the original Load 'N Launch technology that was banned by the NBA. We really wanted to try to push the limit, specifically with these shoes, in terms of what's possible with design and then also innovation."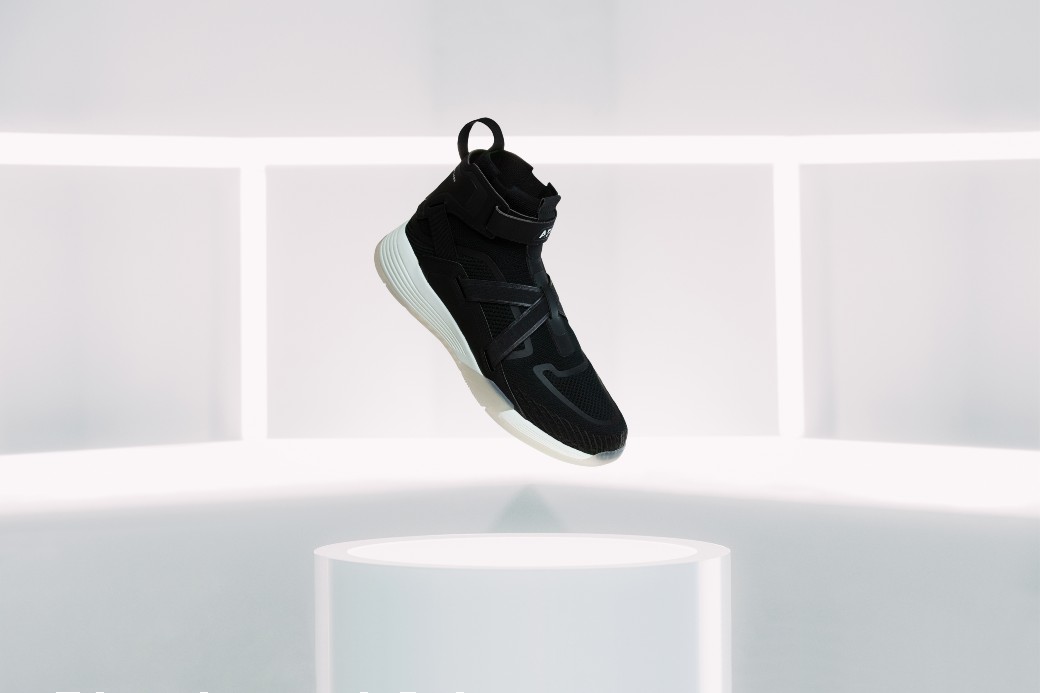 The brothers have been pushing everything about APL for the last ten years, continually referencing "world building." What started as a basketball sneaker company has transformed into an international brand where everything from visual aesthetics to written world is carefully calculated. The brothers take a trip down memory lane and share stories about being in Monaco for the 2016 Grand Prix and in Hong Kong for the start of their deal with the Lane Crawford department store franchise. Those are two moments that stand out to them along the journey and that helped them to refocus the vision they first started out with.
"A lot of times you're looking at stuff and you're thinking about it from a financial standpoint," Ryan says. "But that's not truly the stuff that brings you the happiness. It's not the thing that characterizes success for you. It's the happiness and success of getting to do what you love, the process that goes into it. That was a fundamental shift in thinking that came from the love of creating."
They both call out specific memories from the time they spent in Monaco and in Hong Kong. Adam says it was "surreal" to see 400 people wear their kicks after they inked a partnership with Renault to be the Formula One Team's official footwear provider for the Grand Prix. And reminiscing on the pop-up shop and three-on-three basketball game that Lane Crawford hosted for them in Hong Kong has them both giddy.
SLAM asked the Goldstons about what music inspires them at the top of this interview. Nipsey Hussle, Adam said without hesitation. He remembers hearing "Hussle in the House" back in 2009 and immediately identifying with the late great.
"He talked about how he took the stairs, not the elevator," Adam says. "That's been the whole thing for us. We felt like we took the stairs. We had a huge advantage when we got banned by the NBA but we did it our way. We're in year ten now. We've been grinding for a very long time. We have a lot of success now. But it definitely didn't happen overnight, even though we had that overnight moment. I've always related to the mentality that [Nipsey] has in terms of building.
"I know it sounds fucking cliche, and again, not to go back to Nipsey Hussle but Nipsey literally said 'If you don't enjoy the journey then you're just a hardworking failure,'" Adam says. "If you're looking for one specific thing at the end of the road, and you get there, you're not going to be happy. What we try to do as a company, what inspires us, we want to be excited about the things we're doing day in and day out."
They say that they have big plans waiting in the wings for 2021. Those'll come to life in due time. But on this day, the ten year anniversary of getting banned by the NBA, with their newest basketball sneakers dropping, the APL SUPERFUTURE and the APL Concept X, it's a full-circle moment that Ryan and Adam will be talking about another ten years from now.