Twenty years ago when Allen Iverson entered the NBA, no one really knew what to expect. He was supremely talented, but he was undersized. He was gifted, but some said he had a bad attitude. No one really knew what to expect—except Reebok.
It's hard to call signing the No. 1 pick in the Draft a risky or bold move, but given the media stigma still attached to a young, brash AI, Reebok had to make sure they packaged his first sneaker just right. And oh did they succeed.
The Reebok Question, designed by Scott Hewett, was built to be flashy, to look fast, and to be recognizable all the way up in the rafters. Sure, Iverson could have played in bricks and still gotten love in Philly and beyond after the way he burst on the scene as a rook, including busting Michael Jordan with that crossover. But the Question was so perfectly timed, with its pearlized outsole, the instantly iconic honeycomb pattern, full-grain leather upper and Hexalite cushioning. Ooh wee, it was a beautiful thing. Iverson's first signature sneaker was a phenomenon.
"I remember you showing me the shoe, and it didn't really matter what it looked like," Iverson told Global Vice President of Reebok Todd Krinsky during a Reebok retrospective video released in 2012. "It didn't even matter. Just the fact of it being my shoe was enough for me. It could have been anything, basically. But then, seeing the shoe made it that much better. Because I liked the shoe off top.
"I remember, I used to talk to my teammates at Georgetown and they would ask me, 'Man, do you think you're gonna have your own shoe?'" Iverson continued. "I'm like, I dunno. Hopefully something like that would happen for me. But it was so far-fetched. I didn't think nothing like that would actually come true."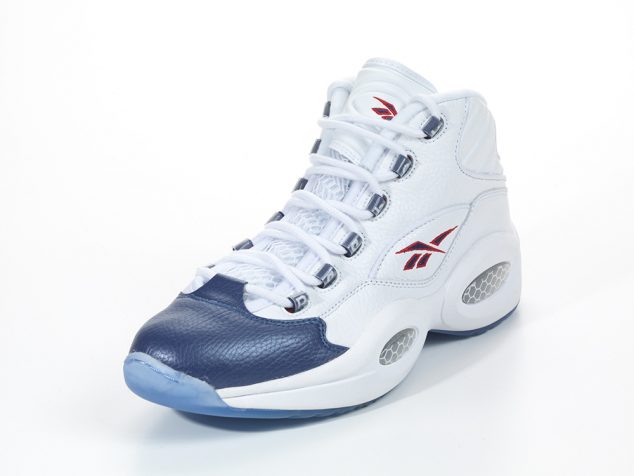 Krinsky and the Reebok team were confident that Iverson's shoe would pick up buzz once he made an impact in the League. But perhaps even the biggest believers couldn't have predicted the all-out rush that began immediately. Turns out, the streets couldn't get enough of Allen Iverson.
"One of the things that was the craziest about it was when we put the first 5,000 pairs in Philly, and kids were driving up from Virginia, from DC to get the shoe. We only could put out so many pairs because we were going so fast," Krinsky added. "This was before the Internet, so kids really had to find out where to go."
Now in its 20th year, the Reebok Question remains as iconic a sneaker as there is in basketball, intrinsically linked not only to a player many consider to be pound-for-pound one of the best to ever do it, but essentially to an era—one whose doors are closing fittingly this year with the retirement of Kobe Bryant, another '96 Draft class legend, and the Basketball HOF induction of this sneaker's namesake. That the Question turns 20 in the same year AI will be inducted into the Hall…if it were a movie script, you'd say it sounded too perfect.
The "Red Toe" and "Blue Toe" OGs remain staples of both basketball and streetwear, while an influx of celebratory new colorways and collabs with the likes of Major and Bape have introduced a whole new generation to the iconic shoe. That—plus the internet, with its endless supply of Iverson highlight reels while rocking the Qs—has given new life to a sneaker simple in design but complex in significance. Bottom line is the Question is Allen Iverson, and Allen Iverson is forever.
"That's the best part about it all. You got your own shoe, but seeing somebody else with them on is totally different. I'm not talking about your family, your friends, because they're going to wear them regardless. Seeing the fans wear them, and to go even further, people that's not even fans of you, but like the shoe. That's one of the best feelings ever," AI once said. "And then the fact that everybody still wants them this many years later, it's incredible."
Hopefully he'll lace 'em up one last time for a certain speech in Springfield.
—
Photos courtesy of Reebok