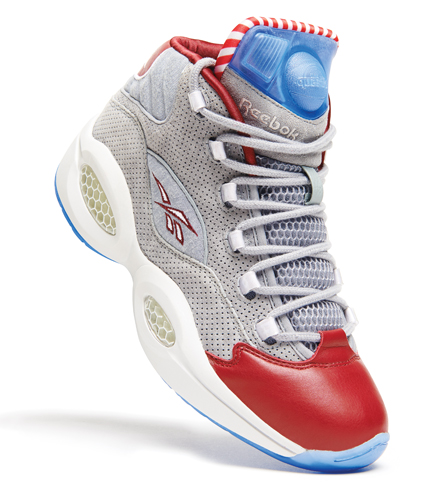 When you think of Reebok Classic, two of the first products that come to mind are the Pump and the Question. It only makes sense, then, that the Canton, MA-based brand is set to release the Pump Question Mid, a combo of the two iconic sneakers.
Though the rad silhouette, which is being released in conjunction with popular sneaker outlet VILLA, has existed for a while as an online rumor, the time was finally right to make it a reality. This year is both the 25th anniversary of the Pump and the 25th birthday of VILLA.
"By bringing together two of our most iconic models," says Brian Lee, Global Director of  Reebok Basketball, "we paid homage to our heritage with a mashup that is a first of its kind."
"It's humbling to see how far VILLA has come over the last 25 years," says Patrick Walsh, the company's Chief Marketing Officer. "We went from being a small local store in PA to gaining national attention for our commitment to the community."
While the timing of Reebok x VILLA Pump Question Mid  is an ode to anniversaries, the detailing is all about Allen Iverson and his first signature model. "Reebok gave VILLA an incredible opportunity to tell Iverson's Philly story," says Walsh.
To that end, from the Grey/Burgundy colorway, which was the color of AI's old Bentley, to the Liberty Bell logo on the heel, to the TGI Friday-inspired striped lining, every element is authentic Iverson. Just as intricate, though not pictured, is a chain hangtag that reads "PUMP" in the style of Robert Indiana's famed LOVE sculpture. The chain is a nod to AI's affinity for jewelry, while the lettering evokes JFK Plaza in Center City, Philly, where one of Indiana's sculpture's resides.
"We wanted to do something original and unexpected," says Lee.
Reebok Classic is launching the sneaker exclusively at Philly-area VILLA stores on November 24, the official birthday of the Pump. It is expected to retail for $185, but be sure to follow the brand on Twitter for more info as the release nears.
photo by Tom Medvedich