Young fella hit the griddy across the Memphis Grizzlies court, excited than a you-know-what to finally speak in-depth about the Nike Ja 1. In front of him were a collection of journalists from around the country and a camera that was streaming to China. Yeah, Ja Morant was in the highest of spirits while he sat in between the lead craftsman of the 1, longtime Nike Basketball Senior Footwear Designer Ben Nethongkome, and Scott Munson, Nike VP, Global Men's Basketball.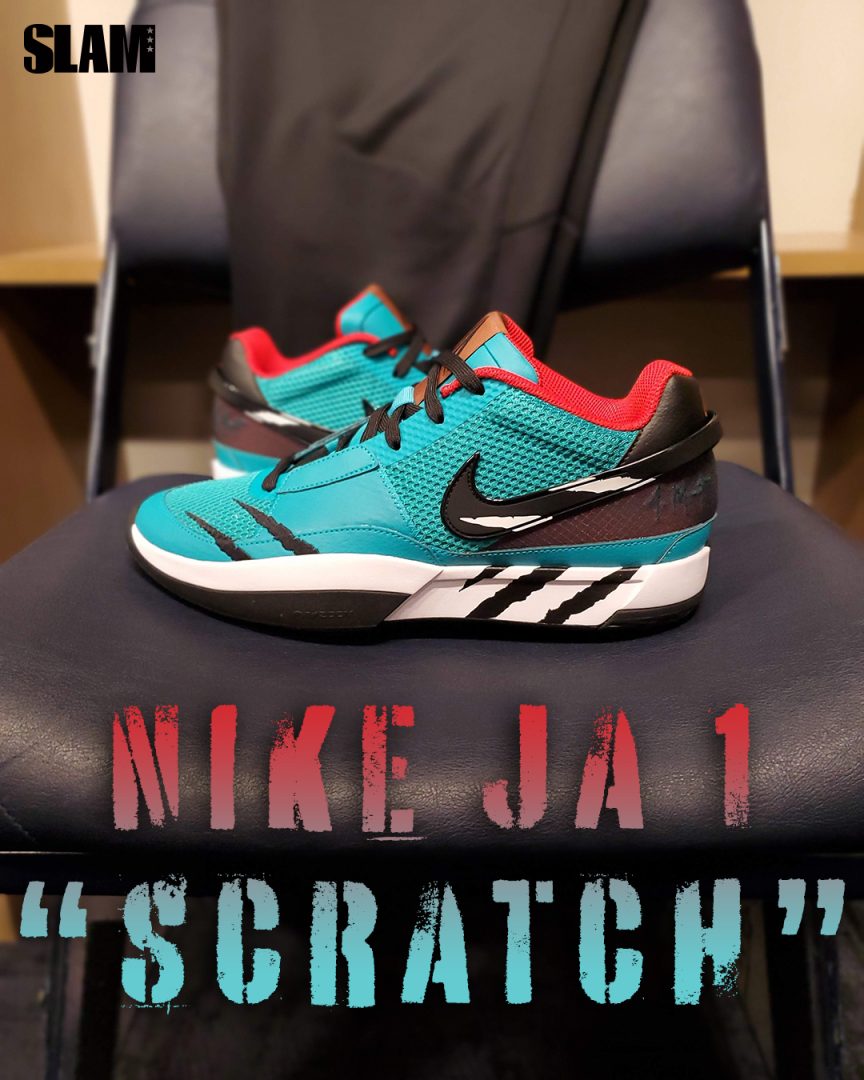 He and Nethongkome started making the 1 by just talking. And then there was more talking. And a ton more talking. Morant was hype to get this going, emphasizing yet again what he's said a few times in the past—he always wanted to sign with the Swoosh and get his own signature. So he and the design squad talked and talked and talked, about his wishes about his game, about previous Nike Basketball silhouettes that they've all loved to hoop in.
Nethongkome went back with all of that information, studied Morant's movements with the famous Nike Sports Research Lab to get a silhouette in the works, and then something started to take hold around the one-of-a-kind athleticism that #12 possesses. 
"Obviously, [this is] something I dreamed for, something I've wanted all along and finally, I got it," Morant said post-griddy. "The process is a pretty long process. You just be ready for the shoe to come out, ready for the shoe to be done, ready for the world to know. It definitely was tough for me to keep quiet, but once they laid out that first pair, I tell them every time I see them that, 'Y'all did it again.' They just made my shoe come to life."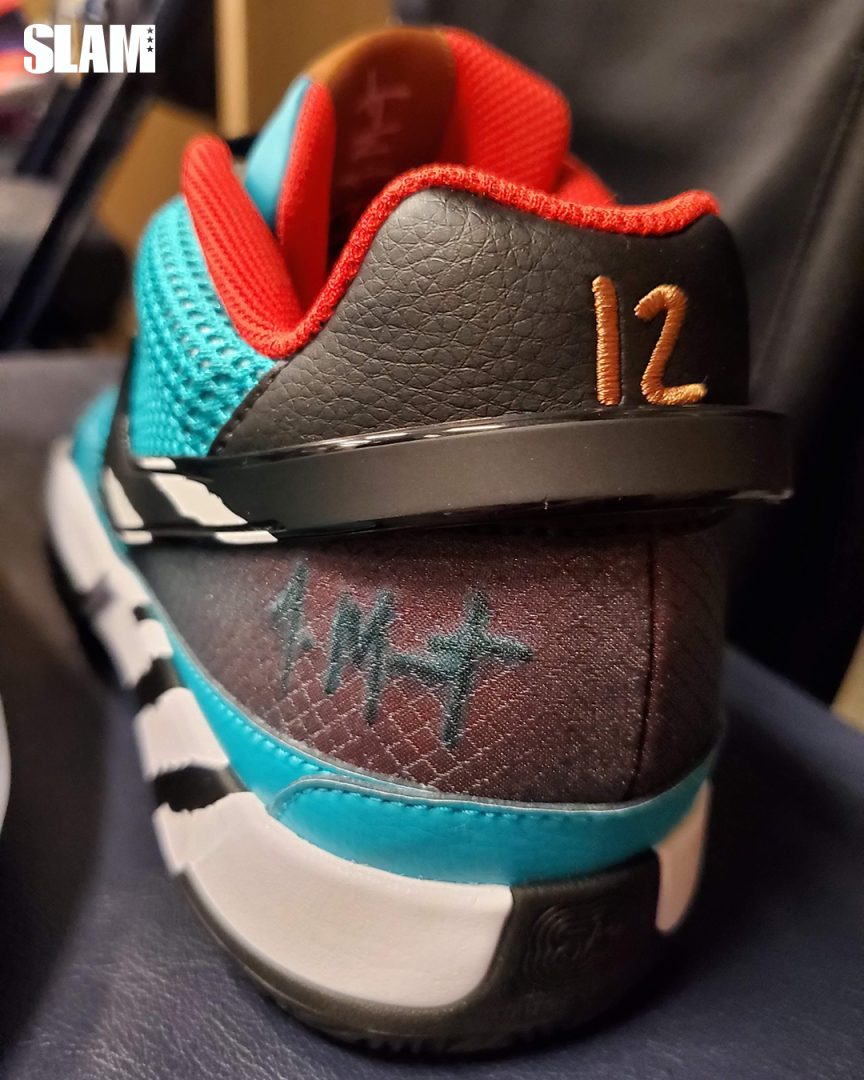 The trio laughed at the story of Morant wearing the first prototype for the majority of a middle-of-the-process meeting, to which the former Rookie of the Year later admitted that he got "a little emotional" when he finally saw them for the first time.
"When we met with him to unveil the shoe for the very first sample, that rough sample, he wore it the entire time," Nethongkome told SLAM after the panel. "He was like a kid in a candy store. It must have been six hours… We were there for six, I think he had it on his feet for five."
"A day I'd been waiting on for a long time," Morant said. "Actually being able to finally get on the court, move, run around in them, dunk, which everybody likes that I do, it felt good."
There are three areas of focus that had Morant so enthralled. Nethongkome calls them out as dynamic lockdown (showing up in the midfoot), a responsive forefoot and support for landing. That forefoot mudguard on the 1 helps with stability for the shiftiest player in the League. Also showing up in the forefoot is a Zoom bag. The midsole is elevated slightly in comparison to more recent Swoosh pairs, aided by a padded and plush collar. And because Morant is a two-foot jumper as he engages his personal thrusters, the sidewall guardrail was raised for when he decides to come down and join the rest of us who are gravity-bound.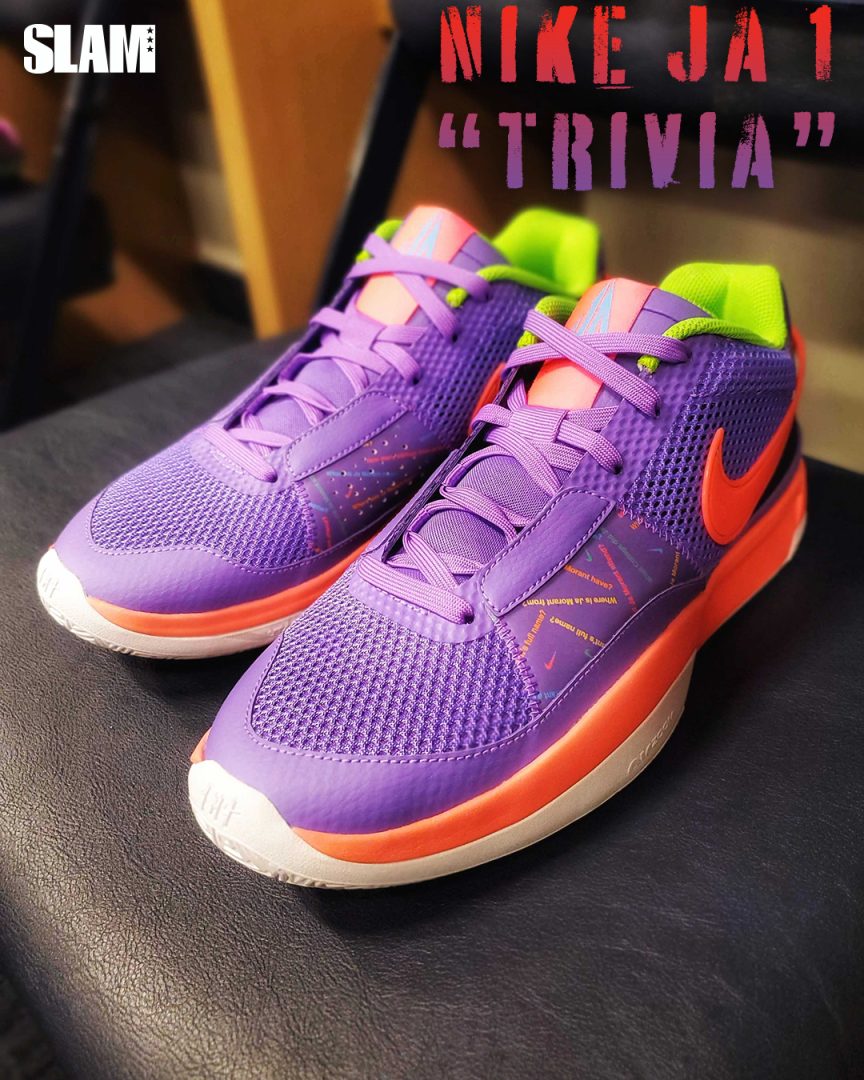 No. 12's first sneaker also features the appearance of a brand new element. With the tunnel walk in mind (SHOUT OUT TO @LEAGUEFITS!!!), Nethongkome lifted the Swoosh up off the heel so that Morant could hold his sneakers while getting his pregame fits photographed. 
"I want him to be able to hold the shoe in a different way than other athletes when they walk in the tunnel," Nethongkome said. "It's integrated as a pull tab and also as a hold that encourages him to bring it into the tunnel." He calls it a "protruding Swoosh," holding up the 1 in exactly the way he imagined it during the 18-month creative process.
It takes a long time to make this all happen. Over the last year and a half, Nethongkome and the Swoosh squad got to know Morant and his family pretty well.
"I would just say he was involved and always accessible and open," Munson told us.
"Ja has been in the weeds with us, which is nice to have," Nethongkome added. "He's only a text away to get feedback."
Samples and weartesting and colorway ideas and material resourcing and the science of how thick or slim to make the Zoom bag requires precision. All that and more is why Morant had to keep the 1 a secret for so long. And within everything that's happened since the decision was made and this launch moment, there was enough space for a log to be kept of what Morant hoped to see realized with the 1.
"There was a checklist of things he wanted an update on and the first thing he saw was Khairi's name," Nethongkome said. "So that, to me, nothing else mattered in that moment. He just was so in love with that."
As of right now, Morant hasn't played in too many different colorways.
But that's all about to change.
"You only saw a sliver of what we've been working on the past 18 months and I just wish you could see what's behind the other closets we have hidden. But just keep it locked," Nethongkome said. "There are a lot of cool things coming out."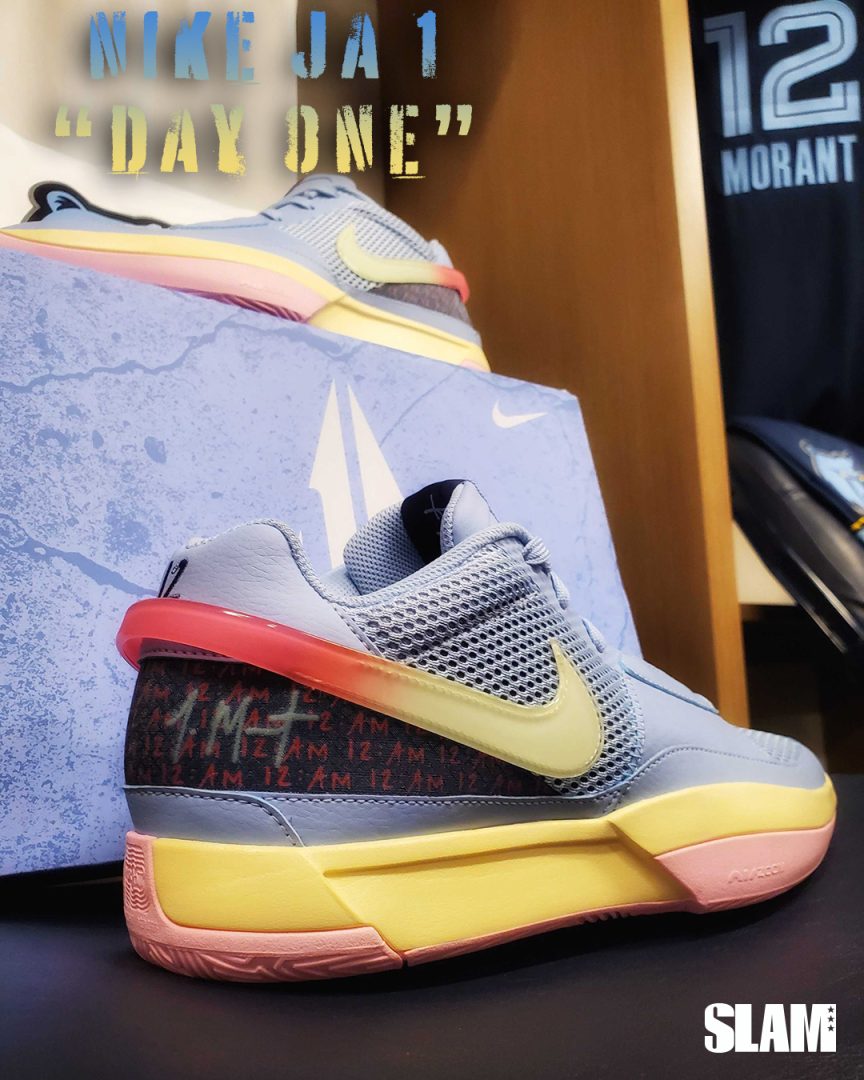 True to that, Munson said during the panel that the 1 is among the richest number of drops they've had. He later told us about how they love to watch Morant be incredibly supportive of young kids coming up. The obvious example of that support is how he's established a new tradition of giving away game-worn 1s to courtside fans. More than that, though, it's what he does for his team, for people from Memphis to Dalzell, bringing so much hope and inspiration each and every time he jumps into the stratosphere and comes down to griddy.