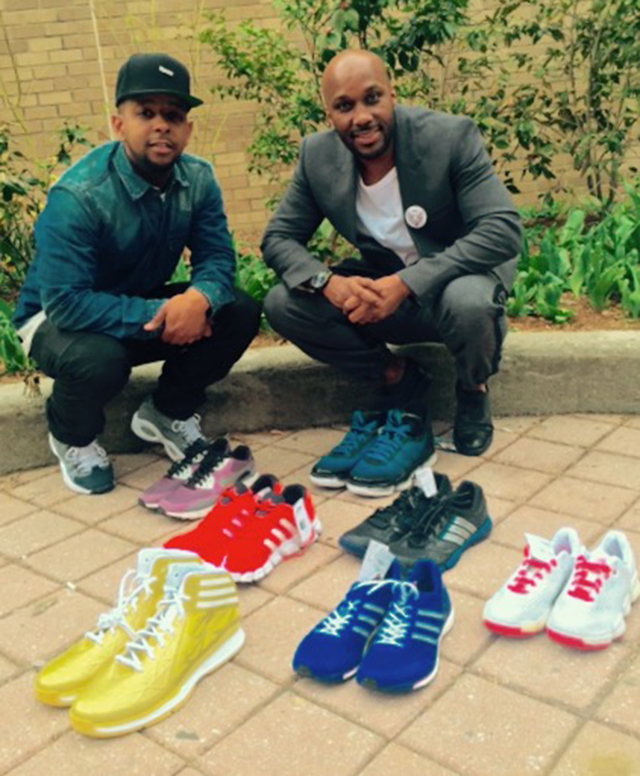 Last month, I followed Andre McDonnell around the Port Authority Bus Terminal as he carried a huge bag of sneakers, slung over his shoulder. He and his partner, Rudy Lassi, run a small operation called It's From The Sole, which distributes "gently used'" sneakers to the homeless men and women of New York City.
As I trailed McDonnell, with his satchel of shoes, I couldn't decide if he was a modern day Robin Hood, Johnny Appleseed or Santa Claus. As we approached a homeless man who introduced himself as Ishmael, I realized that McDonnell is actually the narrator of Moby Dick; a man searching for his whale. Amidst the endless discussions of fashion of sneakers, it can be easy to overlook the very basic purpose of sneakers—protecting our feet. It's fun to compare Air Max 95s to Curry Ones, but for men like Ishmael and the many others who traverse the concrete jungle of New York, shoes are a basic necessity.
It's From The Sole began in 2012, after McDonnell encountered a man without shoes while he was playing pick-up ball. After the game, McDonnell took off his sneaks and gave them to the barefoot man. McDonnell went home that day dressed discordantly in his dress shoes and bball shorts, but with a smile. There are some 60,000 homeless people in NYC; it's a big ocean. McDonnell and Lassi might not catch their Moby Dick, but they are keeping their city afloat by catching many fish, sole by soul.
For more info on It's From the Sole or to donate sneakers to the cause, hit up itsfromthesole.org.