There's a slight overcast at the Port of Houston, one of the United States' busiest seaports. An air of anticipation rides the gentle breeze wafting from the large, ocean-going vessels coming into the ship channel, loaded with imported and exported goods. But as enormous as the barges are, they pale in stature compared to the city's most recognizable sports superstar, James Harden.
The six-time All-Star is on site running between stacked shipping containers to help promote adidas' "RUN THE GAME" campaign and its launch of the AlphaBOUNCE Beyond—a shoe designed to celebrate athletes who use running as a tool to dominate their sport.
Although the Houston Rockets' guard has his own signature shoe, he incorporates the engineered mesh and the BOUNCE midsole of the AlphaBOUNCE Beyond, which has allowed him to use running as a training tool, in the multi-directional agility training this past summer that transformed him into this season's top candidate for League MVP.
There's always been something a little jostling and otherworldly about the way Harden plays basketball. Already a supremely gifted ballhandler, he's taken his game up several notches in his ninth year in the Association. He's breaking ankles with his elusive footwork, driving the lane as if it were his own private runway and capitalizing on those luscious, highlight reel worthy stepbacks to the tune of a League-leading 249 made three-pointers and 30.7 points per game.
JAMES HARDEN. This is legendary. (via @HoustonRockets) pic.twitter.com/KVo9iIlqtE

— SLAM Magazine (@SLAMonline) March 1, 2018
By adding the AlphaBOUNCE to his training regimen, Harden has put the exclamation point on the way he knifes through the creases and seams of the defense; stopping and accelerating joltingly and quickly, like the poetic embodiment of iambic pentameter. All this and he's also been able to use the silhouette to pad his competitive edge, play the game of basketball at his own pace and virtually dominate his defenders.
"Athletes want to be the best at their specific sport and they understand that running is a key factor in obtaining their goals," says Andy Barr, Product Category Director for adidas Running. "Adidas have worked with a range of vertical athletes – those who compete in sports such as soccer, football, basketball, baseball, field hockey, tennis and boxing – as well as versatile athletes – those who are cultural leaders in dance and modeling – to develop a running shoe that will give them the edge over their competition, making them the best on the court, field or pitch."
SLAM caught up with the Beard after his photoshoot to talk about the Rockets and the training that has helped him become the most dangerous offensive threat on the planet.
SLAM: When do you train in the AlphaBOUNCE Beyond versus your signature shoe?
James Harden: For the AlphaBOUNCE Beyond, it's more for when I'm on the track or when I'm in the sand or I want to do spin class or boxing. There's a variety of different training regimens that I use the shoe with. I use them in the weight room as well. They're so comfortable when I'm on the treadmill, so I wear them when I'm not on the court, basically.
SLAM: It looks like the designers listened to the athletes on what they need in a shoe. Do you feel their use of ARAMIS technology (a motion capture process that produces scientific data on how athletes move) when you wear the shoe?
JH: Yeah, we're the ones going out there going at it every single day, especially the best players in their respective sport. Of course they have to listen to us. But the way shoes are being created now, it's for the athlete.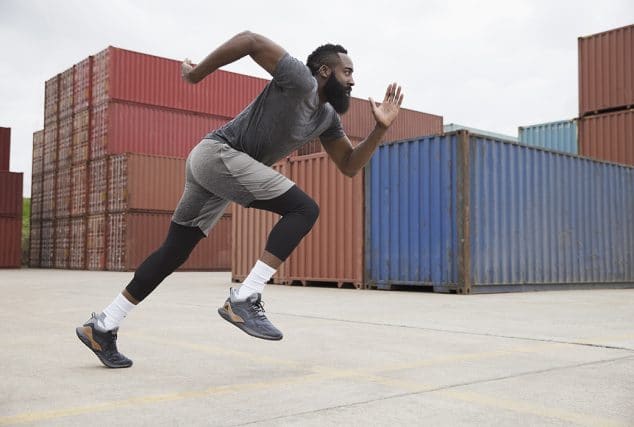 SLAM: This past summer did you realize that you needed to work on your endurance?
JH: That's always the number one thing, being in shape. Being able to run and not get tired and so I do different types of workouts. I don't just do the same thing because obviously it gets boring. Whether you're in the pool working out or in the weight room or on the track or in the sand, just mix it up a little bit. That way your conditioning is always there. Do different types of conditioning and then on the court, it should be a lot easier.
SLAM: Outside of at the end of the game, how does endurance help you on the court?
JH: In the early parts of the game, so you have an extra burst on the defender. You're able to change directions and move and get from point A to point B faster than you would have. You can get those things if you're not tired. If you're able to last four quarters and overtimes and move faster than other guys on the court, it gives you the advantage.
SLAM: You've said in the past that you like to create. How does this shoe help you move with creativity on the court?
JH: It helps me create great habits, especially in the summertime. That way when it carries over to the season, I'm already ahead of the game. Those creative habits that I build over the summer just gives me that extra confidence, that extra swag and that lets me know I've been putting the work in. So when it's time to go into camp and even in games, it's a breeze.
SLAM: You do a lot of quick stops and quick accelerations. How do you work on that in the summer?
JH: Ladder drills and working out on the sand. The sand is much tougher than working out on the pavement or the court, so just to be able to get out of that sand as quick as I can makes it easier on the court. I do pull workouts, a lot of resistance training to where things are holding you back and you have to be able to get that burst of speed fast.
SLAM: You figured out how to operate within the creases and the seams of the defense to pass and score the basketball. How did you figure that out and build on it?
JH: It's been that way. I'm not the most athletic guy, but I have to figure out how to get to where I want to go. So whether it's a pick-and-roll or whether it's an iso, it's just about finding a way to be a step ahead of the defender. And even in that, being a step ahead of the helpside defender, too, whoever that is. I just find a way. It's all just natural instincts.
SLAM: There's a misconception that you just play to draw fouls, but people don't realize how strong you have to be to take these fouls and play through to make the shot. How do you train for that?
JH: It's a different type of game. It's a game within a game. For me, it's like people say "Oh my God, he looks for fouls." I don't look for fouls, I'm just so strong when I get to the basket, it's probably be embarrassing if I continue to lay the ball up in your face. So there's going to be a lot of contact. I mean, it's a foul, I just continue to go, continue to train to make sure I'm strong enough, to make sure my legs are strong enough to get to where I want to go. And I make sure that when I get in there, I'm physical enough to where I can take the contact and still try to finish.
SLAM: You said this is the best team you've been on from top to bottom. Why do you feel that way?
JH: Because I think everybody's on the same page. That's the most important thing. Everybody has a skill that helps steer the team where we want to go. And then we're just so versatile, man. Guys go in the game and play at a high level. Obviously, we have the names but we have the work ethic and the drive that goes with it. I mean that right there explains everything.
—
Follow Maurice Bobb on Twitter. Photos courtesy of adidas.
8,017