Mike Conley has been busy this year. In the middle of the best season of his career, he went down with an Achilles injury. Still, the Grizzlies realized how critical the fourth overall pick of the 2007 Draft was to their success, and made him the richest player in NBA history this summer. During a free agency period full of outrageous contracts, the 28-year-old Conley got the biggest pay day. But he wasn't done there.
We confirmed, via a source at the brand, that Conley is now officially a Jordan Brand athlete. Then, we got Conley on the phone.
After spending the first eight seasons of his career as an adidas athlete and lacing up Under Armour sneakers all of last season, Conley was a sneaker free agent this summer, when he got a call from Jordan Brand.
Unfortunately, finding out he was part of the Family wasn't like a scene in The Godfather, with MJ sitting behind a huge desk, barely saying anything.
"I wish it was that cool," Conley laughs. "Nah, over the summer, I was still shopping around, wondering what I was going to do with my shoe deal and Jordan Brand popped up. They were interested, and obviously I'm interested in them. You kinda dream of being part of the Jordan Brand. It's such an honor. It was an easy choice."
And on Media Day, after Conley showed up in a pair or Air Jordan "Fine Print" XXXIs, he acknowledged that he'd be wearing Jordans this season.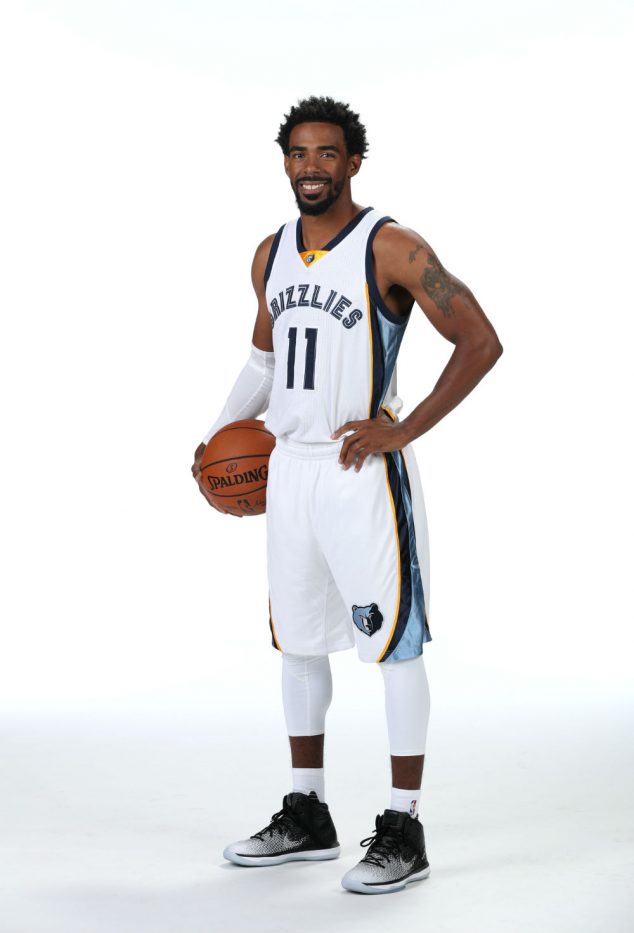 "At least to start off with, [I'll play in] the XXXIs," Conley says. "We'll see how that goes. I'm sure I'll have a lot of different options to pick from going forward and seeing what feels the best."
Conley says he was a sneakerhead growing up in Indianapolis, collecting pairs of the XIs and XIIIs when he could get his hands on them. "The XIIIs, the hologram on the side," he reminisces, "and the way it felt on my foot. It looked best to me at the time. It was one of those childhood things where it was like, 'Man, that reminds me of this, that and the other.'"
Now Jordan Brand will be hooking him up with exclusive releases and crazy colorways for the hardwood—Conley promises he'll bring heat to the Grindhouse. And while the brand wouldn't disclose specifics on contract details, Conley joins an extremely talented, and limited, roster of players deemed worthy enough to wear the Jumpman.
Going back to his college days, Conley has worn Nikes, adidas, UAs and now Jordans on the court. This current opportunity with JB isn't lost on him.
It's the Jordan prestige that separates it from the rest of sneaker world, he says. "Jordan himself is iconic and is the greatest player of all time," Conley continues. "The shoes are the greatest of all time. Being linked to that is the ultimate honor. It's like being inducted into some kind of sneaker society. It's really cool. Not a lot of people get that opportunity. It's a blessing to be a part of such a storied brand."
—
Photos via Getty Images