Kyrie Irving debuted the then-unnamed Nike Kyrie S1 Hybrid before the first game of the 2017-18 season in Cleveland. He wore a black, white and blue version of the hybrid silhouette for warmups, immediately sparking interest in the never-before-seen sneaker.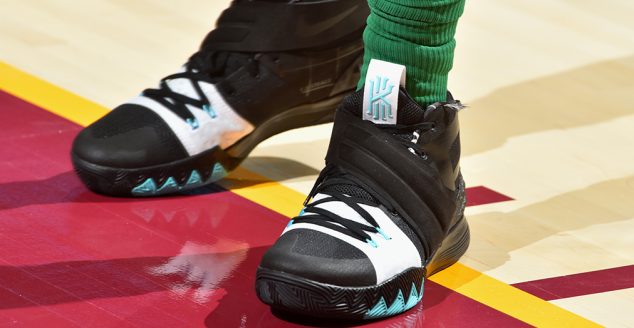 We spoke to a source at Nike the day after the game who confirmed the sneaker "includes outsole & studded heel from Kyrie 1, strap & collar from 2 and forefoot & tongue of 3." But we weren't given a release date for the "What the Kyrie."
This second colorway features a mix of suede, canvas, denim. It has graphics on the collar, insole and on the midfoot strap and is made up of a black, blue, orange, brown and beige coloring.
The S1 Hybrid appears to be dropping this Friday, but Nike hasn't confirmed that either. Stay ready for a quickstrike release at some point soon.
UPDATE, DECEMBER 5:
Nike's officially launching the Nike Kyrie S1 Hybrid on Friday, December 8 for $130.
The Swoosh says:
The "What The" series is a cumulative celebration of the greatest elements from the greatest sneakers. Enshrining product and people with a legacy of achievements. Paying homage to the individual stories that have collectively shaped the Kyrie legend. The Kyrie S1 Hybrid "What The Kyrie" is a combination of materials, details, and colors from Kyrie's first three shoes, mixed together to create what he considers the best of the best.