Jamal Crawford was the face of Brandblack for over three years. He led the charge for a small upstart company to make waves in the basketball sneaker industry, a landscape littered with the soles of others who tried to make their dreams a reality.
But those brands didn't have Dave Raysse as their founder and lead designer. Raysse's resume has hits from his days in the 90s with Grant Hill and FILA, and Tracy MdGrady and adidas in the 2000s. He's an experienced sneaker vet, which is why Brandblack has had success in the short time it's been around.
Crawford, Brandblack's first endorser, had a signature line that was coming up on its fourth silhouette. But J. Crossover left Raysse and Brandblack for adidas in early October. Now Raysse is figuring out new ways to do business and create premium basketball sneakers, starting with the Rare Metals silhouette.
SLAM: What happened with Jamal? It feels like his departure came outta nowhere.
Dave Raysse: From the inside it didn't come outta nowhere. I will tell you that, long story short, in the world of David and Goliath, sometimes David doesn't kill Goliath. We basically just didn't have the resources financially to maintain him.
I can tell you that the relationship between us is super strong. I was just texting with him actually last night. We're still super cool. Once agents get involved, all they are looking at is bottom line. We just got outbid. It was such a huge increase that we just couldn't compete.
But I've still got love for Jamal and I wish him the best.
SLAM: It sounds like it was cordial, right?
DR: Yeah, we're really cool. The truth of the matter is, we all wanted it to work. When it came down to it, the offer was so nuts that it just didn't make sense for us. We just don't have those kinds of resources. It would've broke the bank.
What came out of it though, [the Rare Metals] was a result of really, finally figuring out exactly what Jamal needed. He's so particular with respect to shoes, that we ended up building one of the best basketball shoes ever made. Definitely the best basketball shoe we've ever made. This shoe is really a good shoe and it's the result of having to deal with a guy that's extremely particular about his footwear choices.
SLAM: What were some of the things Jamal was looking for in the design of the Rare Metals?
DR: He doesn't like to change shoes. He likes a shoe that feels very, very comfortable from day one. He moves incredibly quick and fluid. He's J. Crossover, so we needed a shoe that was very low to the ground. We were able to do that with our Jet-Lon Plus Foam, which has 40 percent more rebound than regular foam.
We actually put that in the JC3, but I kept the height the same. What it ended up doing was making an incredibly plush shoe, but it kind of made you feel like you weren't really that connected to the ground. It dawned on me that I had an opportunity now to actually lower the shoe and not lose any cushioning. We were able to take almost a quarter of the height out and lower you really close to the ground and not compromise any cushioning.
The Jacquard knit that we made [for the upper] is incredibly thin and really snug. We came up with this new hybrid height. It's a low in the back and a mid at the apex. That was also really important because Jamal has super skinny ankles. He needs some support.
SLAM: How much was he involved in the look of the sneaker?
DR: Jamal, generally speaking, he'll tell you if he doesn't like something, but he won't tell you this is what I want it to look like. He has a good trust level for what we pick aesthetically. When I worked at other companies, I had guys who were maybe a bit too adamant about what they wanted things to look like. I wasn't telling them how to work on their crossover and that applies the other way.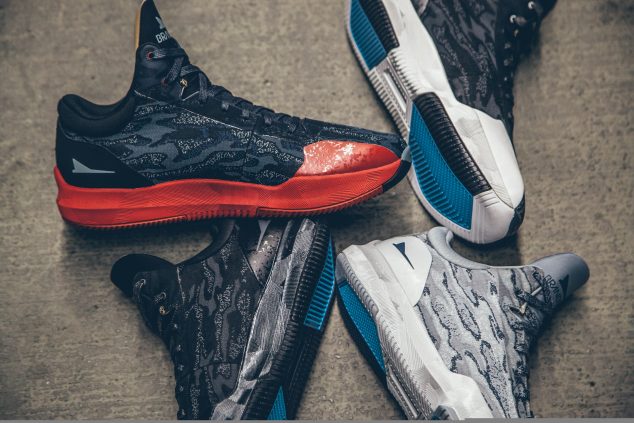 SLAM: Have you also designed the rest of Jamal's line?
DR: Yes. I started Brandblack, but at the core of what I am, I'm a designer. I care about design and I believe in design. I don't do product because they make a good business case. I make products because we really love them. Then we try to find a business case with it. That's the most important thing for us.
Secondly, it's basketball. I played high school basketball, I played college basketball, albeit for Pratt, but I played. I've played in Soul in the Hole, West 4th street. I've played basketball my whole life. I tore my ACL my freshman year of college, had two Achilles when I was 34, just tore my meniscus four months ago and rehabbed it. Now I have terrible tendonitis and I just got PRP injections in my knees. I'm still not gonna stop playing. That's the difference between Brandblack and other brands. I love basketball. I live for basketball.
SLAM: Have you had a chance to hoop with Jamal or anyone in the League?
DR: I have hooped with [Brandblack athlete] DeSean Jackson. He came to my Sunday run. I need to get Jamal out there, actually. It's better than he thinks it is.
SLAM: How's DeSean on the court?
DR: I was shocked. DeSean can actually ball. He's obviously a crazy athlete. He hit a game-winning three-pointer against us last time we played with him. He can ball.
SLAM: What's next for Brandblack?
DR: We've got really exciting stuff. The next basketball shoe is all knit. We're working with a well known company that does things with soles and parts of the shoe that has never done basketball before. That's all I can really say. It's really exciting and unexpected. That shoe is going to be dropping for Holiday 2017. It's the perfect embodiment of what Brandblack represents. On the court dominance and then off the court, it almost doesn't look like a hoop shoe.
SLAM: So Brandblack's not going anywhere?
DR: Brandblack's not going anywhere. We are changing the way we're going to speak to people. With the beginning of Rare Metals and then moving from there, we're definitely going to send a clearer message out. That message is going to be all about design. The sport thing will never go away, but the way we talk about sport is going to be different than our competitors do moving forward.
—
Photos courtesy of Brandblack