The Magic and the Cavaliers were both struggling in the beginning of the 2003-04 season. Going into their Christmas Day matchup, the Magic were 7-22 and the Cavs were 9-19. But they each had a bona fide superstar on their roster.
Tracy McGrady was at the peak of his powers, registering 28 points a game that season. He combined his height, quickness and a lethal set of offensive skills to devastate anyone that tried to stop him.
On the other side was LeBron James, the top pick in that summer's draft. He was only 18 but he'd go on to average 20 points, 5 rebounds and 5 assists when all was said and done with his rookie campaign.
They were dominant athletes, armed with other-worldly talent and absolutely fire sneakers.
The adidas T-Mac 3, in a clean white and blue, Magic-themed colorway, was McGrady's weapon of choice for that Christmas Day game. Its leather upper was accented by striking silver stripes on the sneaker's lateral side.
James wore his first signature silhouette, the Nike Air Zoom Generation in a brand new "Christmas" colorway. That special AZG received a decorated, graphic upper.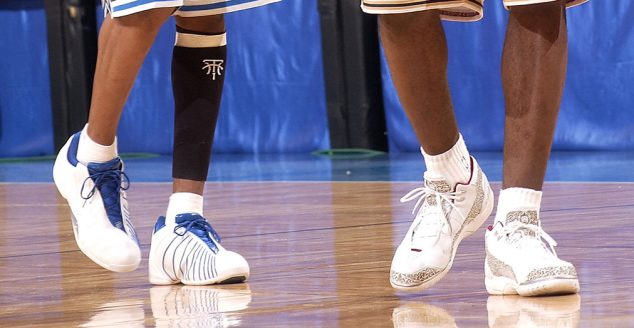 With the latest models from the Three Stripes and the Swoosh on-feet, McGrady and James battled it out in a close game that eventually went to overtime. Mac shined brightest, pouring in 41 points on 15-29 shooting to go along with 11 dimes and 8 boards. James tried to keep pace with 34 points and 6 assists, but the Magic earned the 113-101 overtime win.
Scroll through the gallery above to see the sneakers in action and peep the video below to watch the footage.
Photos courtesy of Getty Images