Since leaving Def Jam and signing with Alamo Records, rapper Lil Durk has been busy in the studio. He just released a new album called Signed to the Streets 3, which features Future, Gunna, Lil Baby, A Boogie wit da Hoodie and more.
Durk has also been putting in work on the court. Growing up in Chicago during the prime MJ years, he developed a passion for ball that remains strong today. He's played with several other rappers at the LifeTime gym in Manhattan over the past few months, and beat Bow Wow one-on-one for $10K not too long ago.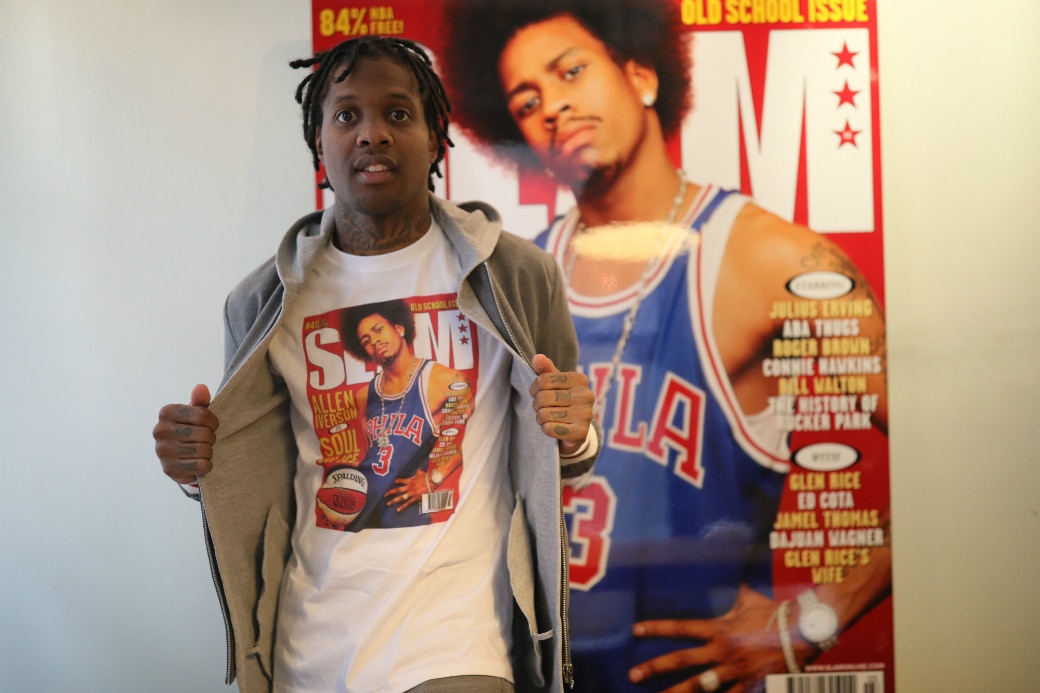 We caught up with Durk at the SLAM offices to find out more about his game and music career. Check out the interview below.
—
SLAM: What was the inspiration behind Signed to the Streets 3?
Lil Durk: Just motivated from where we come from — from the streets. Just getting back to the basics of what we've been doing. Getting out of Def Jam and going to Alamo. Just a whole new situation, a whole new vibe.
SLAM: What's unique or different about the project?
LD: It's all me. I had 100% creativity. I could drop what I want to. You know what I'm saying? Like I run the show and I know what my fans want to hear. So when I dropped it, it went perfect.
SLAM: You have a favorite collab on the album?
LD: The Lil Skies record definitely ["Rockstar"]. And one of my favorites is "Downfall" featuring Lil Baby and Young Dolph. It's just different.
SLAM: As a kid, which rappers were the biggest inspiration to you?
LD: Bone Thugs-N-Harmony and Meek Mill.
SLAM: What else you working on right now?
LD: We just dropped Signed to the Streets 3. We got two options for a tour coming up. Maybe a collab with A Boogie soon. We basically just working. Moving around, branding, working as a team. Got artists that are coming out — King Von, 600 Booka, and OTF Ikey. As a whole, we got an OTF project coming out, compilation tape. And shout out Doodie Lo.
SLAM: Last time you came through, you said Damian Lillard is the best NBA rapper in the game right now. That still true?
LD: Yeah — and Lonzo. I fuck with Lonzo. That's my boy. Shout out Lonzo Ball. One of the top two rappers that plays basketball.
SLAM: You tweeted that you wanted to work with Lillard. Did you guys ever talk about getting in the studio?
LD: We've talked about it. It was just like vibing, though.
Certainly https://t.co/YDKW5nS7X0

— Damian Lillard (@Dame_Lillard) April 13, 2018
SLAM: So there aren't any tracks on the way?
LD: You never know…He might call me tonight or something.
SLAM: You've gotten the chance to hoop with a lot of rappers. Can you break down some of their games? I saw you played with Sheck Wes yesterday at LifeTime. 
LD: He a shooter, for sure. Lanky as hell and got a lot of energy. We actually played on the same team yesterday and won.
SLAM: Meek Mill?
LD: Meek Mill can play. He's strong as fuck. He uses his height to his advantage.
SLAM: Gunna?
LD: I wasn't playing him for real. I could beat him though, for sure.
SLAM: What's his game like? 
LD: Drip on the court. Swaggy as fuck on the court [laughs].
SLAM: You play with Travis Scott ever?
LD: Nah…I'll bust his ass though.
SLAM: Bow Wow? I know you beat him in a game for $10K already.
LD: Bum. He just got a lot of energy, but that's it.
SLAM: Is the $10K still on the table? Want to challenge some more people?
LD: I'm tired of challenging people. They scared. Swae Lee, a bum. Tory Lanez, a bum. Who else was woofing? There were a lot of artists just woofing about the entire situation. Future was woofing. He plays, I'll bust his ass though.
SLAM: You trying to get in the Celebrity Game at All-Star Weekend?
LD: I'd love to play. If I do play, I want to make my first one in Chicago in 2020.
SLAM: Speaking of Chicago, Derrick Rose is having a huge year. Can you talk about his influence on the city?
LD: He was the man [growing up]. High school games — sold out type shit. When he kept getting injured, everyone counted him out. There's still people who say they're fans of him, but they don't put that faith in him because of those injuries. But he's proving them wrong this year.
SLAM: Which NBA players are you close with?
LD: Quinn Cook, [John] Wall, [DeMarcus] Cousins. I just built a relationship with Draymond [Green], KD. There's a lot of basketball players we fuck with. Lonzo too.
SLAM: We recently did a ranking of the top 100 all time NBA players. Can you give us your top five?
LD: Kareem, LeBron, Jordan, Magic, and AI.
SLAM: How much do you hoop when you're not in the studio? How big a part of your life is basketball?
LD: I fuck with it even more now [than when I was a kid]. Back then, you could have talent and it could go unnoticed. Now if you got talent, everybody can see it. That's the power of social media.
SLAM: Can you describe your game?
LD: Allen Iverson mixed with Kyrie [Irving] and a little bit of [Russell] Westbrook on the aggressive side [laughs].
SLAM: As someone who hoops and raps, what are the similarities between the two fields?
LD: Staying in the studio is like staying in the gym. Getting a No. 1 record is like getting a ring.
—
Alex Squadron is an Associate Editor at SLAM. Follow him on Twitter @asquad510.
Photos via Getty Images and Joseph Sherman. 
3,768