Growing up in Harlem, 19-year-old rapper Sheck Wes used to spend his summer days hooping at the renowned Kingdome and various leagues around New York City. Through ball, Sheck became tight with Mo Bamba, the 7-0 Texas big man who will likely be a top-10 pick in this year's draft.
Sheck can credit at least part of his recent success—which includes a record deal under Travis Scott's Cactus Jack Records and Kanye West's G.O.O.D. Music—to his relationship with Bamba.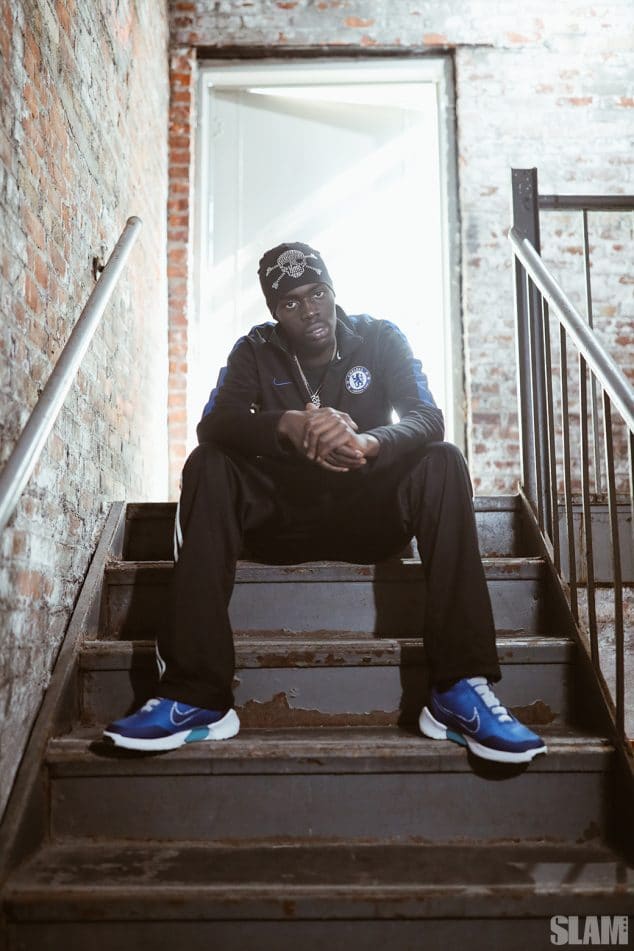 "I really get inspired by certain things, and Mo would always say, Yo, you need to throw me in a song!" Sheck tells us during a visit to the SLAM office in late February. "I decided to make a song about him, but the song was really about my recruitment as an artist and comparing it to the recruitment of a player like Mo. That's why I named my song 'Mo Bamba.'" The song and video have taken Sheck to new heights and places—one day after our photo shoot and interview, Wes is off to Europe for club appearances and performances.
Sheck, who is rocking a super rare pair of Nike HyperAdapt 1.0s while talking to us about Lil Dicky's shot selection and what Kanye wears when he hoops with him in L.A. ("He wears Yeezy basketball sneakers. Unreleased joints, shit is crazy"), was a skilled point guard in high school, and even led the city's public league in assists per game during his junior year. But his life went in a different direction when he got the invite to be a part of 2015's Yeezy Season 3 fashion show at Madison Square Garden.
"I had a Bronx Borough playoff game and I had to make a decision, like, Am I gonna be a part of this game, or be part of this fashion show? And I made the decision to go to Yeezy Season 3. That show opened up doors for me, and it opened up my mind."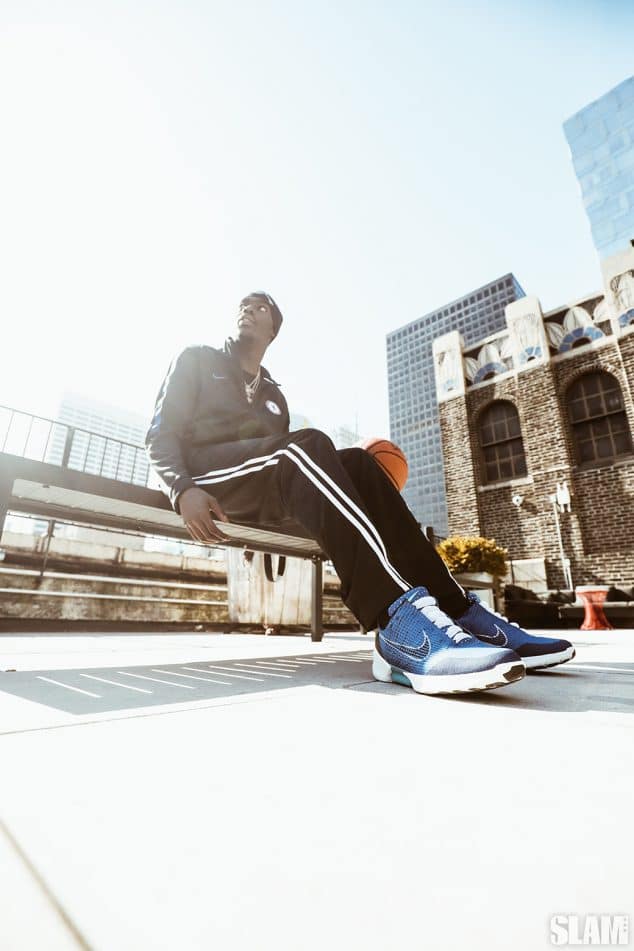 Though he can't legally buy a drink yet, Sheck Wes is already well traveled. As a young kid, he spent his time back and forth between Harlem and Milwaukee, where his mother owned a hair salon, and he discovered a passion for sneakers at the Number One Sports store next door.
After he chose music over ball, Wes started "living this wild lifestyle" which led his mother to send Sheck to Senegal to get his mind right. Once back in the States, Sheck started getting everything he ever dreamed that he would achieve from basketball—but not in the way he originally planned.
"Everything I wanted from basketball, I get now from making music. Like a damn SLAM interview, that's amazing."
—
Peter Walsh is a contributor for SLAM. Follow him on Twitter @peter_m_walsh.
Photos via Getty Images.