"Allen Iverson had all the sauce," Post Malone says. "He was always my favorite player—he was just the coolest person ever."
And with that, and a fresh haircut, Post found the motivation for "White Iverson," the song that'd launch his still-very-young musical career.
Post Malone, just 19 years old as of this writing, was raised initially in Syracuse, NY, and then in Dallas, where he moved with his family at the age of 9 and lived until he moved to Los Angeles about a year ago. His father, who works for the Cowboys as the Assistant Director of Food and Beverage, once brought a young Post—real name: Austin Post—to a Mavericks game, and from there his basketball obsession crystallized.
Post began making music as a teenager, getting his first guitar at 13. "I started playing Guitar Hero and I was like, The guitar is badass, I wanna play guitar," he says. "I asked my mom to buy me a guitar and I started playing."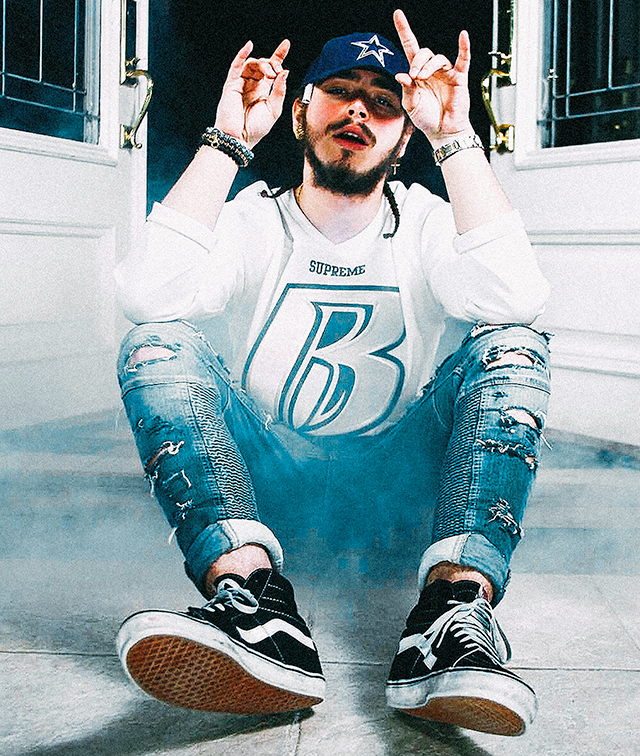 While you can find YouTube videos of Post covering songs by The Weeknd and Bob Dylan on his acoustic guitar, it was a transition into hip-hop that that helped him gain some notoriety. (For the record: His rap name wasn't inspired by a certain Utah Jazz power forward, though he's cool with the association.) In January, a song entitled "That's It" popped up on his Soundcloud page, then in early February "White Iverson" did as well. Both songs are produced by Atlanta duo FKi, but it's the latter that blew the hell up, earning over 2.7 million Soundcloud plays as of this writing. "Me being 19, with this being the second song I released seriously, it's just crazy," Post says.
"White Iverson" is a laid-back banger, with quick-slapping hi-hats and soft keys that play the background behind Post's singing/rapping combination, though even the rapping is done in such a sing-song style that it can all be classified as some sort of Rap&B, a la Dej Loaf or Rich Homie Quan. There are references to Anthony Davis and Kevin Durant and James Harden, along with AI staples like the shooting sleeve and not practicing and the number 3. It's so good.
"I got some braids and I was like, I feel like the white Allen Iverson," he says of the song's origins. "It just kind of happened. It was always so cool watching him play, knowing that he was just as cool off the court as he was on the court. And when he stepped over [Tyronn Lue], I was like, You are cool as hell. I wanted to be just like him."
As for what's upcoming for Post, he's planning a video for "White Iverson" that'll be out in the coming weeks, along with a full-length project that should be released shortly. "I'm working with FKi and then a couple producers that I've met [in L.A.]," he says. "We developed a new sound out here with the producers that we've got. I don't really know who I would like to work with—I mean yeah, Kanye!"
And yet: The only thing missing from all of this is a cameo from a certain ex-NBA player/rapper. "Maybe if [Iverson's] down he can get on the remix," he says. "I don't know if he's heard it, but I want him for the video. That would be the craziest video ever."
Adam Figman is a Senior Editor at SLAM. Follow him on Twitter @afigman.