When the NBA All-Star Game returns to Chicago on February 16, 2020, it will be the third time the Windy City has hosted the event, but the first time in more than 30 years.
Where To Buy NBA All-Star Game & Weekend Tickets
Primary market tickets for the NBA All-Star game, set for Sunday, February 16 at Chicago's United Center, are sold out on the primary market, but fans can buy tickets to many of the weekend's events via NBAEvents or premium ticket packages via NBAPremium.
On the secondary market, TicketIQ offers fans a Low Price Guarantee on all sold-out NBA All-Star game tickets, in addition to all events during All-Star weekend in Chicago. That means that if you find a secondary market ticket for less on a site like StubHub or Vivid, we'll give you 200 percent of the difference in ticket credit.
How Much Do NBA All-Star Game Tickets Cost?
Let's look at the primary market first. In this area, fans can buy premium packages that include the Skills Challenge, Three-Point and Slam Dunk contests and the main event—the All-Star Game—for $2,599 with NBAPremium. This package includes pregame hospitality with current and former players, an open bar, gourmet food and other experiences. It doesn't include hotel or transportation so that needs to be included in any cost calculation. 
On the secondary market, tickets are currently averaging more than $4,000—the highest in 10 years by far. (The next most expensive were in Toronto in 2016 at the Air Canada Centre where they averaged almost $2,700 on the secondary market.) In the past 10 years, the average asking price has been more than $2,000 four times (2011, 2013, 2016 and 2020).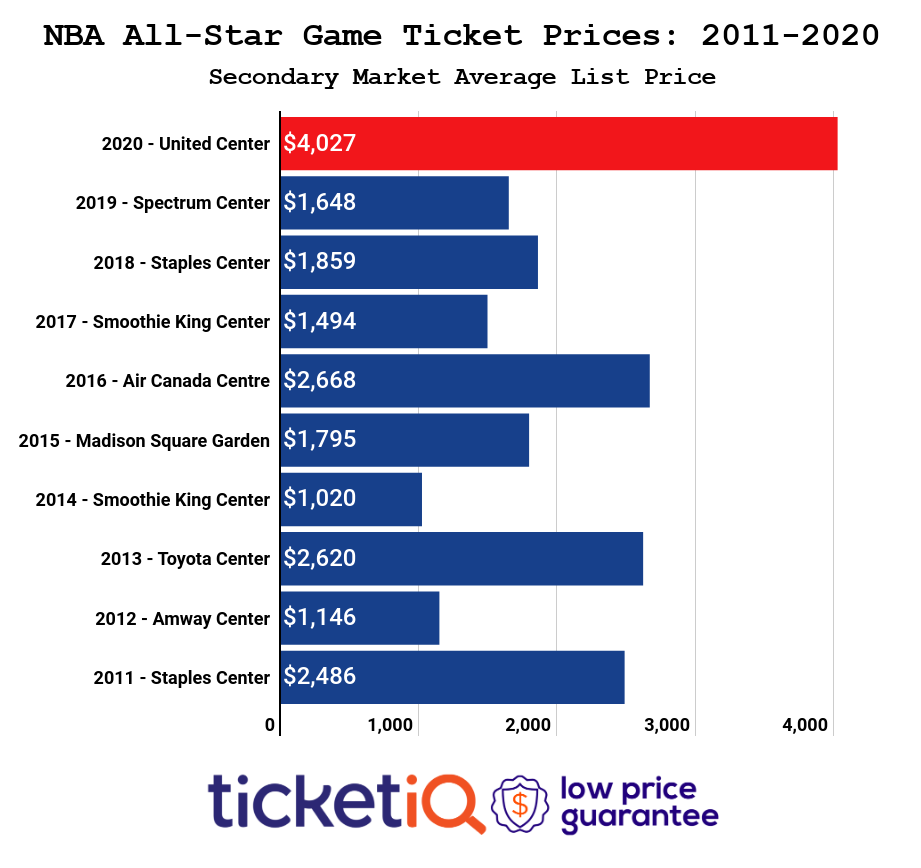 For fans looking to experience the event without breaking the bank (too much), TicketIQ has seats in all levels in the United Center, starting at $975 (Section 311, Row 13). Closer to the action, tickets in 10 floor sections are available starting with $2,860 per seat in Section 106, Row 19—with the TicketIQ Low Price guarantee.
NBA All-Star Weekend Schedule
FRIDAY, FEBRUARY 14
NBA All-Star Celebrity Game, Wintrust Arena, 6 p.m.
Combining celebrities and sports, fans can see their favorite stars—both from the big and small screen and former NBA and WNBA players—compete in a fun match up. While primary market seats are sold out, secondary market seats start at $115 in Upper 202 Row S. 
NBA Rising Stars Challenge, United Center, 8 p.m.
Catch the young stars in this game featuring the Association's best rookies and second-year players. Ticketmaster has seats available starting at $65 in the 300 level and up to $400 for a seat on the baseline in either Section 113 or 122. 
On the secondary market, a seat in Level 307 can be had starting at $59.
SATURDAY, FEBRUARY 15
NBA All-Star Practice and Media Day, Wintrust Arena, 9:30 a.m.
Ever want to know what happens at shoot-around, something only the players, coaches and media see? Here's your chance. Tickets are sold out on the primary market, but on the secondary market, tickets starting at $58 are available on the 200 level.
NBA All-Star Saturday Night, United Center, 8 p.m.
This is when the stars really get a chance to shine! The evening is full of the big features of the weekend including the Skills Challenge, Three-Point and Slam Dunk contests. TicketIQ can get fans in the door starting at $1,674 in the 300 level, $3,947 in the 200 level and $4,347 in the 100 level.