Sitting behind Al-Farouq Aminu is a painting of a Nigerian king wearing a reddish-magenta and brown scarf, decorated by intricate patterns and designs. The portrait is magnificent, nearly professional, but it's the man's gaze that immediately stands out. Only his eyes can be seen through the coverings, and yet, as Aminu brings the camera closer, one can see a sense of emotion and strength in that gaze. Is he looking at something, or looking past it?
The Orlando Magic forward soon reveals via ZOOM that he is the artist behind the painting, 'Who can I love if they tell me I can't love my self.' It was inspired by his grandfather.
"He was in Nigeria and on his inauguration day, he had on this type of head wear that's traditional for people of high esteem sort of say," he says. "So, I put myself in there. I think of myself as a king so that was really cool."
Aminu then shows another painting, one that is more futuristic-looking, modern and layered. The sun is setting in the distance over neon green hills. Below are two glass boxes, or buildings, scattered across an orange field. He reveals that this is a vision board of what he wants to do in the next few years, specifically the launching of his own store, ARTIFAKTS.
It was inspired by conversations he's had with a close friend, who is a graphic designer, as well as his admiration for Pharell.
Aminu hasn't played in an NBA game since tearing his meniscus on his right knee in December of 2019. The injury, which required him to get surgery, kept him off the court—and then the COVID-19 pandemic forced him indoors for even longer. Aminu says that this has been the longest amount of time that the game has been taken away from him.
Yet, art has become his escape.
"When the pandemic happened, I was trying to keep myself mentally engaged every day," he says. "That's what kinda made me get more hands-on and it really helped me realize what I would like to be doing every day if it wasn't playing basketball because at that moment it was snatched away from us."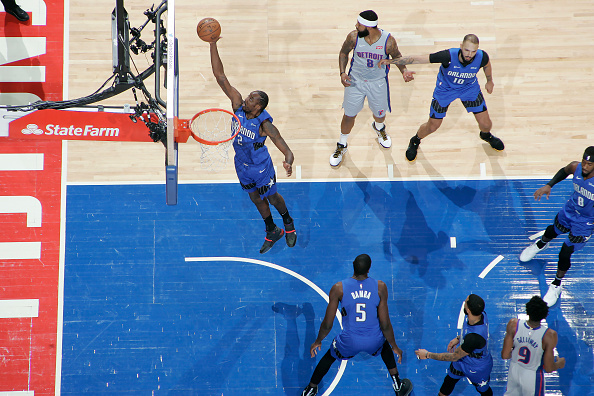 Aminu has always loved fashion and wanted to sell tie-dyed apparel in his store. So, like all of us that were stuck inside with our families, he decided to try something new and began tie-dyeing with his daughter. On his Instagram story, he documented himself dyeing clothes that he had "readily available" around his house, from Nike Dri-FIT socks (the designs he's made are crazy fire) to Supreme socks and t-shirts. He even experimented with making natural dyes out of beets.
"I really do find enjoyment out of doing it and the tie dying was fun," he says. "Being able to create in another way was super cool and I could incorporate my daughter into it so easily."
Aminu, who was a top recruit out of Norcross High School in Atlanta, says he started exploring his artistic side after signing up for some art classes at Wake Forest. It was the perfect win-win: he could spend an hour drawing, and then go right to practice afterward. 
After getting drafted No. 8 overall by the Los Angeles Clippers in the 2010 NBA Draft, Aminu continued to "dibble dabble" in art, but after the game was taken away from him last season, he suddenly felt like he was having a sort of identity crisis.
Making art has helped him feel fulfilled again.
"I feel like art gave me something I can still hold on to, I can still feel like I'm being productive and being engaged," he says. "It's fun to now be able to start trying to dive into that portion because that world is opening up more and more and more. It was nice to find out that art could fill a lot of the voids and definitely played a huge part in keeping me sane during these times."
He also picked up DJing during quarantine, thanks to his good friend, DJ Dark Knight (who is the DJ for EarthGang). The two grew up together in East Atlanta and Aminu had expressed to him that he wanted to start spinning the turntables.
"He got me set up with my stand and then put the software and the music and stuff like that and then it came to just show me how to function all the buttons. Then after that, I just went rolling with it for sure."
When asked about how else he's been dealing with his injury, emotionally, Aminu says that he's also leaned on meditation. His mother, Anjirli, is a wellness coach and practices yoga, as well as meditation, but Aminu admits that he always thought it was her type of thing.
About six years ago, he tried to do it regularly for about five minutes, giving himself 21 days to make it a habit (write that down). Now, it's the first thing he does when he wakes up in the morning, and he even has a room designated just for it.
Meditating often helps keep one grounded, allowing us to stay focused on the present moment. Aminu says that after he tore his knee, he first acknowledged how he felt, but then tried to see how the good outweighed the bad. 
"Sometimes you can get into the immediate moment that you're in and think to yourself, 'Oh, it's so bad.' That might be very well true but when I think about just where I've come from and to be at this point, it's like the lows really not that low. My mom always says, 'You can pick your bad moments, too.' So it's like to be at a point where I've made a lot of money, played basketball for a lot of years, and then I'm at this moment where I'm not able to play it anymore. I looked at it as, 'Man, this is some fly stuff.' You know what I mean?"
Aminu says he also changed his diet during quarantine, adding in more veggies and even fish.
"I actually had to really, really, really care about diet. I thought I did a pretty good job, but when you're not able to do anything, you have to be very particular. I remember I used to always hear my coaches say, 'Aw man, that dessert, Imma have to run that off.' I just never believed it so to say, and now I understand."
Aminu admits that after tearing his knee, which at the time he couldn't fully extend straight out, he had his reservations about getting surgery—due in part to his own hesitations about modern medicine versus his preferred-holistic way of treating his body.
"I remember when my knee couldn't straighten out fully, so I ended up with just kind of no options," he says. "I'm really a natural kind of person. I get everything I gotta get from nature, so having to do that was weird, I thought I was breaking like a core value type thing. But, I got my knee feeling better and it gave me a different level of trust to, like, just humans in general—sometimes you just think to yourself, 'the world is so jaded' or the only reason these people are doing some of the stuff in hospitals is just for money or whatever the case may be."
Yet, Aminu has practiced looking at the "silver lining" of things, and says he's actually been enjoying the process of recovery and learning more about his body.
"It's been a weird process, but it's been interesting but nice at the same time," he says. "I'm always trying to look at the silver lining with stuff and I understand my body in a whole different way because it's helped me to just think about the way that it works."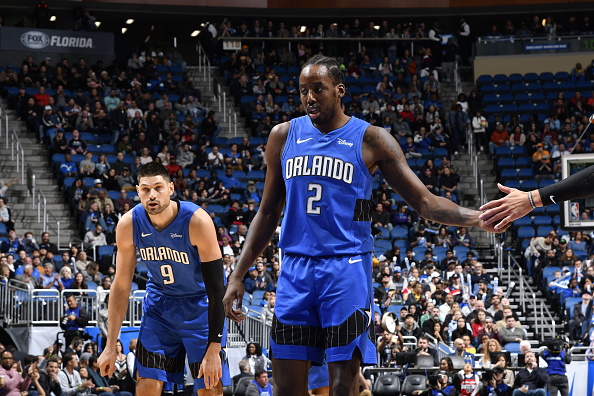 "I remember one of my coaches told me, 'Your job is to know your body, that's why you're called an athlete.' The ball might not go in, but if you can be at peak optimal performance every time you play you're gonna get yourself a good chance. You've got to this point for a good reason and the better you can take care of your body, the better you are able to perform and be able to be there."
Putting in the time to take care of his body physically, as well as his mental, has worked. On Tuesday, Aminu made his debut back onto the hardwood against the Portland Trailblazers, where he clocked in for only five minutes but was able to snag one rebound and dish out an assist.
For the time he was in, he looked calm and comfortable sprinting down the court, wearing that same gaze as depicted in his painting. He looked like he was focused on the present, taking advantage of the moment that he's in right now.
Aminu says that he's focused on tapping into that same energy and headspace that has allowed him to have such a long career thus far. It takes time before one can see the greater picture.
"I've been doing it for this long, so I'm mentally prepared to have the energy that I know I like to play with," he says. "Learning how to foster those things within myself is something that I'm looking to start exploring for sure."
The Chief has arrived.
—
Photos via Getty Images.