Andrew Wiggins isn't much of a talker. The Minnesota Timberwolves small forward prefers to express himself through his 7-foot wingspan. Another avenue of expression for the 22-year-old is music—he may not be putting out tracks like Damian Lillard and Iman Shumpert, but vicarious listening is central to his identity. On an early season afternoon, Wiggins called SLAM after a team practice in Minneapolis to talk about the music of his household, his connection to Toronto and finding game-day motivation in the gruff flows of rappers like Styles P and Jadakiss.
SLAM: What are your earliest musical memories?
Andrew Wiggins: I know my dad used to always play 2Pac, Kanye West. When I was younger, there was a lot of 2Pac playing. But he wouldn't always let me listen to it. I'd get in the car and he'd turn it off. He would only let me listen to certain songs, like "Dear Mama" and more of the softer 2Pac songs. I definitely had to sneak around to find the other stuff.
SLAM: Your dad is American, and your mom's background is Bajan. How did that shape the music you heard around the house?
AW: Yeah, she was born in Barbados. Growing up, I heard a lot of soca, a lot of reggae. I was always aware of it. I always have reggae and soca in my iPod—I have to have some of that.
SLAM: You've said in the past that you're a fan of guys like SAFE and Smoke Dawg who, like you, are from Toronto. Tell me about your relationship with artists from that scene.
AW: They're big names in Toronto. They're making it big right now, and they're producing good music. And I know them personally. Me and Smoke Dawg, I know him from back in the day, through his older brother. He started making music, and I started listening to it. He'd give me music to listen to, and then I saw the songs were getting better. Now he has some songs with some big names, too—for example, French Montana. And SAFE, he's traveling to the States performing and stuff, getting to know different people out here.
SLAM: Because Toronto is brick eight months out of the year, it's always seemed like artists there make music that sounds and feels like winter. What is it about the so-called "Toronto sound" that's appealing to you?
AW: It's always cold, yeah, but I never really cared about the weather. I just listen to whatever I feel like. Mostly, I know the slang, I know how people talk [in Toronto]. I understand what they're talking about 'cause I'm from there, you know? It's the same culture.
SLAM: Do you have any secret musical ambitions of your own?
AW: [Laughs] Nah, I can't sing, and I can't rap. I just love listening to music. And I love giving my opinion about it, but I have to say that I have no musical talent. You know, sometimes with my friends or something we'd rap for fun, but I wouldn't say I'm good.
SLAM: You have no bars at all?
AW: I got, like, one or two bars. I could maybe go four or five bars max, and after that I'd be done.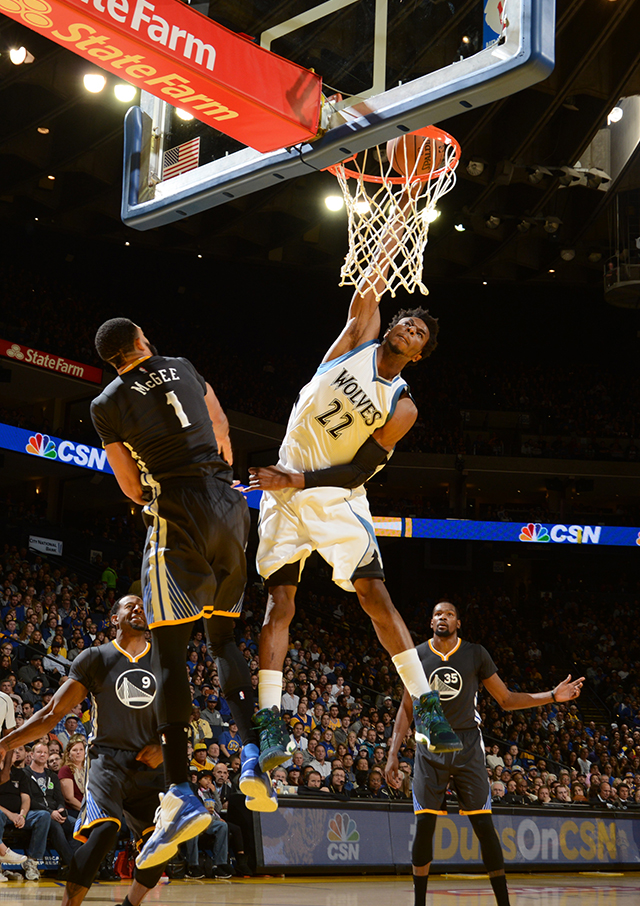 SLAM: How does music fit into your pre-game ritual?
AW: It's huge! If I listen to certain rappers before a game, it gets me hyped, it gets me in the mood. And I need to be in a competitive mood to play. I'll play someone like Styles P—that [puts me] in a competitive mood. Or sometimes it's Jadakiss, or DMX or Eminem.
SLAM: How about when you're shooting around or practicing?
AW: It all depends on what I'm doing in practice. If I'm just shooting, I want to hear something smoother.
SLAM: Back in the day, Jadakiss and AI had those wildly popular Reebok commercials together. If you had to pick a rapper to work with on something similar for adidas, who would you pick?
AW: That's a good and very hard question. I'd say Drake but Drake's with Jordan, so I'd say…J. Cole. I like him a lot as a rapper. I like Kendrick a lot, too. It just kinda fits my style.
SLAM: You've namechecked legacy rappers, people who were at their peaks when you were still super, super young. Where does your musical discovery come from?
AW: It's mostly from my dad, plus I have two older brothers. But I always found music myself, too. When you're younger, you just get on the computer, you search and keep searching and searching and searching and finding new stuff. My best friend likes music a lot, too, so we always talked about it. A lot of my friends really, really like music, so they'll figure out what's new and they keep me updated. There's people [whose taste] I trust. They keep me updated a lot.
SLAM: You were first coming up around the same time that Drake was really getting into his bag and sort of refashioning the way people from outside of Toronto were understanding the city. How did it feel to see that happen through music?
AW: In those days, Drake was considered up and coming—he was putting us on the map. Everyone from Toronto knew he was about to be the best rapper in the game and now he is, so there's a lot of pride. Sometimes there's a lot of things Americans don't know. I catch myself saying things that the average American wouldn't understand—I feel like maybe people from the East, from New York, understand a lot of it. When you're in Minnesota, you don't really hear that slang too much. Sometimes listening to guys like SAFE or Smoke Dawg or whoever can make you feel more close to home. Sometimes.
—
Rawiya Kameir is a Senior Editor at The FADER. Follow her @rawiya.
Portrait courtesy of adidas; Action photo via Getty Images.