Michael Beasley has a clear vision of his dream home. It was actually up for sale not long ago, a penthouse duplex with a massive wraparound terrace overlooking Manhattan. It came with two bedrooms, and he had plans to convert a chunk of the balcony into a few more. He'd have an outdoor grill station and weight room, and an outdoor, caged-in half-basketball court. He could host pickup games or just get shots up, the so-called Walking Bucket left alone to do what he does. But Beasley's dream never took off, undercut by the realities of his NBA career. "I was advised it was a bad idea," he says now.
Instead, he rented a more modest place, probably because over his 10 pro seasons, he's never spent more than two straight years in the same city. Even going back to college, when he played one year at Kansas State, and high school, when he attended six schools in a four-year stretch, he's never hung around any one place for very long. He'd like to be a New York Knick for a while, but Beasley's never found much luck in free agency.
The reason for that, he says, is "because people are scared of who I might be, who they think I am. It's like a high-risk, low-reward kind of thing, finding out that I might be who you think I am. It's scary to a lot of people."
https://youtu.be/xM1_i9Nppas
Michael Beasley is now 29 years old. He's been in the spotlight since he was a teenager—even gracing the cover of this magazine exactly a decade ago—and has grown keenly aware of how the basketball world perceives him. Plainly, he has a bad rep. Off the court, he's shadowed by some weed-related violations from his early-20s. As a player, he battles the notions that he's an unrealistic self-evaluator, and that his game doesn't belong in the efficiency-mad age of layups, dunks and threes. "The midrange is just not poppin' no more," he says.
But it doesn't really add up. Beasley hasn't had a drug-related issue in five years, yet he's labeled a stoner in the NBA, where retirees have estimated three-fourths of active players smoke pot. Meanwhile, players are supposed to think highly of themselves, and we usually love it when they do. And anyway, Beasley happens to pass the eye test when it comes to talent, and ranks favorably when it comes to metrics like True Shooting Percentage and Player Efficiency Rating. His numbers per 36 minutes—i.e. as a would-be full-time starter—have always been enticing.
So why the resistance to Beasley, specifically? Why has his reputation been so tough shake? Will it ever fade?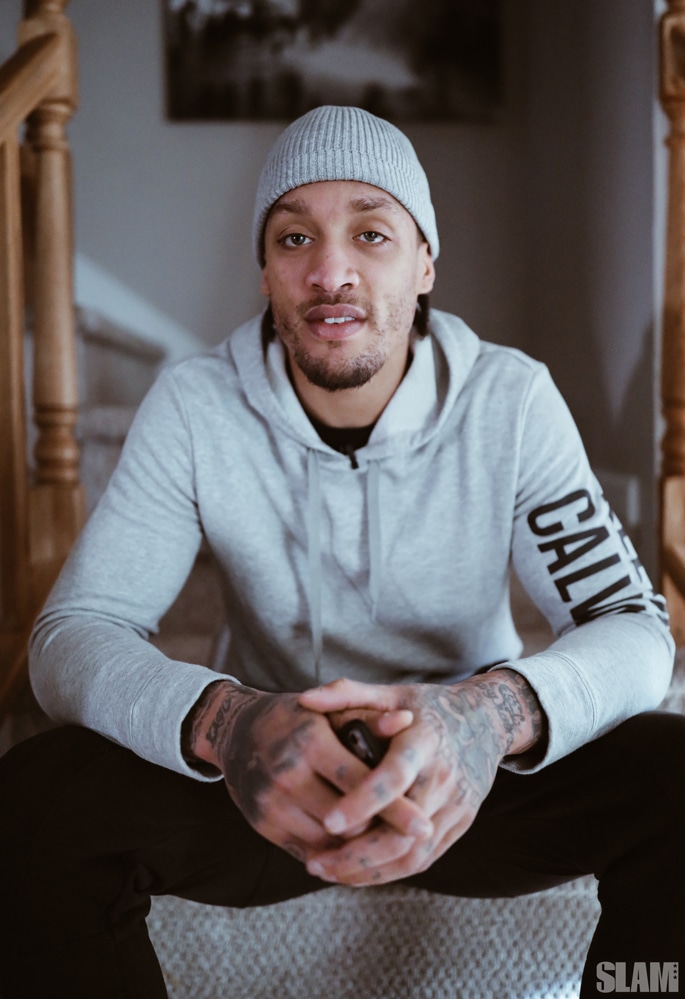 "I think it's changing slowly," he says. But, "it's definitely in the back of people's heads. I'm not sure that I'll ever find out why, but at the same time, I'm not really looking for it." He adds, "I don't think it's fair at all, but you know, life isn't. I just play with the hand I'm dealt and go from there."
This season, Beasley is averaging around 12.5 points on 50 percent shooting and 5.5 rebounds, but that hardly tells the whole story. After Kristaps Porzingis tore his ACL on February 6, Beasley played well as the Knicks' starting power forward, averaging 14 points and 7.4 boards over 31 minutes a night. He's been shooting the rock well, too, and contributing assists, steals and blocks. With the Knicks in tank mode, Beasley went back to the bench and saw his numbers dip. Still, he's been earning praise from his peers all season.
"Mike's been fantastic," coach Jeff Hornacek told ESPN earlier this season. "He's engaged in practice; he talks with the guys. He's a smart basketball player—a smart person. You talk to him, you realize it. He really understands the game, and some of the stuff he does is just effortless."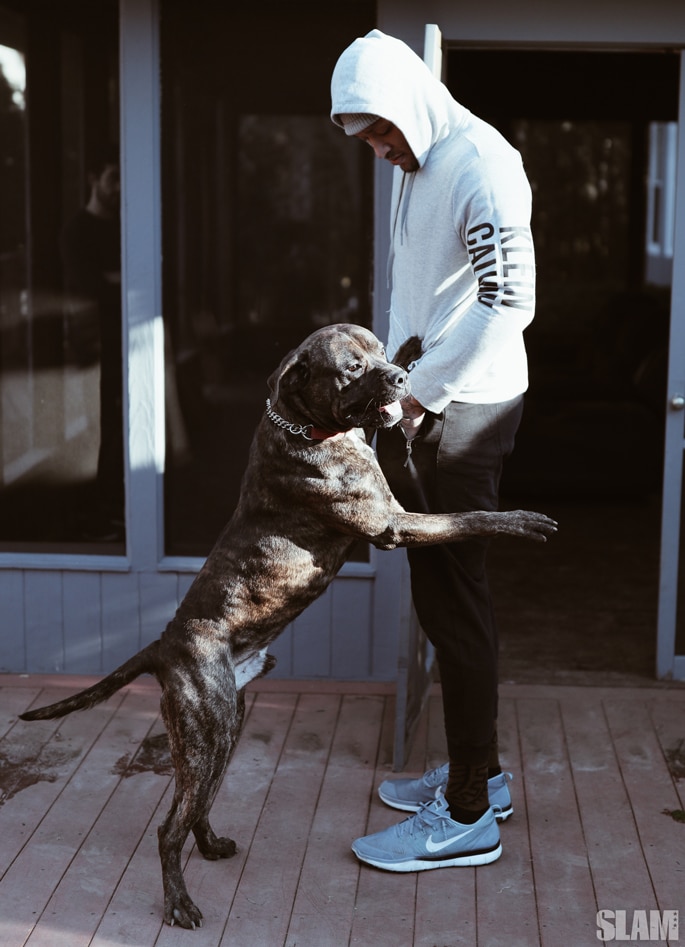 Forward Lance Thomas has been impressed as well. "He works hard and is always the first one to the gym, and that's something I didn't know about him," he told FiveThirtyEight in February. "He's always smiling, having a good time. His approach is a lot better than the average person would think based on all the noise that surrounded him."
Beasley's approach is not only solid, but unique, too. As most modern big men try to expand their shooting range, Beasley has gone against the grain, working his way inward. He muscles toward the hoop and posts up on the block, where he's recently developed a new trick: a lefty take on Dirk's one-legged fadeaway. He's money in close-midrange space, where few players match his mix of volume and efficiency. He causes a mismatch most every night.
"In my mind, if I was the focal point of a team, we would be top-four, top-five [in the League]," Beasley says. "Not to say I'm better or worse than anybody else, but just kinda to say that I'm a lot better than a lot of people." That's a classic Beasleyism, a sort of half-sensical line that grows more valid the more you think about it. Beasley is a mindful dude, and as he considers what he's said, he feels the need to clarify. "Not in a negative way," he says, laughing. "I don't disrespect anybody's game. But at the same time, I want respect for mine."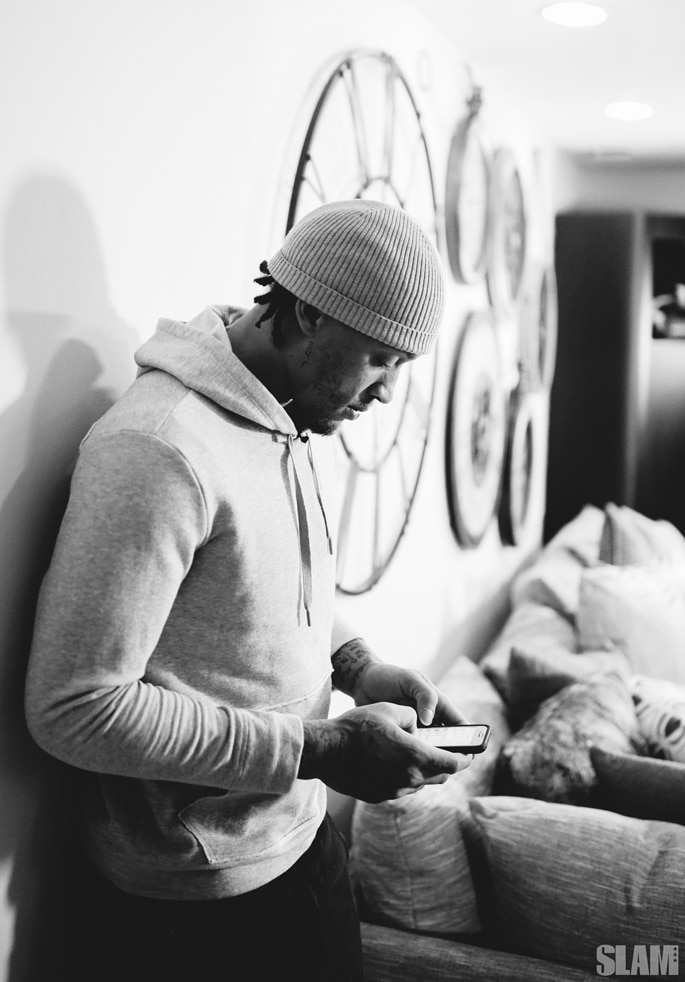 On a Monday afternoon in February, Beasley is relaxing at his home in White Plains, NY. It is not the palace of his dreams, but it'll do for now. The two-story house sits at the intersection of a couple anonymous suburban streets, some 40 minutes from the Garden and only half that to the Knicks' practice facility. He prefers the pace out here, though he does drive into the city most days, if not for a game, then for Chick-fil-A.
There's not much to suggest an NBA player lives here—the front of the house is mostly painted a dark gray, and there's not a basketball hoop in sight. During Beasley's first six weeks here, he claims he only owned a bed, and, in the months since, the place has remained pretty bare. "People say the house needs a female touch," he says.
In the living room, for instance, a red L-shaped sectional surrounds a glass coffee table that has absolutely nothing on it. Underneath rests a dark celestial rug that Beasley ordered from Amazon. On the opposite wall, there is no TV, though two paintings do hang there. One depicts a fuzzy gray skyline, and the other is a colorful cubist abstract piece. Beasley didn't pick that one out—back when he was with the Rockets, he ordered a certain painting from a local gallery, but this one arrived at his door instead. He never had the chance to return it, since a few months after signing in Houston, he was traded to Milwaukee. So he just hung onto the one that arrived.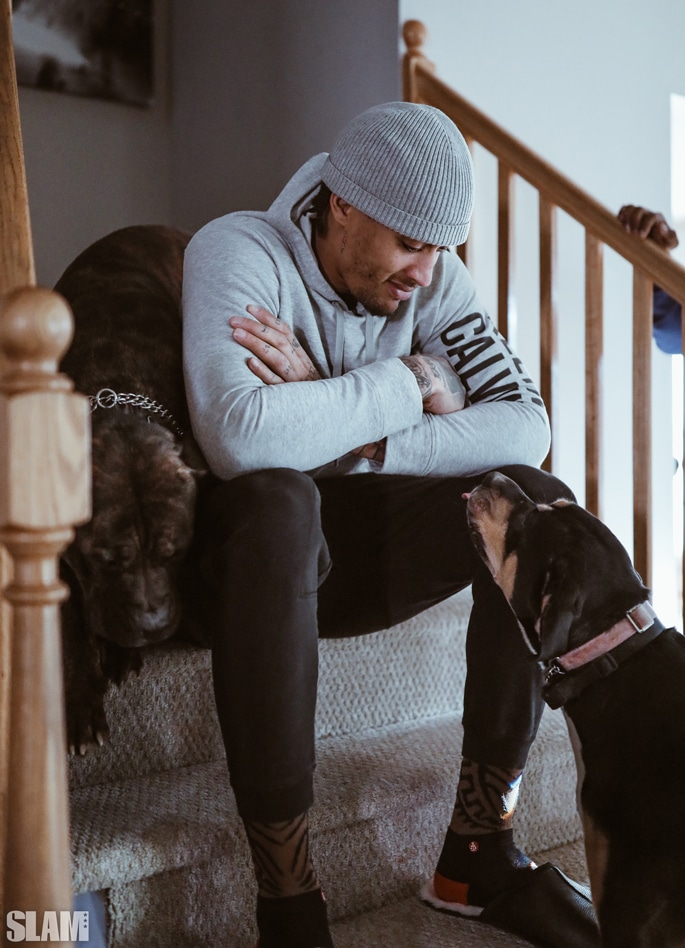 In 2008, Beasley was the No. 2 draft pick of the Miami Heat, slotted beside prime Dwyane Wade. They made for a lively pairing, but in 2010, LeBron James decided to sign with Miami, and Beasley was traded to Minnesota to make cap room for Bron and Chris Bosh.
Beasley thrived in his first season with the Wolves—putting up 19.2 and 5.6 over 73 games—but it's been downhill since. "After my third year, I've just been like one of those, just—I've just been there, you know?" he says, straining to find the right words. "I can't really tell you what happened."
In year four, Beasley suffered a foot injury, and Minnesota let him sign with Phoenix, where he played one bleak season. He was cut by the Suns. He signed with Miami, returning to play alongside not just Wade, but now LeBron and Bosh as well.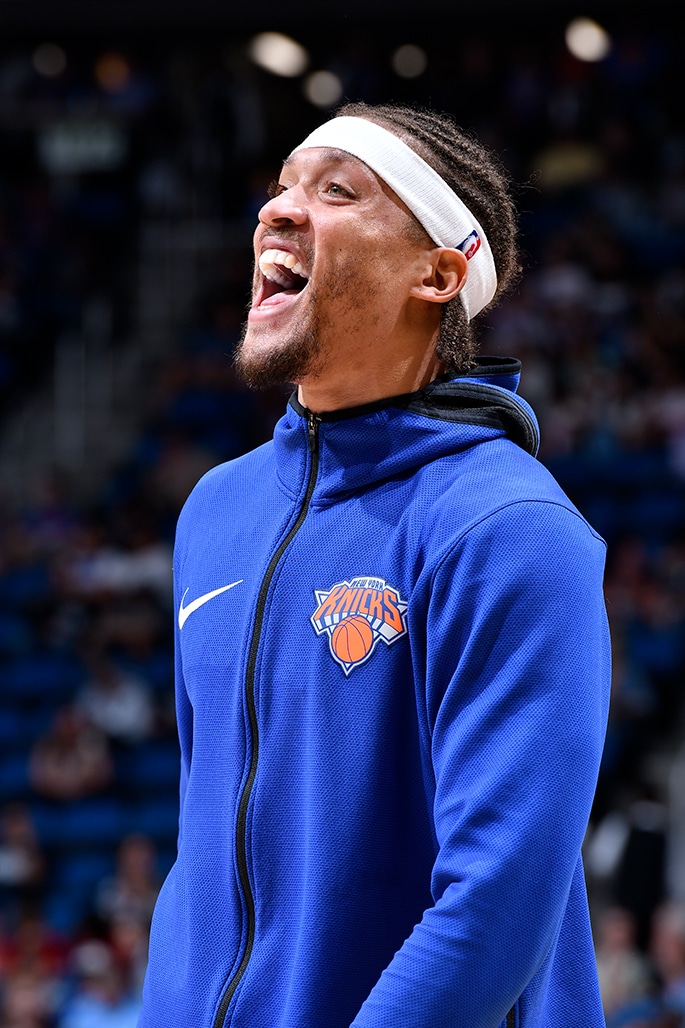 At age 24, it was a chance to repair his image and get his game back on track, but in hindsight it was "probably the worst thing I could have done," Beasley says. "It became easy for everybody in the NBA to mark me as a spark off the bench."
He then signed in China, where the games were fun but life away from basketball—the day-to-day stuff, half a world from home—"sucked." He returned to Miami, then went back to China, then returned stateside again, this time with the Rockets, in March of 2016.
He found success in Houston, but there was a fundamental clash there. He couldn't be Michael Beasley. "Every time I would opt for a midrange shot, as opposed to a three, nobody would ever, like, yell—they were passive aggressive," he remembers, laughing. "Just, Hey man, the three might have been the better shot."
Last summer, Houston dealt him to the Bucks to shed his minimum salary. Beasley stepped up in Milwaukee after Jabari Parker's ACL tear, but the team let him walk for nothing. Over the summer, the Knicks showed interest, and he signed in New York, once again accepting one year of minimum money and an uncertain role. It's possible next season will bring more of the same.
"I wish people would just give me the confidence, the opportunity, the trust," he says, reflecting on his journey, some 36 hours before Porzingis' injury. "I've never really just been able to play."
What would that even look like over a full season? Beasley says he knows: 25 and 12 would be a given, and 8 assists, too, if only they'd let him run point guard. If only. It's all just a dream for now.
—
Leo Sepkowitz is a Senior Writer at SLAM. Follow him on Twitter @LeoSepkowitz.
Photos by Joseph L. Sherman and Getty Images.